The grocery store cereal aisle has become a common metaphor for distinguishing the West from the rest of the world, and rightly so. Just after we moved to Eastern Europe years ago, my family and I began the hunt for cereal in our city. We found three options. Yes, three. First we were disappointed, then resentful. Really? Only Honey Nut Cheerios, off-brand corn flakes, and Muesli?
Yet limitation birthed newfound freedom, a liberty far preferable to our former cornflake cornucopia. We discovered the clarity and joy of simplicity. No longer was the cereal aisle an enemy of contentment, but in its simplicity we discovered a peaceful, non-confusing isle of contentment.
A message lies behind the plethora of choices. It is actually quite simple. Cereal choice is completely up to me. I really am Cap'n Crunch. I am Count Chocula.
Cereal Aisle of Hermeneutics
Combating the "cereal aisle" of contemporary thought, Scripture does not put us in the place of autonomy or sovereignty. We are created, not Creator. We are stewards, not owners.
These categorical truths, which dominate the pages of the Scripture, must take their rightful place in our study of it. We are recipients of Scripture's meaning, not creators of it.
In a 1975 visiting lecture at Westminster Theological Seminary, J. I. Packer addressed the formation of faithful and useful doctrine of Scripture for the coming ages. Contending that the bifurcation of biblical and theological disciplines had practically ripped Scripture's essence from its interpretation, he insightfully (even prophetically) argued for integration. He argued that we must pull our doctrine of Scripture together with our hermeneutical method. I think he nailed it: What Scripture is must determine what we do with it.
Today, contemporary infatuation with choice dominates biblical interpretation. The field of biblical studies has become its own "cereal aisle," with the hermeneutical options menu claiming a life of its own. The options now come in all sizes, shapes, and flavors. After all, not everyone has the same tastes, likes, and goals. But one thing remains constant: You get to choose. You pick your hermeneutical box.
Resulting problems abound. As D. A. Carson has pointed out, "It cannot follow that every reading is equally valuable or valid, for some of the interpretations are mutually exclusive. The tragedy is that many modern 'readings' of Scripture go beyond inadvertent bias to a self-conscious adoption of a grid fundamentally at odds with the text—all in the name of the polyvalence of the text and under the authority of the new hermeneutic."
Despite Carson's and others' well-articulated protests, we have seen little relenting in the creation and advocacy of new interpretive approaches.
Scholars present their new versions of the so-called "new" hermeneutic, and seek to defend the value, usefulness, and appropriateness of their interpretive approaches. In many cases, unrelenting diversity of readers, cultures, languages, traditions, and religions drives the method, making interpretation a constellation of relativistic factors. In some cases, the hermeneutic advances our own agenda (for example, feminist, gay, liberation . . . the list could go on), ensuring that the Bible delivers us to our desired destination. In other cases, our methods reflect a lack of methodological self-consciousness, and we adopt simply what comes naturally (the new hermeneutic usefully corrects us here, calling us to greater methodological self-consciousness).
Interpretive Autonomy vs. Biblical Authority
We have not stopped to think about what we are actually doing. We carry on an interpretive method without considering what Scripture says about it. With interpretive negotiability corresponding to the choice between Kix and Raisin Bran, we pick our hermeneutic according to our own tastes, circumstances, and goals. The problem thus prevails. Whether willful or blind, autonomy is still autonomy. And interpretive autonomy and biblical authority remain enduring enemies.
Calvin complained, "In our own day there are many who, in order to display their acuteness in handling the Word of God, allow themselves to sport with it in the manner as if it were profane philosophy." Five hundred years later, it is common to hear someone sporting with the Bible with these words: "I'm testing this out," "I'm playing with this idea," or "I'm enjoying this hermeneutical approach."
Following Packer's counsel, we must allow the authority of Scripture to exercise its Spirit-given interpretive weight. As dependent children, creatures made in God's image called to receive God's Word as stewards, we must remember hermeneutical method is not autonomous turf. Interpretive method is a matter of faith and obedience to the God who has spoken. Bible study is an act of stewardship, of worship.
From Hermeneutical Chaos to Rule of Faith
Navigating out of the current hermeneutical chaos will come only by functional trust in Scripture's authority. God has spoken without stuttering. He has given the church, in the canon of Scripture, what we need "for life and godliness" (2 Pet. 1:3). His Spirit guides the church to understand what he intends for us (1 Cor. 2:12-16).
Biblical interpretation is not easy or formulaic. Let it never be said that work in linguistics, history, language, and other biblically informing fields needs be trashed or dismissed. But children of the heavenly Father will always ask what he means in a less clear text on the basis of what he has more clearly said elsewhere. Stewards of the divine Word will suffer long to avoid speculation for the sake of submission. But how?
Echoing the language of the Westminster Confession of Faith (1.9), John Murray wrote, "The infallible rule of the interpretation of Scripture is the Scripture itself. But there is no infallible interpretation of that rule and hence there has never been complete agreement in the church respecting every detail of interpretation and application."
Murray was hardly naïve. A rigorous exegete, he knew that the self-interpreting authority of Scripture does not answer every hermeneutical question. He argued for "limitation and restriction," but did so with an eye towards the church's shared understanding of Scripture as expressed in confessions like Westminster.
Historic confessions and creeds protect the church from foolish "cereal aisle" autonomy. The Spirit who authored Scripture has through the years drawn the church to understand it, and the great church confessions greatly aid us in employing faithful hermeneutics. We are not advocating a paper pope, but a biblically grounded confidence in the historic analogy of faith. God reveals clearly in his Word precisely what he wishes—not only to this generation, but consistently over the entire life of the church.
That God is the Author of Scripture (2 Pet 1:19-21; 2 Tim 3:16) changes everything. As the Word of God, Scripture renders clear and certain boundaries for our belief and confession, and also for our interpretive method. Paul urged Timothy to be a student of Scripture who "correctly handles the word of truth" (2 Tim 2:15). Not every question will be answered in the same way, but the chaos of comprehensive uncertainty evaporates when the church submits to what "the Spirit says to the churches" (Rev. 2:29), truth preserved and proclaimed through the ages.
Reduced to a Minimum 
Contemporary debates on divine accommodation in revelation, the relationship between history and theology (such as the historical Adam), the locus of meaning (author and/or reader), the New Testament's use of the Old, and all the other live (and sometimes deadening) debates in the academy and the church drive us to a foundational focus: the functional authority of God's Word for its understanding. Future expressions of the nature of Scripture must manifest divine authority by concrete, clarifying, consistent, and confidence-evoking implementation of that authority.
Accordingly, we would do well to heed the words of Geerhardus Vos, who warned against hollow claims to biblical authority: "When once the sense of allegiance to the Word of God as the only authoritative rule of faith has become weakened, or, while still recognized in theory has ceased to be a living force in the minds of believers, then the hope of a return to the truth once forsaken is reduced to a minimum."
When our hermeneutical method suffers the "cereal aisle" syndrome, we stumble into hope-defying darkness. The only way out of the dark is the guiding light of functioning trust in God's Word, where divine authority defines interpretation in a manner consistent with the illumining work of the Spirit over the history of the church.
Scripture's authority functions or it is no authority at all. To uphold our high view of Scripture, our hermeneutics must show it consciously, consistently, redundantly, reverently.
Get a FREE eBook to strengthen your family discipleship!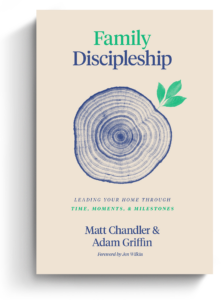 The back-to-school season is stressful for moms and dads. New rhythms of school, sports, and other extracurricular activities can quickly fill up a family's already busy calendar. Where do busy parents look for resources on discipling their family well? Aside from prioritizing church, what else can Christian parents do to instill healthy spiritual habits in their household?
Matt Chandler and Adam Griffin cover these questions and more in Family Discipleship: Leading Your Home through Time, Moments, and Milestones. And we're excited to offer this book to you for FREE as an eBook today.
Click on the link below to get instant access to your FREE Family Discipleship eBook now!