A few weeks into the stay-at-home orders at the outset of the COVID-19 pandemic, my family desperately needed to get outside. I had an idea. I would take my husband and two children to an abandoned mine shaft I'd found by chance years before. Laughter hiked with us as I struggled to remember how far we had to go and where I needed to leave the trail. Just as we found the place, we saw another family coming out of the cave.
Trying to maintain social distance, we dutifully backed away to let them pass. I noticed the man was holding something cupped in his hands. With the genuine interest of an unrepentant animal lover, I asked him what it was.
"It's a frog," he said. "It was freezing in there, so we're moving it out here where it will be safe and warm." I nodded and smiled but didn't say anything as they moved along the trail and my family entered the cave. Guess what we found inside?
You're right. More frogs. But there was also a consistent water source dripping down the walls, cave crickets and other insects as a food source, and a stable temperature year-round.
What these well-intentioned folks had done was take something from its ideal environment and put it in an environment that felt more comfortable for them.
Does this ever happen to you? Has someone tried to "help" you before she understood your context or hopes? Maybe a more painful question is "Have you ever done this to someone else?"
My Ministry Design Failure
Many years ago, a few leaders at church asked me if I'd create a ministry to welcome new women into the church. That's all the prompting I needed. I was so excited to help and so sure anything would be better than the nothing we had.
I worked hard over many weeks and created something new. It was a mentor-based ministry, pairing women who'd been at the church for years with women who were new. I designed how it would work, how we'd pair people, and the framework for their interactions. I named it "Lilacs and Lilies" in a launch event where I wore a flowered hat and explained the new program to the church.
We'd identified a gap: new people often didn't feel welcome and established people didn't always remember to reach out. We were doing something! It was exciting, it was designed to meet a real need, we had a fun launch, and it was an overnight . . . failure. It never even got off the ground.
Looking back now, I see what I did wrong. I gently lifted that frog off the cave wall and put it somewhere I thought it'd be comfortable. But I never asked the frog. I never asked anyone.
I didn't ask any questions, I didn't look at programs at other churches, and I didn't listen to what successful ministries were already doing.
You heard that right. I don't remember talking to a single new person at the church. I didn't ask any questions, I didn't look at programs at other churches, and I didn't listen to what successful ministries at our own church were already doing. If "designing in a vacuum" were a sport, I was an Olympian.
If I had, I might have learned that women in our church felt maxed out or that newcomers felt like they could never get past superficial introductions. I might have organized something more organic, like a casual gathering with conversation prompts or a fun way to connect newcomers with volunteer opportunities alongside more established women.
The church is well-supplied with needs and challenges. There's so much to be done and so few hands to do it. But we can waste valuable relational resources, money, and time creating ministries no one wants. And we can do real harm to people when we give them things that undermine their own community, gifts, and dignity.
Listening for Innovation
Does designing a ministry sound too daunting? Some design consultants and their jargon have unintentionally made innovation seem complex and out of reach. The truth is that you can find the real beginning of creative design on either side of your head. Like your grandmother told you, God gave us two ears and one mouth so we'd listen twice as much as we speak.
My vocation gives me the privilege of working with churches and nonprofits all over the world. Recently, I worked with a Christian ministry trying to address homelessness in Bloomington, Illinois. By asking clients questions and listening well, this team gained powerful insights. For example, people who have been living on the streets with other homeless people often experience paralyzing isolation when they transition to apartment life. Yes, they have a roof over their heads and the safety that comes with that, but they've lost their community in the process.
God made us to be in relationship with him, others, and the rest of creation. When we take people out of their existing communities in the name of helping them but don't empower them to build new relationships and new communities, we're not helping them flourish. Now that ministry in Bloomington is testing a new ministry design that seeks to boost connection and community belonging.
Another team that kept asking questions was a church in Troy, Michigan. They already had a successful ministry with children living in material poverty at a local trailer park, but they wanted to do more by serving the parents and caregivers better. They assumed the adults would want help with financial literacy or parenting tips, but they started asking questions instead of acting on those assumptions.
God gave us two ears and one mouth so we'd listen twice as much as we speak.
Through conversation and listening, the team was surprised to learn that what the adults really wanted was a bingo night. So that's exactly what the church gave them. Because they started with listening and giving, they'll go on to greater innovation together with the people they want to serve. With so much pressure on people who are materially poor, sometimes the best way to show Christ's love is to provide a safe place for people to experience joy and build relationships within their own community.
Remember the Frog
Next time you're tempted to create a new ministry in a vacuum, remember the frog. Instead of starting with ideas, start with questions. If you're not spending at least half of your design time listening to people, your ministry won't be as strong and empowering as it could be.
Grandma was right. By listening more and talking less, we might just design the next innovative ministry that helps our community truly flourish. And here's to hoping that little frog made it back to its cave.
Get a FREE eBook to strengthen your family discipleship!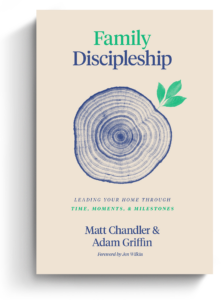 The back-to-school season is stressful for moms and dads. New rhythms of school, sports, and other extracurricular activities can quickly fill up a family's already busy calendar. Where do busy parents look for resources on discipling their family well? Aside from prioritizing church, what else can Christian parents do to instill healthy spiritual habits in their household?
Matt Chandler and Adam Griffin cover these questions and more in Family Discipleship: Leading Your Home through Time, Moments, and Milestones. And we're excited to offer this book to you for FREE as an eBook today.
Click on the link below to get instant access to your FREE Family Discipleship eBook now!