As many as 40 percent of the Bible's psalms could be categorized as psalms of lament. Their words pulse with protest, indignation, complaint, and sorrow, even as they contain hope. While the modern worship movement has done much good, it has largely missed the importance of lament.
Artists like Sandra McCracken help us recover this biblical tradition. 
McCracken's new album, Songs from the Valley (released today), feels like a natural progression from her previous two studio albums, Psalms [interview] and God's Highway [interview]. The psalms drive us to God, seeking his light in the darkness of earthly toil. They give voice to our protests and frustrations. They provide a framework and vocabulary for approaching God, even when he seems distant.
The protests and expressed frustrations of lament might seem beneath the Christian believer, but they are all over the pages of Scripture.
Songs for Valley Dwellers
As someone who lives in a (literal) valley, I have become accustomed to endless cloudy days, wet and muddy shoes, and longing for brighter, warmer days. Valley people understand the value and beauty of warmth and sun. They come out to public parks in droves when the weather allows.
Songs From the Valley gives a melody and an anthem for valley dwellers to grab onto, leading them into the joy of God's morning light.
The protests and expressed frustrations of lament might seem beneath the Christian believer, but they are all over the pages of Scripture.
In the album's opening song, "Fool's Gold," McCracken begins, Nobody needs another love song / Sometimes you need to sing your own song. It would be unloving to dress up the reality of life, she is saying. It's a call for honesty, building into the chorus: But if it's not okay / then this is not the end / And this is not okay / So I know, this is not, this is not the end.
McCracken isn't voicing frustration just to vent. This is not an album of her needing to share the scars of her own story. Instead, this is music to remind us (and herself) that suffering does not have the final say. As Tim Keller observes, "Suffering is unbearable if you aren't certain that God is for you and with you." Songs From the Valley sees clearly the reality of our strife, while also seeing the God within it.
This is music to remind us that suffering does not have the final say.
Lament Has a Place in Worship
Recorded over a three-year period and overlapping with her recording of Psalms, the seven songs on this new album carry the weight of someone who knows what it means to experience loss—without pushing God away. This is a (sadly) uncommon expression in today's church, where lament doesn't always seem welcome in our conceptions of "healthy faith." When chaos, difficulty, and loss strike, we are more apt to run toward disillusionment and cynicism than toward honest and vulnerable faith. Yet the book of Psalms is full of harsh honesty directed toward God.  Consider Psalm 77.
After seeking the Lord, the psalmist says, "I would not be comforted" (Ps. 77:2). This frustration leads to questioning: "Has God forgotten to be gracious? Has he in anger shut up his compassion?" (Ps. 77:9). Such questions may be uncomfortable to some ears, but to others it is a profound comfort: There is a place for full-throated lament in my worship of God.
Honest lament is the soil in which our pain and struggles can sprout new life. McCracken describes this in "Kindness," singing: All hours of the night across the telephone line / How you have filled my glass / As we grieve the past / And how your kindness, your kindness / How it carries me. Here she recognizes the healing that comes through bearing each other's burdens, sharing struggles with our brothers and sisters and before God. The chorus echoes Ecclesiastes 4:12: A chord with many strands is not easily broken.
Honest lament is the soil in which our pain and struggles can sprout new life.
With songs like this, Songs From the Valley ministers to other valley dwellers, while also leading the church toward the lament we often ignore. Finding God's light within darkness is the theme of the album's third song, "Oh Gracious Light," in which McCracken cries out, Oh gracious light / I have been walking, walking so long / In darkness. The track's reverberating acoustic guitar and drums push the listener toward the urgency of longing for light and warmth, while stuck in darkness and winter.
Towering Testimony
Psalm 139 reminds us that "even the darkness is not dark to [God]; the night is bright as the day, for darkness is as light with [him]." These hopeful words remind us that the Lord can be known and felt—often most clearly—in our darkest seasons. The heights of his love can sometimes be grasped most profoundly from the perspective of the valley.
Still, the harsh realities of the dark valley remain harsh. McCracken approaches this truth most honestly in "Letting Go": I feel like I've been trampled by a tempest / I've been holding up the last of my defenses / Rise up, oh my soul / Love is letting go oh my soul. Despite feeling like she's at the end of her rope, McCracken keeps reminding herself of God's goodness: Lover of my soul / how you always know / what is best for me ("Lover of My Soul").
On her website, McCracken describes the songs on this album as personal narratives of "friendship, sorrow, and comfort" that are "companions to David's comforting words." She expresses her desire for the album:
It's my hope that these recordings will make space for meaningful questions. It's my hope that these songs will be shared from one friend to another, for comfort in times of need. There's no marketing agenda to promote, just a testimony of grace, received and given.  
Indeed, Songs From the Valley comes from a deep, thoughtful, personal place that stands as a towering "testimony of grace." It's an album that meets us all in our valleys and stormiest days, but calls us to look up for the breaking of the clouds.
Get a FREE eBook to strengthen your family discipleship!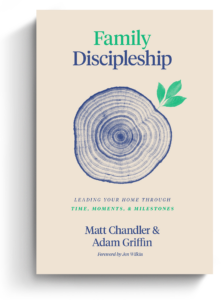 The back-to-school season is stressful for moms and dads. New rhythms of school, sports, and other extracurricular activities can quickly fill up a family's already busy calendar. Where do busy parents look for resources on discipling their family well? Aside from prioritizing church, what else can Christian parents do to instill healthy spiritual habits in their household?
Matt Chandler and Adam Griffin cover these questions and more in Family Discipleship: Leading Your Home through Time, Moments, and Milestones. And we're excited to offer this book to you for FREE as an eBook today.
Click on the link below to get instant access to your FREE Family Discipleship eBook now!