Pastor Vernon Lyons is my wife's grandfather. In 1951, he planted a church in Ashburn, a neighborhood on the South Side of Chicago. And until this year, for nearly seven decades, he faithfully pastored that church.
I suspect most in my generation don't know him. He won't headline any conferences this year. His Twitter following is limited by the fact he doesn't tweet. Of his many self-published books and pamphlets, only one appears on Amazon. His name is no longer listed on the website of the church he founded—a new pastor leads there.
Yet for all the obscurity that veils Pastor Vernon, there's much to learned from him. Hebrews 13:7 tells us to remember those who've taught us God's Word, to consider the outcome of their lives, to imitate their faith. No one is worthy of absolute imitation except Jesus, but God has given us faithful examples to help us navigate the challenges of life and ministry.
In my grandfather-in-law, I've gained immense insight into pastoral ministry by spending time with him and his family—the family that has become my own. For the last 15 years, I've observed the final stages of a ministry spanning 13 American presidents and countless moral changes in our land.
Best of all, I've learned from him three attributes that illustrate Paul's instructions to Timothy, attributes necessary for enduring in ministry (2 Tim. 2:1–7).
1. Single-Mindedness
When Paul considered ministry at the end of his life, he told Timothy, his son in the faith: "No soldier gets entangled in civilian pursuits, since his aim is to please the one who enlisted him" (2 Tim. 2:4).
Paul had seen men like John Mark turn back from ministry (Acts 15:43), only to return later (2 Tim. 4:11). He'd seen others like Demas abandon God because of their love for the world (2 Tim. 4:10). Paul knew what it was like to run the race to the end, and those who make it must not get entangled in civilian pursuits—in those habits that distract from gospel mission.
In Vernon's life, I've seen a pastor who devoted himself singularly to the Lord's work. He didn't see the pastorate as a stepping stone to something better. He didn't look to plant a church to find a larger one. He didn't spread his influence as far as he could. He invested himself in South Chicago—in one church—for seven decades.
He didn't see the pastorate as a stepping stone to something better.
In our conversations, his love for the church always shone through. Vernon loved his church and all other churches. He often asked what I was preaching and how my church was doing. He never tired of thinking about, praying for, and serving the church. His focus was singular—so much that he was arrested and fined $25 for littering in 1968 because he was passing out gospel tracts.
He also read voraciously. Until his late 80s Vernon traveled to conferences to learn and grow. And while he developed a rhythm of rest—he always took January off—his passion for the Lord and his church were undistracted. He modeled the self-discipline necessary to avoid civilian pursuits and to keep his hands fixed to the plow.
2. Character
In 2 Timothy 2:5, Paul also declares, "An athlete is not crowned unless he competes according to the rules."
Here's his point: a pastor must serve according to the rules. His life must be marked by integrity and all those habits of heart that build a good reputation for Christ and his church.
In other words, the pastor cannot build his ministry on a foundation other than the one laid by Jesus Christ (1 Cor. 3:10–15). He cannot peddle the Word with insincerity and dishonesty (2 Cor. 2:17), nor uphold the justifying work of God if he himself does not show progress in grace (1 Tim. 4:11–16). Truly, character is at the heart of an enduring ministry, and in Pastor Vernon I found a life marked by honesty, generosity, and humility.
In recent years, some large ministries have imploded because moral transgressions, personal avarice, and ministerial ambition have poisoned the pastors who led them. In such cases, these ministries flourished because the man behind the curtain remained unknown. But when the real man came to light, the ministry was over.
Vernon certainly has his share of faults and critics. But the closer you get to him, the more time you spend with him, and hear him, the more you realize how much Christ, the church, and the souls of men and women motivated Vernon. He spent daily time in prayer and in the Scriptures. The needs of Vernon's sheep always burdened him.
His study has moved from the church building to his townhome, yet he continues to seek ways to serve the Lord and his people. In the days of COVID-19, at age 92, he's even opened a YouTube channel to speak the gospel. His commitment to know Christ and make him known is relentless.
3. Hard Work
Paul concludes his message to Timothy with a call for hard work: "It is the hard-working farmer who ought to have the first share of the crops" (2 Tim. 2:6).
Paul's understanding of grace is such that those who believe in God's sovereignty most tend to work hardest (1 Cor. 15:10). This is certainly the case with Pastor Vernon.
Those who believe in God's sovereignty most tend to work hardest. This is certainly the case with Pastor Vernon.
Over seven decades, he initiated countless programs, made thousands of home and hospital visits, preached the gospel thousands of times, worked with local missions to the poor, defended the faith in public, traveled overseas to encourage missionaries, led multiple building campaigns at two locations, founded a Bible institute, trained innumerable leaders . . . and the list goes on.
He worked hard.
As an "old school" pastor, he spent countless hours visiting people, listening to members, counseling couples, grieving at funerals, celebrating baptisms, and preaching the Word. By God's grace, he grew a thriving ministry, endured more than one church split, and sent out countless members to do gospel work—all before the advent of social media.
Look Up to Old Pastors
I've seen enough of Vernon Lyons's ministry to know that I disagree with some of his doctrines and ministry methods. But that's all right; he'd say the same about me. Some of the differences come from our theological convictions, some from inhabiting different generations. But this is where his influence in my life has been most valuable.
If C. S. Lewis can speak of the danger of sneering at old books, the same can be said about people and pastors. How easily younger ministers can assume that newer is better. Yet younger pastors need the perspective of those who've gone before us.
More than that, we need the strength of character that men like Vernon Lyons have demonstrated over the long haul. His single-mindedness and stamina are refreshing alternatives to the expressive individualism that feeds short ministries that do not produce immediate and abundant fruit.
The hours I've spent with him have supplied me with resources for stamina in ministry. Shepherding is not for the faint of heart, and I'm indebted to God for showing me a living example of pastoral endurance.
Get a FREE eBook to strengthen your family discipleship!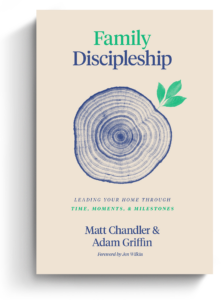 The back-to-school season is stressful for moms and dads. New rhythms of school, sports, and other extracurricular activities can quickly fill up a family's already busy calendar. Where do busy parents look for resources on discipling their family well? Aside from prioritizing church, what else can Christian parents do to instill healthy spiritual habits in their household?
Matt Chandler and Adam Griffin cover these questions and more in Family Discipleship: Leading Your Home through Time, Moments, and Milestones. And we're excited to offer this book to you for FREE as an eBook today.
Click on the link below to get instant access to your FREE Family Discipleship eBook now!