Football injuries are big news these days. So how are we as parents to decide whether we should allow our sons to play football?
In light of the risks involved, let me unpack three reasons I chose (and would still choose) to say yes.
1. The Risks Are Overstated
The risks of playing football are often overstated. Yes, there are deaths in high school football every year. Each life lost is a terrible tragedy. But contrary to popular perception, football is not our deadliest sport. In one study covering a 30-year span, high-school football had a fatality rate of 0.83 per 100,000 participants—lower than the rates of boys' basketball (0.92), lacrosse (1.00), boys' gymnastics (1.00), and water polo (1.3). The attention given to football deaths is not indicative of its relative danger.
The attention given to football deaths is not indicative of its relative danger.
But what about head injuries? Recent studies of chronic traumatic encephalopathy (CTE) have raised grave concerns. One study of deceased football players found that 99 percent had some form of CTE. Yet it's rarely noted that those examined all played in the NFL and that their brains were donated for study because they had shown neurological symptoms—hardly a representative sample. There's a huge disparity between the collisions incurred in the NFL and those at the high-school or youth levels. The size and speed of the players and the duration of exposure are vastly different.
More than a million boys play high-school football every year (and hundreds of thousands play at the college level), and have been for decades. If the rates of CTE were anywhere near what's often supposed, we might expect a national epidemic of male suicides, not to mention countless millions with highly impaired brain function. Research on high-school players from the 1940s and 1950s showed no increased risk of dementia, Parkinson's disease, or Lou Gehrig's disease even though they had far less protective headgear and had less awareness about concussions or mild traumatic brain injury.
Yes, football is a contact sport, but the risks it creates are only relatively higher than other sports. Measures vary, but a recent study found that the odds of sustaining a concussion during a football practice or game (9.21 times per 10,000 athletic events) is about 50 percent higher than girls' soccer (6.11 times per 10,000) and slightly less than that for boys' lacrosse (6.65).
We should certainly make every effort to minimize risks of football injuries through improving equipment, teaching proper technique, maintaining contact restrictions in practice, making appropriate rule changes, and implementing various concussion protocols. But let's not overstate the risks. They are real but not excessive compared to other sports.
2. Teenage Boys Tend toward Risky Behavior
Teenage boys tend to engage in risky behavior whether or not they play football. Hanging out with friends, who knows what will happen? I'd rather have my sons take risks in a controlled environment closely monitored by athletic trainers (who, in my experience as a coach, have absolute authority when it comes to player health).
Increased testosterone levels in the teenage years can greatly increase aggression. Football provides a helpful outlet. Some say the game increases violent tendencies; in my experience, football teaches self-control. Since the game's rules must be obeyed, aggression must be harnessed. As one writer put it, "Perhaps we'd all be better off if boys could be guided into totally peaceful pursuits, but not all teenagers are cut out for chess club."
Football can direct the risk-taking and aggressive proclivities of adolescent males into positive channels. My wife agrees:
As the mother of four boys, I became aware that my sons were often interested in pursuits that did not resonate with me. They seemed to want to push the limits of their physical and emotional grit. Football's intensity, its physicality, its hard-hitting risks, its insistence that they put themselves in harm's way for the sake of their team seemed to address something deep inside them. Sometimes it was hard for me to understand, but I had to acknowledge: they loved it.
3. Some Risks Are Worth Taking
Is the risk of injury worth it? I think football offers a particularly valuable experience for teenage boys. (Waiting to play tackle football until the physical development of early adolescence can be wise.) It offers a unique experience of teamwork not replicated in many other sports, where success depends on the coordination of players with a widely disparate range of skills and roles.
To my mind, the character-building qualities of football are unmatched among sports.
It can be one of few sports available for larger boys with a higher Body Mass Index (indicating overweight) and who are at higher risk for hypertension, obesity, diabetes, and cardiovascular disease, and who need physical exercise. And yes, the physical demands, with the risks that come with it, are part of what makes it so emotionally intense. For many, playing high-school football is an effective setting to develop and demonstrate manly courage and to leave off other, more destructive ways in which boys sometimes try to prove themselves men. To my mind, the character-building qualities of football are unmatched among sports.
My son, an anesthesiologist whose job requires constant risk assessment, told me, "In a society that is increasingly risk-aware and risk-averse, a conscious and controlled exposure to risk can be a very positive and formative experience."
He played both high-school and college football and had his share of injuries (including two surgeries), but he would to it all again. I'm glad I let him play the game. 
Get a FREE eBook to strengthen your family discipleship!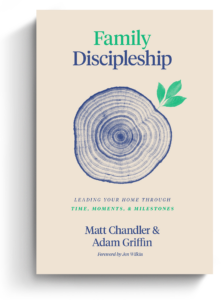 The back-to-school season is stressful for moms and dads. New rhythms of school, sports, and other extracurricular activities can quickly fill up a family's already busy calendar. Where do busy parents look for resources on discipling their family well? Aside from prioritizing church, what else can Christian parents do to instill healthy spiritual habits in their household?
Matt Chandler and Adam Griffin cover these questions and more in Family Discipleship: Leading Your Home through Time, Moments, and Milestones. And we're excited to offer this book to you for FREE as an eBook today.
Click on the link below to get instant access to your FREE Family Discipleship eBook now!