It's Christmastime again, and if you're a parent you may be having familiar conversations about gift-giving, consumerism, and the cross. Discipling children through the Christmas season is challenging. Our lists of errands are as endless as the numbers of cookies we hope to bake. With teachers to honor, traditions to uphold, parties to attend, and all the gifts to buy and eventually wrap, the physical demands can overshadow spiritual needs.
If we want to give our children the gift of clearer gospel understanding this Christmas, we must put more thought into how we lead them than we put into buying gifts and making Pinterest crafts. How should we shepherd our kids through a season laden with greed? Should we give one present per child, tithe in their honor, or stop giving gifts completely? As you think and pray through how to answer these questions for your family, consider three Christmas pitfalls that I've commonly observed parents pondering.
Pitfall 1: How can I keep the world from hijacking Christmas?
The world doesn't define our celebration; we do, in obedience to God. While the wise men navigated rocky paths, nature's elements, and the persecution of a jealous king to worship at the feet of the true King, we must navigate around media, consumerism, and cultural Christianity. The world has never been a respecter of Jesus, so we need not be shocked and appalled when Santa trumps the babe in the manger in Target ads and everywhere else. We are called to shine as lights in the midst of our crooked generation (Phil. 2:15). So when the world publicly hijacks our holiday, peacefully take it right back within your home and community by teaching, showing love, and shining Christ's light to everyone around.
Teaching my kids the gospel and the real message of Christmas doesn't mean we must forsake watching Frosty the Snowman while drinking hot chocolate by the light of the Christmas tree. It means we have additional conversations about what we're watching and emphasize which parts do and do not reflect the gospel. We explain which elements of our celebration are simply fun, which are culturally significant, and which specifically celebrate Christ. Instead of fearing the world, teach your children to engage culturally for the spread of the gospel.
Pitfall 2: Why should I give my kids gifts when they don't need or deserve them?
While most of our children have no need for presents, we enjoy giving them, and they enjoy receiving them. Both giving and receiving reflects God's heart for his people. While God gives his children spiritual gifts like love, power, victory, hope, peace, and deliverance, I'm not sure how to wrap those up to stick under the tree. Yet giving presents can demonstrate the same greater spiritual truths in a tangible way.
No child deserves presents. While Santa Claus may make a "naughty or nice" list, Jesus doesn't. He gave his life for those already deep in sin. He didn't dangle his redemption over our heads as a behavior modification tactic. God gave us the gift of Christ—his birth, his death, and his resurrection—by grace. All gifts we place under the tree should be given in the same manner we've received Christ: freely.
The anticipation of opening gifts on Christmas day serves as a shadow of believers' anticipation as they wait for Christ's promised return. Our children need to understand Israel's anticipation to fully appreciate the baby's birth. Give gifts in an effort to cultivate worshipful longing for Christ's return.
Pitfall 3: How do I teach my kids to love Jesus more than Christmas presents? 
When my kids verbalize their love of presents over their love for Jesus, I'm tempted to guilt or shame them into loving Jesus more. But this isn't the message of the gospel. Because God gave us the greatest gift of love through Jesus, we can love our children by teaching them though gifts are fun, the joy they provide is temporary. Salvation is the only gift that will eternally satisfy our longings. Don't shame your children when you sense their greed; teach them. When we receive gifts, we receive love. We feel known and provided for. God is honored by both the giving and receiving of love.
If you are tempted to make wild changes to your Christmas giving (scrapping all presents), pause. Realize you can't shock children into godliness. If you're looking to make a change in your children's hearts this year, start by examining and humbling your own. Though they learn by watching us, they may not begin to long for holiness and Christ-centered celebration for years. Don't give up on demonstrating and calling them to worship.
Ultimately, we don't want to teach our children they are responsible for drumming up or faking feelings of love and affection for the Savior just because it's December. We faithfully teach our children God's truth and the good news of great joy we've received in hope that one day they'll receive and celebrate too. We cannot expect our children to fully understand and rejoice when they are still learning to understand Christ. Don't shame your children for loving presents more than Jesus; help them to understand what the baby in the manger means and why we anticipate his return.
Don't put your own burning questions on the back-burner. Take them to the throne room and ask the Holy Spirit to give you wisdom in serving your children this season. The gospel is a gift worth prioritizing far and above your shopping and baking. Christian parenting is plagued with pitfalls, but by the power of the Holy Spirit we can walk by faith and parent by his grace. Bring the full picture of Christ's redemption into as many conversations as you possibly can this Christmas. Repeat, repeat, repeat again and pray for the Holy Spirit to open their eyes, ears, and hearts to celebrate the Savior's birth and the advent of his return.
Get a FREE eBook to strengthen your family discipleship!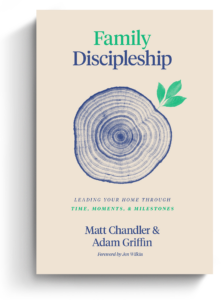 The back-to-school season is stressful for moms and dads. New rhythms of school, sports, and other extracurricular activities can quickly fill up a family's already busy calendar. Where do busy parents look for resources on discipling their family well? Aside from prioritizing church, what else can Christian parents do to instill healthy spiritual habits in their household?
Matt Chandler and Adam Griffin cover these questions and more in Family Discipleship: Leading Your Home through Time, Moments, and Milestones. And we're excited to offer this book to you for FREE as an eBook today.
Click on the link below to get instant access to your FREE Family Discipleship eBook now!