The growing call for the church to protect vulnerable women is not a new phenomenon. As Karen Swallow Prior has noted, this call is as old as the church itself. Stephen was appointed to serve the neglected women of the congregation, and he eventually became church history's first martyr.
The content of Stephen's sermon in Acts 7, which became the catalyst for his martyrdom, is notable. He began with Abraham, who was called by God as a sojourner and never possessed what God promised. He then highlighted how God worked through the abuse of Joseph to preserve Israel, and then freed his enslaved people through Moses's exile. The persecution of the prophets throughout history, he said, culminated in the betrayal and crucifixion of the righteous one, Jesus Christ.
Inspired by Stephen's sermon, I began to freshly reflect on the role women play throughout the Bible. Though the list could be much longer, here are 21 events—from Genesis to Revelation—in which women play key roles in redemptive history:
1. A woman's absence is the first thing declared 'not good' in creation (Gen. 2:18).
The "not good" of woman's absence contrasts the "good" of everything else God made (Gen. 1:31). Man cannot rule the earth without woman (Gen. 2:18). Even on the new earth, the last Adam will not reign without his bride (Rev. 22:5).
2. The first woman is named as being at enmity with the serpent (Gen. 3:15).
The woman plays a role so crucial that she is a special object of Satan's hatred.
3. A woman will give birth to the serpent-crushing seed—the Messiah (Gen. 3:15).
History will be a war between the Devil's children and God's children with victory coming at Calvary.
4. A woman is the first and only character in the Old Testament to confer a name on God (Gen. 16:13).
Given the significance of naming in the Old Testament, it's notable that it is the abandoned servant woman, Hagar, who names God "the God of seeing."
5. Women act bravely at decisive moments to preserve the endangered line of the seed—often in the midst of vulnerability and oppression.
Tamar (Gen. 38), Hebrew midwives (Ex. 1:15–21), Rahab (Josh. 2), Ruth, Esther, and others step forward at key points to preserve the Redeemer's line and move it toward fulfillment.
6. Women are the first to believe that Jesus and his forerunner soon would be conceived (Luke 1:5–38)—and the first to speak aloud of it.
Zechariah disbelieved and became mute. Joseph contemplated a quiet divorce. Elizabeth and Mary received the announcement in publicly expressed faith.
7. A woman and her child (in utero) are the first recorded people to recognize the Messiah's arrival (Luke 1:39–45).
Elizabeth recognizes the presence of the Messiah through the prophetic work of the son in her womb.
8. A woman is the first recorded person to declare the Messiah's presence on earth (Luke 1:39–45).
As her baby leaped in her womb, Elizabeth prophetically proclaimed the Savior's presence.
9. A woman voices the New Testament's first poetic song, praising God for the Messiah's arrival (Luke 1:46–55).
While carrying Jesus in her womb, Mary spoke the first hymn of the inaugurated kingdom.
10. A woman is the first to expect and request a miraculous sign (John 2:1–11).
Jesus's response to his mother indicates that Mary requested more than quick thinking—she expected and received a messianic sign.
11. A woman is the first recorded Gentile to recognize Jesus as the Messiah, and the first to go tell a community about him (John 4:4–42).
The Samaritan woman—likely abused and marginalized by her people—was the first recorded non-Israelite to identify Jesus as the Christ, immediately becoming the first missionary to go and proclaim him among a community.
12. Only women are said to give general, regular financial provision (out of their own means) to Jesus and the Twelve (Luke 8:3).
We are told elsewhere of the disciples' communal moneybag. This is our only insight into the underwriting of their itinerant ministry.
13. No woman is ever recorded as acting against Jesus.
Jesus's recorded enemies were all men.
14. Women were the last to stay with Jesus at the cross, along with one disciple, John (John 19:25).
Jesus's mother, his aunt, Mary the wife of Clopas, and Mary Magdalene were the last to stand by the cross.
15. A woman is the final person Jesus directly ministered to before his death (John 19:26–27).
Jesus's last act of ministry on earth was to provide care for a woman, probably widowed and soon to be bereaved of her eldest son—his own mother.
16. Women were the first tasked with proclaiming news of the resurrection (Matt. 28:7).
At this point in history, women were not even regarded as reliable witnesses in a court of law. Nevertheless, all four Gospel writers insist that women were the first to discover—and herald the news about—the empty tomb.
17. A woman is the first to see the resurrected Lord, and also the first to touch his resurrected body (Matt. 28:9; John 20:14).
Jesus told Mary not to cling to him but instead go tell his brothers he was ascending to the Father.
18. A woman is the first to hear the resurrected Lord's voice—and the first name he utters is a woman's (John 20:14–18).
The first to see, touch, and hear the voice of Jesus's resurrected body were women.
19. Women being mistreated and overlooked is the impetus for appointing the first deacons (Acts 6:1–6).
This mistreatment of women in the church proved serious enough to warrant the ordination of seven men to prevent it—including Stephen.
20. Of Paul's four greetings that include specific names, a woman's name is listed first in three of them (Rom. 16:1, 3; Col. 4:15; 2 Tim. 4:19).
In the fourth instance, the first people mentioned are a couple, with her name appearing second (1 Cor. 16:10).
21. A 'woman's' voice (aside from John as the author of Revelation) is the last to be quoted in the Bible (Rev. 22:17).
The Spirit and the Bride say, "Come."
What Does This Teach Us?
All of this should remind us of at least three main lessons.
1. God speaks often about women.
We know these stories because the Holy Spirit inspired men to record them for the good of God's people. We follow God's pattern and continue the witness of Stephen when we hear and respond to women's stories today.
2. Stories of misogyny and abuse matter and must be told.
To end misogyny and to honor the dignity of women, responding to negative stories alone is insufficient. We must affirm the positive stories and contributions of women—not only as wives, mothers, and daughters, but as image-bearers of God. This means we must see, hear, and tell about women just as God does.
3. God deeply values women.
The Lord gives women a crucial and indispensable role in redemptive history. If God so values women that he includes them as a consistent and essential part of his mission, how can we feel and act any different?
Get a FREE eBook to strengthen your family discipleship!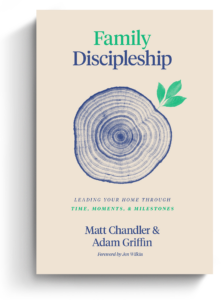 The back-to-school season is stressful for moms and dads. New rhythms of school, sports, and other extracurricular activities can quickly fill up a family's already busy calendar. Where do busy parents look for resources on discipling their family well? Aside from prioritizing church, what else can Christian parents do to instill healthy spiritual habits in their household?
Matt Chandler and Adam Griffin cover these questions and more in Family Discipleship: Leading Your Home through Time, Moments, and Milestones. And we're excited to offer this book to you for FREE as an eBook today.
Click on the link below to get instant access to your FREE Family Discipleship eBook now!