In Well Done, Good and Faithful Mommy: Finding Fulfillment as a Mom-on-the-Go, author and blogger Megan Breedlove sets out to address the topic of mommy appreciation. She writes:
Precious mom, you matter far more than you realize, and that's the message of this book: What you do matters. You are significant, and so is the ministry you pour out upon your loved ones, day in and day out, 365 days per year, in sickness and in health. (14)
Amen. As a mom I can relate to the examples of ordinary craziness that daily surround a "mom-on-the-go." I can relate to the moments where I feel like I'm laboring in vain—insignificant and unappreciated. Breedlove wants to encourage us moms, and for that I'm thankful. Along the way, however, a couple things get lost in translation.
Hermeneutics and Scripture Usage
One of my concerns about Well Done, Good and Faithful Mommy relates to hermeneutics. Precision and care in handling Scripture are necessary for any work on Christian living—books for moms being no exception. While most moms with younger children don't have time to pore over lexicons and commentaries, biblically accurate and theologically rich resources are wonderfully effective means of encouraging the endless work that is motherhood. In her discussion of Jesus' words in Matthew 11:28-30, Breedlove writes:
We [moms] labor, and we're heavy laden. That means Jesus is talking to us when he invites, "Come unto me." But just what exactly does coming to him mean? First, it means that we seek him regularly. We need to have regular time with God. Whether that means we talk to him while we shower or actually have a sit-down time where we can read our Bible and pray, we need to make it a point to come to him. (88)
She interprets the next part of the verse—". . . and I will give you rest. Take my yoke upon you . . ."—as follows:
But this verse clearly states that when you come to him, he will give you rest. You will get it—though he gets to choose the details. . . . He's talking about taking on a bond—being bound together with him to work together. He wants you to take on his yoke, not someone else's, and not your own. . . . Neither are we to attempt to do the work alone, with the other half of our yoke empty, trying to fulfill both roles. We need someone in the other half, and that Someone should be Jesus. (89-90)
To be fair, I see the point Breedlove is trying to make: moms are weary and burdened; we need to spend time with God; he'll give us rest from our work; and we can partner with him to do this work. But the problem is that, in Matthew 11, Jesus is teaching on repentance. His deeds testify that the Son of Man has finally come to the world. And he's declaring that now is the time for repentance. Jesus issues a call to turn and come to him for refuge from sin-wrought burdens—whether from legalism or lawlessness. Indeed, bearing his yoke of salvation brings freedom.
While moms tend to look to people for affirmation, the truth is, the only place to find this appreciation is to look to God. Based on Matthew 25:31–46, where Jesus tells his servants that the work they've done for the least of these, they have done directly for Him, Well Done, Good and Faithful Mommy helps moms realize that everything they offer their children, they offer directly to Jesus. Moms will find fulfillment in knowing that every task they do, no matter how small, has incredible significance to God.
Yes, there is rest in Jesus (see Heb. 4:9). But it's greater than mere rest from changing diapers, doing loads of laundry, or makings school runs—it's a rest from sin, guilt, and shame to enjoy him forever!
Biblical Language
Breedlove tells moms that the people to whom we look to "fill our cups" weren't made or meant to carry that burden. No human can make us feel entirely "fulfilled" as mothers (43-44). She also states we'll be in heaven on account of Christ's perfect righteousness (42). I couldn't agree more!
Nevertheless, I disagree with statements like this:
It's hard to give what you have never received. That's one reason Jesus commands us to love one another. He knows each person needs to feel loved so that he or she can in turn demonstrate love to others. When a person hasn't felt appreciated, she will have a hard time showing appreciation. (32-33)
Though this passage sounds like a reasonable conclusion about loving others, it reads more like pop psychology than a biblical command. When Jesus talked about the Greatest Command (Matt. 22:37-40), he wasn't mainly talking about appreciation. Appreciation can be a part of it, but biblical love is far more. It's a dying-to-self kind of love. Our love as Christians always responds to God's initiating love for us (1 John 4:19). We were enemies until he took the first step and loved us. We get to model that kind of love because it's precisely the kind of love we've received.
Depth and Clarity
Further, I'm afraid some of Breedlove's word pictures aren't very effective. For example:
In order to see the President, you have to be somebody important. But as far as God is concerned, you already are somebody important. . . . Knowing this truth should fill you with a sense of incredible significance. God says you're important enough to be available for you at any time. You can come before his throne anytime you like and be welcomed, because you're that important. (61, 62)
I trust Breedlove simply wants to stress the importance of the individual, but this paragraph suggests God has lower standards than the President of the United States when it comes to associations. But Scripture shows us his presence demands perfection. However, none of us measures up, so we need a perfect substitute to enter God's holy presence for us. Our gaze should be drawn to the sweetness of God's mercy as he upholds justice through his Son Jesus. That's what I need when I think about importance, significance, purpose, and value.
Not Quite There
Well Done, Good and Faithful Mommy is a book about being fulfilled by God's appreciation. Faithful mothers should feel fulfilled because God delights in our work of raising children.
But what about supremely delighting in and being fulfilled by God's cross-anchored work in us through Christ? Breedlove concludes such God-centeredness was her objective. But while she provided some helpful insights and encouragements for moms in this area, the whole of the book didn't quite get there.
Get a FREE eBook to strengthen your family discipleship!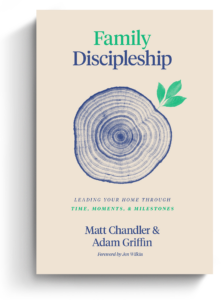 The back-to-school season is stressful for moms and dads. New rhythms of school, sports, and other extracurricular activities can quickly fill up a family's already busy calendar. Where do busy parents look for resources on discipling their family well? Aside from prioritizing church, what else can Christian parents do to instill healthy spiritual habits in their household?
Matt Chandler and Adam Griffin cover these questions and more in Family Discipleship: Leading Your Home through Time, Moments, and Milestones. And we're excited to offer this book to you for FREE as an eBook today.
Click on the link below to get instant access to your FREE Family Discipleship eBook now!