Barnabas Piper, son of John, deals in his new book Help My Unbelief: Why Doubt Is Not the Enemy of Faith with the relation of faith and doubt, a tension that has troubled many Christians, indeed many Christian writers, young and old. His title comes from Mark 9:24, where the father of a demon-possessed child says to Jesus "I believe; help my unbelief." The paradox here does not prevent Jesus from healing the boy. Jesus acknowledges the father's faith as true faith, a sufficient response to his teaching in the preceding context (verse 23) that "all things are possible for one who believes." In this passage, Piper's subtitle is true: doubt is not the enemy of faith. But there are other Bible passages that view doubt more negatively (e.g., Matt. 14:31; 21:21; 28:17; Rom. 14:23; Jas. 1:6). So it becomes important to explore the relationship between faith and doubt more deeply, exploring also distinctions between different kinds of "faith" and different kinds of "doubt."
Such tasks would seem to be the work of a sophisticated theologian. Searches on Google and Amazon reveal that a number of books have been written on this subject by mature writers like Alister McGrath and Lesslie Newbigin. What does Piper bring to the table?
Popular Exploration of a Serious Subject
For one thing, he is an engaging popular writer, drawing liberally on his own autobiography and ministry experience rather than explicitly on academic literature. He downplays his knowledge of other authors, but occasionally a quote from C. S. Lewis or Soren Kierkegaard slips in.1 I think he has studied the literature more than he lets on, and that makes it all the more impressive that he is able to express such wisdom in such a popular way. And though some consider a popular style to be inherently at odds with a serious examination of ideas, I think Piper often says exactly what needs to be said.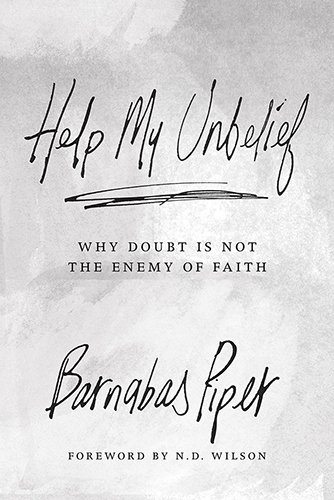 He begins by situating us in the "post-enlightenment Western world" (31) in which we "live by rules of science." We need to know that science "does not apply to much of life." That is true of many contemporary people. I wish Piper had added something about the other extreme—postmodernism—which accepts the limits of science, but which opposes any kind of "metanarrative" that seeks to unify our thinking about the world, let alone the metanarrative of Scripture. Piper's opponent is rationalism, not irrationalism; but both are dangers to the contemporary believer, and both need to be rejected in a truly balanced biblical perspective. I do like Piper's commendation of "presuppositions" (32–36), but postmodernists also recognize the existence of such precommitments, and Piper would have been wise to distinguish his presuppositions from theirs.
Mental Assent vs. Life Transformation?
That is one example of Piper's tendency to condemn intellectualism too broadly. He contrasts, for example, "mental assent" with "really believing" (48). But on the next page he admits that mental assent  is "part of belief, but not the whole of it." What more do we need? Transformation is his answer. We can mentally assent to something, and then just ignore it, or forget about it, if we are not transformed. Now I too understand and emphasize the fundamental role of transformation, of regeneration, in giving us true faith. But I hesitate to contrast it as sharply with mental assent as Piper does.
Transformation, of course, applies to all areas of the Christian life. But its influence on our intellectual life seems to me, in part, to reinforce certain convictions, to give them presuppositional force, to produce an extra-strong form of mental assent. That assent is one that increasingly we cannot ignore or forget. Indeed, consider that if we had perfect mental assent to God's Word, that mental assent would transform our lives. In such a case, mental assent and transformation would be synonyms, virtually interchangeable.2
Piper is, I think, a bit too quick to say "not A, but B," when he would present a more accurate view of things by saying "A, but a mature kind of A that amounts to a perspective on B." Another example is where he contrasts acknowledgement of God's moral standard with looking to God as object of faith (51). But certainly God's moral standard includes the command to look to him in faith. Certainly in that sense believing in God's moral standard is not an alternative to faith, but a commitment which in its consummate form is indistinguishable from faith, so that faith and moral obedience are the same thing viewed from two perspectives.3
The Good Kind of Doubt
But in the end Piper and I come to the same place. The Bible constrains both of us to make a distinction between good and bad doubt. That amounts to a distinction between believing and unbelieving doubt. Unbelieving doubt is the doubt of a heart that is not transformed by God's grace. It doesn't really seek guidance from God, only a way to escape God's claim. Believing doubt, however, "instead of letting unbelief in, ventures out in faith and seeks to waylay it. Just as unbelieving doubt is against belief, this sort of doubt is the driving force behind belief" (94). It is "doubt that seeks truth and stems from the belief that God is the source of all truth" (95).
I hope that God gives this book a large audience. If, as I believe, Piper has succeeded if placing this important though difficult biblical truth into understandable, popular language, he will have conferred a great gift on the church.
---
1 And a quote from Paul Tillich in chapter 5 (95). I think that was a mistake. Tillich's view of faith and doubt is far from Piper's and from biblical Christianity. A couple other mistakes: (1) "Part of being human is being a sinner" (96). That compromises the goodness of creation and the perfect humanity of Christ. (2) Piper brushes aside the old evangelical slogan about how the Bible "settles" controversy (141). Granted the complications of hermeneutics and application, in the most ultimate sense the Bible does settle every question it addresses. These mistakes may betray a lack of theological sophistication, but they leave his main argument intact. They are among the "holes" in the book Piper modestly refers to on page 151.
2 That is, as I have indicated elsewhere, mental assent and transformation would be "perspectives" on one another.