For many years now, I've found summer to be the best time to step away from publishing columns, scrolling social media, and interacting online. I make the most of the month of July to clear my head, consider what shape my work and ministry should take in the days ahead, and make headway on various projects.
This summer is bittersweet: our oldest son heads off to college in just a few weeks, and frankly, the thought of him packing up and moving away fills me with a mix of joy and trepidation, not to mention bewilderment at how quickly the past eighteen years, often filled with what seemed like interminably long days, have rushed by.
We are returning now from a wonderful trip to the UK to visit family, and among the many educational and fun family outings we enjoyed, I was able to spend a good chunk of my birthday at Top Meadow, once the home of G. K. Chesterton. (The picture above shows me standing in the doorway next to Chesterton's study, taken from the view of the garden.)
As is my usual practice, I do not plan to publish any columns in the month of July, but will wait until August or September to resume posting. I recently completed a nine-part series on the Neo-religious Right and the return of the culture war sensibility, and I'd like to give some further thought to this subject and the responses it has generated.
Before signing off for the summer, though, I'd like to bring you up to speed on several things I am very excited about.
Guest Lecturing at Oxford This Fall as a C.S. Lewis Scholar in Residence
First off, I will spend some time in Oxford this fall, where I will be guest lecturing. I'll be sharing more details about this in the days to come.
On a related note, I have been accepted into the C. S. Lewis' Foundation's scholar-in-residence program, which will give me the opportunity to stay at the Kilns (Lewis' home in Headington) during my sojourn in Oxford. I couldn't be more excited at the honor of lecturing at Oxford and the privilege of spending time reading and writing in the home of one of my literary heroes.
Cedarville University Visiting Professor
Secondly, I will be traveling more often to Cedarville University in the days ahead, now as a visiting professor. For the past few years, I've told people that one of my favorite places in the world to preach is at chapel at Cedarville. I love the students—their passion for the Scriptures, for growing in Christ, for reaching their world for Jesus. I am excited about the opportunity to spend more time on campus in the years to come and to pour into students through classes, talks, and sermons. The plan is for me to be on campus twice a year—teaching and mentoring students, while engaging with the faculty.
New Resources and a New Podcast
My day-to-day joy right now is leading a newly-formed Resources team at the North American Mission Board. It is an honor to serve with men and women who love Jesus, care for his church, and want to see planters and pastors equipped for ministry.
Since my work at NAMB started, we've launched New Churches—a site that includes articles, free eBooks, free video courses, and a growing podcast. Among the video courses we've released is Using Online Conversations for Good with my friend Dan Darling, Church Planting Masterclass, and more recently, Sending Church Masterclass, with accessible and powerful clips from practitioners on the front lines of leading their congregations to develop a sending mindset. We are also looking to improve and grow NAMB's apologetics presence online, as well as considering new ways to aid pastors in their development of preaching skills. I'm proud of the work this team has done so far, and I'm excited about the work that lies ahead.
One of the new projects coming is a podcast which will address the credibility crisis facing evangelical churches today. The approaches to renewing the church we see on display often prove problematic. Conservatives who want to protect the church sometimes end up defending rot. Progressives who want to purge the church sometimes end up blowing up the pillars of truth. The way forward requires the careful work of removing the rot from the church while fortifying the foundations. To accomplish this task, we must be able to discern the difference between what is foundational and what is cultural, and this discernment requires the perspective of (1) church history and (2) the worldwide church. In this podcast, I want to lean on my experience as a cross-cultural missionary, my connection to the global church, and my studies in church history and missiology to help Christians embrace this season of rebuilding and reconstructing.
The Thrill of Orthodoxy
And that brings me to a project now years in the making, my next book—The Thrill of Orthodoxy: Rediscovering the Adventure of Christian Faith—scheduled for release in October, published by InterVarsity Press, with a foreword from Kevin Vanhoozer.
The Thrill of Orthodoxy is devoted to the beauty of sound doctrine, the wonders of our theological inheritance, and the breadth and depth of the church, as opposed to the narrowness of error and heresy. The main point is that the church drifts not when new errors start to win, but when old truths no longer wow. The goal of the book is to show how the ancient truths still thrill the heart, and I lift up the Scriptures and the pivotal players in the first millennium of the church to do so.
I will have more to share about this book as the release date gets closer. For now, I just ask this: if you benefit from my columns, please preorder a copy for yourself and one to give away this Christmas. This is the best way you can say "thank you" to a writer like me.
Blessing
So, as I sign off for the rest of this summer, here is my prayer: May the God of hope fill you with all joy and peace as you believe, so that you may overflow with hope by the power of the Holy Spirit (Rom. 15:13).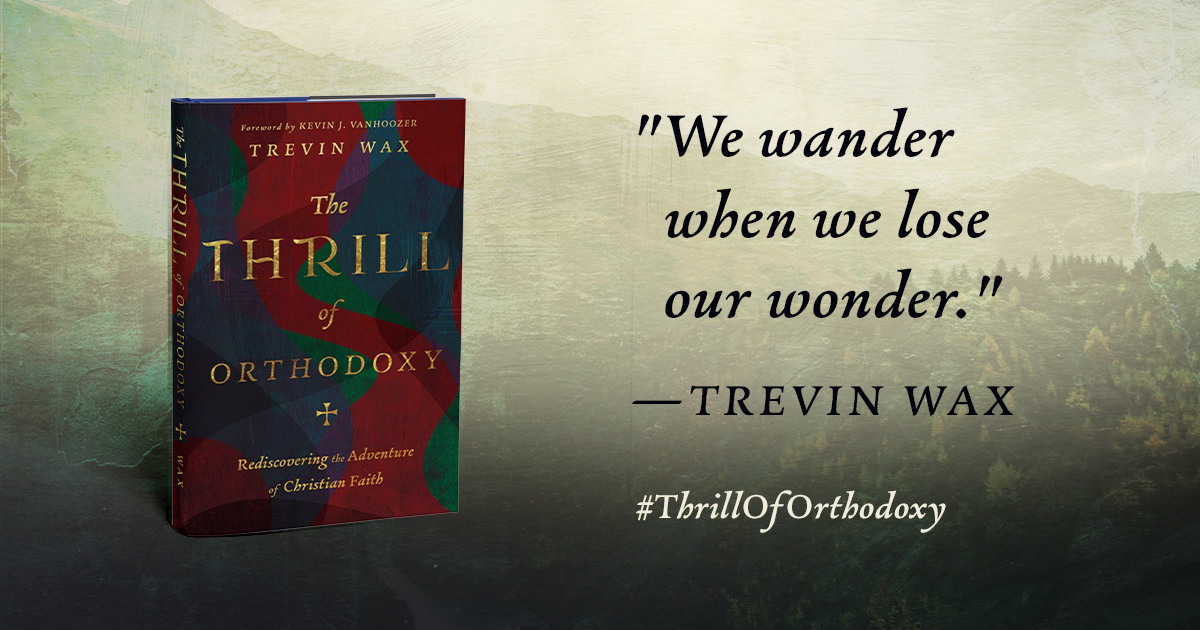 ---
If you would like my future articles sent to your email, as well as a curated list of books, podcasts, and helpful links I find online, enter your address.