On Sunday the family and I had the privilege of joining the saints of Howick Baptist Church for Lord's Day worship. What a wonderful thing it is to discover something more of the universality of the Father's family. He has children all over the world and will gather for himself a family from every tribe and nation. Worship at Howick was a sweet glimpse of that eternal day of praise.
We had the privilege of singing at least two songs that were new to me: "Man of Sorrow Lamb of God" by Matt Crocker and Brooke Ligertwood and "Jesus Messiah" by Chris Tomlin et al. I very much appreciated the relentless focus on the Person and Work of Jesus Christ in these songs. Here are a couple sample verses:
Man of sorrows Lamb of God
By His own betrayed
The sin of man and wrath of God
Has been on Jesus laid

VERSE 2:
Silent as He stood accused
Beaten mocked and scorned
Bowing to the Father's will
He wore a crown of thorns

CHORUS:
Oh that rugged cross my salvation
Where Your love poured out over me
Now my soul cries out Hallelujah
Praise and honour unto Thee

He became sin
Who knew no sin
That we might become His Righteousness
He humbled himself and carried the cross

Love so amazing
Love so amazing

Chorus:
Jesus Messiah
Name above all names
Blessed Redeemer
Emmanuel
The rescue for sinners
The ransom from Heaven
Jesus Messiah
Lord of all

His body the bread
His blood the wine
Broken and poured out all for love
The whole earth trembled
And the veil was torn
We also had the privilege of hearing from a sister who has worked on the church's missions committee and is now headed to China to teach English. What joy to hear her testimony of God's dealing in her life, of His opening her heart to the work of missions and opening doors in China for her to go.
One of the elders led us in the Lord's Supper and the church welcomed three new members. One older lady has attended the church's gatherings for fifteen years and another young man was recently baptized as a new believer. It was an encouraging picture of the multi-generational nature of the Lord's family.
Pastor Peter Somervell preached an exceedingly clear exposition of Philippians 2:5-11. In fact, he was a model of clarity and efficiency. Nothing was wasted in the sermon. I greatly appreciated his constant focus on the greatness of Christ in His humility and the greatness of Christ's work on the sinner's behalf. He kept us tuned to both the character of Christ and the greatness of our salvation. His appeal to sinners was fully earnest, plain and moving. We were well fed!
Following the service, the saints hung around for a time of warm fellowship–which was a nice contrast to the overcast and wet Auckland weather this time of year. One sister shared her longing to see her father walk with the Lord. She's waiting to be baptized when he can attend the service. We prayed for him and hoped together for the Lord's answer.  We also met a sweet couple from Ohio now living and working in New Zealand. To illustrate how small the world has become, this Buckeye played middle school basketball with my friend, Kurt Heath. Kurt, if you're reading, your basketball prowess is now legendary in New Zealand! Several older members welcomed us warmly and taught us a couple things about Kiwi culture  and hospitality. Then we spent the afternoon enjoying a variety of meats, potatoes and Maori fried bread with some young adults at Joe Fleener's place. We were well fed again!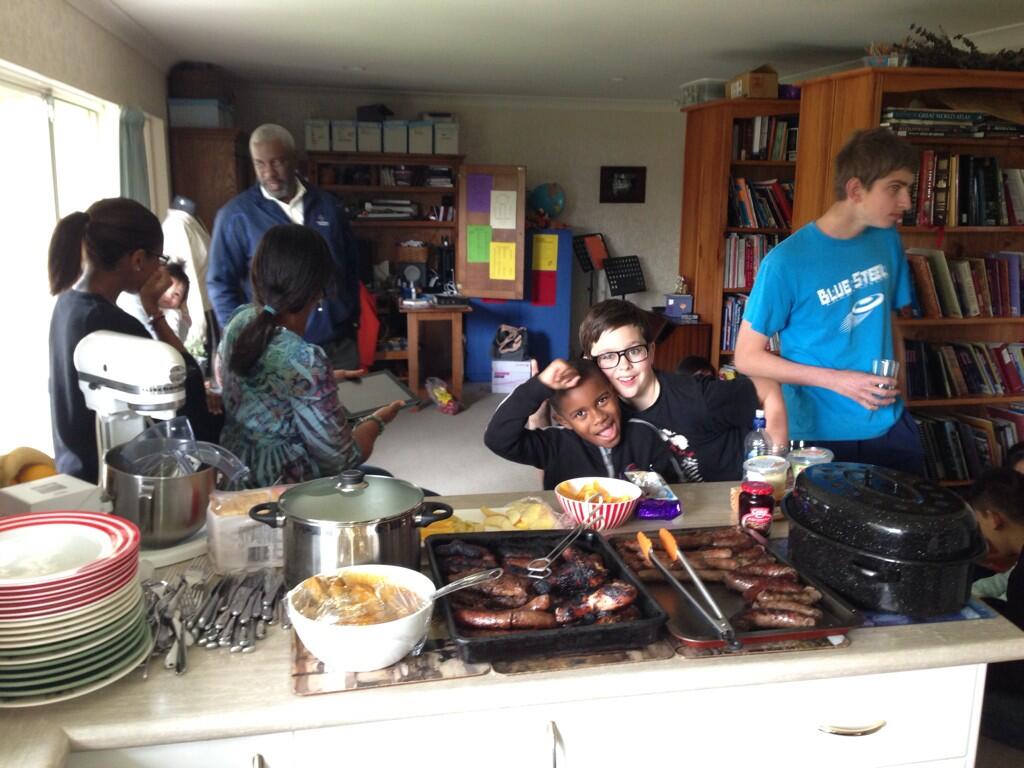 Beyond the various activities of the day, I'm left with several impressions of the Howick Baptist Church family.
First, the gospel of our Lord is alive, well, cherished and proclaimed here.
Second, there's an understated, genuine emotion that accompanies their worship. From a woman who seemed to choke up at the reading of the word to another sister who wept at various times at the preached word, the saints seem to feel the immense truth being read, prayed, sung and preached.
Third, I left the service thinking "Surely God is among you." There's a sense of God's greatness here.
Fourth, there are real servants in this church family. From all the preparation going into the conference later this weekend to the many volunteers serving communion, leading worship, etc., there's an evident humility and cheerfulness in serving others.
Fifth, the Lord has blessed this church with godly leaders. That's apparent in their humility, their zeal and their love for the saints.
If you're in the Howick area, it's difficult to imagine you'd be able to find a better community of faith to join.