I always like to know a little something about an author before I sit down and open up his or her book. Today, I interview my good friend and fellow TGC editor Megan Hill about her new book, A Place to Belong: Learning to Love the Local Church. I always enjoy Megan's books, and I'm confident that this one will serve as a refreshing reminder of the privilege we have to be a part of the body of Christ. It releases today, so make sure to get a copy!
---
Can you tell us a little bit about yourself?
I belong to West Springfield Covenant Community Church (PCA) in West Springfield, Massachusetts. I'm a pastor's daughter and a pastor's wife, and I'm an editor for The Gospel Coalition. I bake cookies and watch British television in my spare time, but I'm also currently the homeschooling mother of four kids, three of whom usually go to school—when there's not a pandemic.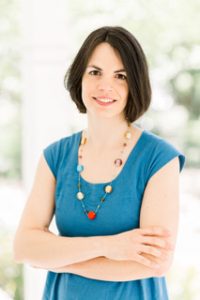 When did you first start writing? What do you enjoy about it?
I remember writing stories in my middle-school English classes and reading them aloud to my parents. I wrote my first piece as an adult about 10 years ago, which led to regular opportunities to write in the areas of Christian living, practical theology, and cultural commentary. 
For me, writing is a chance to learn. I might not otherwise force myself to research and think rigorously about a subject—but if I commit to writing about it, I need to make sure I understand it myself.
This is your third book. Does writing get easier with each book? 
In some ways, writing does get easier. With each project, I have a better sense of the process—what I need to do in terms of research, organizing, drafting, and editing. But each sentence still needs to be crafted in a way that's fresh, helpful, and true. And because I write primarily about theological and biblical themes, I'm always struggling to make my language as precise as possible. That doesn't get any easier. 
What led you to write A Place to Belong? 
I really love the church, but I've also had the same experiences as everyone else who commits to a particular congregation: life in the local church is often unremarkable, frequently awkward, and sometimes even painful. I wrote this book to explore how what the Bible says about the church shapes our experiences of belonging to the church. When we understand and believe that the church is God's good design for his people, we can love it better.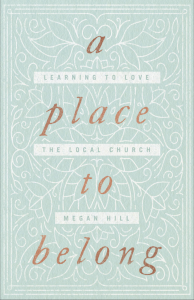 What's the central message you hope readers will take away from your book?
Even though the local church is often outwardly unimpressive, belonging to the church is one of the greatest privileges and highest joys of the Christian's life. 
How has writing this book affected your own life?
It's strange to publish a book about the loveliness of the gathered church at the precise moment when all local churches have ceased to gather! Spending every Sunday on my own couch in my own home has sharpened my love for the church, and I hope that when we can be together again, I won't take our gathered presence for granted. 
It has also reminded me that everything that is true about the church—for example, we are the beloved, the saints, brothers and sisters, partners in the gospel—is still true, even when we can't be physically together.
For a sneak peek, here are some quotes:  
"Whether your church gathers in America or Azerbaijan, whether it has ten or ten thousand members, whether it hosts dozens of activities or simply meets on Sundays to worship, the same biblical truths should define it, and the same biblical truths will foster your delight in the fundamental loveliness of Christ's gathered people. When we take seriously what God says about his church, it will shape our experience of belonging there."
"As we walk in love for the local church, our love models the love of God himself. There was nothing lovely in us that caused God to love us, and so we don't wait for God's people to seem attractive in order to love them. If God in his sovereign good pleasure has set his love on these people from eternity past, uniting them to his Son and gathering them into his church, then it is our privilege to love them too."
"In the local church, we are a gathering of people whom God called. These are the people who—like us—were once were dead, enslaved, and condemned and are now alive, freed, and adopted. These are the people who understand what it is like to hate sin, to love Christ, and to strive to be more and more like him. And these, then, are the people with whom our lives are inseparably linked."
"We take our place in Christ's family by taking our place in the local church. Whether your congregation is small or large, urban or rural, generations-old or brand-new, it is no ordinary gathering. Every week, you worship alongside men, women, and children whom Christ calls his brothers and sisters and mothers. Together, you are the family of Jesus."
Here's what others are saying about A Place to Belong:  
"A thousand messengers point us to the good news of a personal relationship with Christ, but this book contains something precious: the good news of a corporate one. Megan Hill has written a love song for the church, a celebration of the communion of saints in all its present practicality and all its future glory. Her message stirred me to greater love for the fellowship of believers and greater longing for the day when Christ and his bride are at last fully and finally united." 
— Jen Wilkin, Director of Classes and Curriculum, The Village Church; author, Women of the Word; None Like Him; and In His Image 
"This book is positively, intelligently, and helpfully countercultural. It pushes back on our individualism, cynicism, and consumerism and winsomely calls us to invest our lives—indeed find our lives—in something we may be tempted to think is simply not worth the trouble—the local church." 
— Nancy Guthrie, author, Even Better than Eden: Nine Ways the Bible's Story Changes Everything about Your Story 
"Megan Hill's love for the church and her Savior shines on every page. She possesses an uncommon gift for engaging illustrations and applications. Her theology of the church is biblical, and her instruction winsome as she clarifies what it means for the church's members to share in each other's gifts and graces. Readers will find themselves thanking God for his gift of 'a place to belong.'" 
— Charles M. Wingard, Dean of Students and Associate Professor of Pastoral Theology, Reformed Theological Seminary; author, Help for the New Pastor: Practical Advice for Your First Year of Ministry 
"Megan Hill encourages us to think biblically about the church rather than just experientially or emotionally. This book celebrates our 'blessed belonging' that is our privilege as God's covenant people. It is also an accessible tool to prepare us as his bride as we await our bridegroom's return." 
— Karen Hodge, Coordinator of Women's Ministries, Presbyterian Church in America; coauthor, Transformed: Life-taker to Life-giver and Life-giving Leadership
What are you going to do when the pandemic is over?
I've really missed singing with my church family, so I'm going to host a hymn-sing. We'll pack as many people as we can into our living room, pass around hymnals and lyric sheets, open all the windows to the cool night air, and sing together until we go hoarse. 
---
Megan Hill is the author of three books, including A Place to Belong: Learning to Love the Local Church, which released in May. A pastor's wife and pastor's daughter, she serves as an editor for The Gospel Coalition and lives in Massachusetts, where she belongs to West Springfield Covenant Community Church (PCA).