I always like to know a little something about an author before I sit down and open up his or her book. Today, I'm on-the-edge-of-my-seat excited to get to interview Jen Wilkin about her newest book, In His Image: 10 Ways God Calls Us to Reflect His Character. It's a companion book to one of my favorite books, None Like Him: 10 Ways God Is Different from Us. I've been ready and waiting for her to finish this one, and I'm so glad it's releasing on April 30, 2018—just in time for Mother's Day. (If my children read my blog, they'd know a great gift to get me!)
---
Can you tell us a little bit about yourself?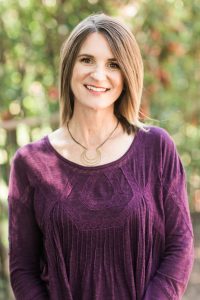 I'm a mom to four delightful adult children, and I've been married to Jeff for a quarter of a century this June. I'm the director of classes and curriculum at The Village Church, where I have served on staff for six years. I love teaching the Bible, and I'm an advocate for the life of the mind in the community of faith. I believe right thinking begets right feeling, which begets right doing. I want to help others think rightly about the God of the Bible so that their love for him and obedience to him would grow.
When did you first start writing? What do you enjoy about it?
I've always written, but not consistently until I started blogging in 2008. I started the blog as a way to teach what I hadn't had time to cover during the meeting time of the Bible study I was leading in my home. I never intended to be a writer, though I had always enjoyed writing. It's probably more accurate to say I'm a teacher who uses the media of writing and speaking to communicate my message. Everything I write is overflow from something I've taught in spoken form. I love writing because of its precision. Unlike speaking, I can choose and arrange every word. It's a much more arduous process than speaking (for me), but it's satisfying when I finally finish a piece and know I have communicated the way I intended to.
Is writing ever difficult for you? How so?
Writing is never not difficult for me. I write short books because I am short on words. I envy my writing friends who can sit down and craft a piece in an hour. In my experience editing others, I find there are two general categories of writers: those who write a stream of thoughts and sort them out during the editing process, and those who agonize over every phrase up front and over every suggested edit on the back end. I'm definitely the second writer. Once I settle on a personal example or good illustration for what I want to say, I can usually start the flow of words. But I'm the tortured soul mumbling in a bathrobe, crazy-haired and wandering aimlessly in my yard on writing days.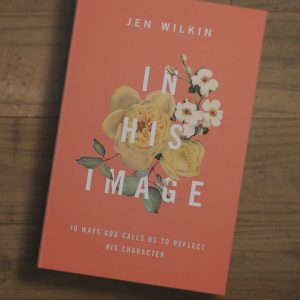 What led you to write In His Image?
A couple of years ago, I wrote a book on how God is not like us. It described his incommunicable attributes, those things that are only true about God and cannot be true of us. It was an exploration of his transcendence, and of how we try to rival God instead of reflecting him as we were created to do. In His Image is a follow-up book in which I examine what it means to reflect God by imitating his communicable attributes—holiness, love, justice, mercy, and so on. Both books together paint a picture of who God is, and of who we are to be as his image-bearers.
What's the central message you hope readers will take away from your book?
I want readers to change they way they think and speak about the will of God for their lives. I believe that God's communicable attributes answer with clarity and finality what God wants us to do by showing us who God wants us to be.
How has writing this book affected your own life?
I've been meditating on God's attributes for about 20 years now, ever since I was first introduced to them in the writings of R. C. Sproul and Arthur Pink. They revolutionized the way I read the Bible. I now read looking for what the text is teaching is true about God before I look for any personal application. John Calvin noted that there is no true knowledge of self apart from the knowledge of God. Learning who God is has helped me understand my sin with greater sorrow, my salvation with greater joy, and my savior with greater reverence and adoration.
For a sneak peak, here's an excerpt:
For the believer wanting to know God's will for her life, the first question to pose is not "What should I do?" but "Who should I be?" Perhaps you've tried to use the Bible to answer the question "What should I do?" Facing a difficult decision, perhaps you've meditated for hours on a psalm or a story in the Gospels, asking God to show you how it speaks to your current dilemma. Perhaps you've known the frustration of hearing silence, or worse, of acting on a hunch or "leading" only to find later that you apparently had not heard the Lord's will. I know that process better than I'd like to admit, and I also know the shame that accompanies it—the sense that I'm tone-deaf to the Holy Spirit, that I'm terrible at discovering God's will.
But God does not hide his will from his children. As an earthly parent, I do not tell my kids, "There is a way to please me. Let's see if you can figure out what it is." If I do not conceal my will from my earthly children, how much more our heavenly Father? His will does not need discovering. It is in plain sight. To see it we need to start asking the question that deals with his primary concern. We need to ask, "Who should I be?"
Here's what others are saying about In His Image:
"In His Image is an invitation to become like the God we worship, to see his characteristics become true of us, the people he has created and redeemed. Jen Wilkin's work provides a solid and accessible overview of a crucial part of Christian theology. Any believer who reads this book will benefit from its truth."
—Trevin Wax, Bible and Reference Publisher, LifeWay Christian Resources; author, This Is Our Time: Everyday Myths in Light of the Gospel
"I have one big problem with this book: people will assume it's only for women. This couldn't be further from the truth! God has given Jen Wilkin the gift of making big truths easily understandable, which is great news for a person of average intelligence like myself. All who desire to increase their knowledge of and passion for God should read this book. All who desire to grow in holiness and be conformed to the image of God need to add this to their library. I highly recommend it."
—Stephen Altrogge, author, Untamable God; creator, The Blazing Center
"This book is for everyone who stresses over her decisions, constantly wondering whether or not she's in God's will. Jen Wilkin graciously turns these questions upside down by encouraging us to know and behold the character of God, allowing that to inform and transform our actions as image bearers. In His Image presents a biblical and practical explanation of God's communicable attributes that anyone can grasp, enjoy, and apply!"
—Emily Jensen, Cofounder, Risen Motherhood; Cohost, Risen Motherhood podcast
If you had an afternoon to do whatever you'd like, where would we find you?
You would find me in my flower beds with dirt under my fingernails and a clown-faced, crazy pug making my gardening efforts near impossible.
---
Jen Wilkin is an author and Bible teacher from Dallas, Texas. She has organized and led studies for women in home, church, and parachurch contexts. Her passion is to see others become articulate and committed followers of Christ, with a clear understanding of why they believe what they believe, grounded in the Word of God. She is the author of Women of the Word and None Like Him. You can find her at JenWilkin.net.