It is godly and appropriate to have heroes in the faith—mentors, examples, leaders who go out in front of us and help us see what it looks like to follow Christ. Paul said, "Follow my example, as I follow the example of Christ" (1 Cor. 11:1). That's an amazing statement. He could have simply said, "Follow Christ with me." But insofar as Paul was following Christ, it was appropriate for him to say, "Follow me."
But sometimes our leaders let us down. Whether it's a moral failing, a leadership blind spot, a deficiency of wisdom, or some other weakness—at some point and in some way we will be disappointed by even our heroes. In fact, because we are all fallen and flawed human beings, it's not a matter of whether our leaders will disappoint us—it's a matter of when and how much.
When a leader lets down, it can be a profoundly disillusioning experience. Anyone who has been there knows that darkness, that pain. Especially when one of your ministry heroes hurts you personally or stumbles into a grievous sin, it can feel like your world is turned upside down, and it can make you question everything you are working toward.
How can we endure disappointment without becoming disillusioned? This article is not a comprehensive answer, but here are four principles from the book of Nehemiah that might be helpful. (See Courtney Reissig's article for some further helpful advice.)
1. Fight against cynicism.
Some of the saddest corollaries to disillusionment are apathy and cynicism. When we have drawn the lines of good and evil in such a way that we have to realign them, we can start to question whether they can be drawn at all. If both the "good guys" and "bad guys" are flawed, is everything just a power grab?
When we are battling disillusionment and/or cynicism, we must take special care to remind ourselves that genuinely fighting for good is still possible. At the same time, we may recognize that the lines between good and evil are more complicated than we previously thought. Our leaders, our tribe, our own hearts are not an unadulterated, unmixed good, but even at their best stained with impurity.
Nonetheless, our lives and our causes still matter. In fact, as we study the annals of church history, we find that God has often been profoundly at work right amid all the mess and mire of human imperfection—even, at times, gross and grievous imperfection.
Even biblical revivals like that recounted in the book of Nehemiah are fraught with imperfection. God does a great work of renewal among his people, resulting in the walls being rebuilt (chapters 1-6) and covenant renewal and celebration among the people (chapters 7-12). But when Nehemiah returns from Susa in chapter 13, he finds the people have desecrated the temple (13:4-9) and the priesthood (13:10-14, 28); they have profaned the Sabbath (13:15-22); and they have married foreigners who have led their hearts astray (13:23-27).
Yet this sad and anticlimactic ending does not entail that the good work of chapters 1-12 is meaningless. God is at work even amid the mess and mire, both in Nehemiah's ministry and ours.
2. Fight for joy.
When a leader stumbles, the aftermath often involves difficulty with trust. To remain faithful in the work of clean up and rebuilding, we need joy.
The book of Nehemiah is about a difficult season in the story of God's people—a season of slow, drudging rebuilding and renewal, amid much opposition. As God brought his people through this season of covenant renewal, one of the most important elements was joy and celebration. In the middle of the book of Nehemiah, as the people are reorienting themselves around God's Word, Nehemiah calls them to joy rather than grief, and then they set aside time specifically to feast and celebrate (Neh. 8:9-18).
Why would God call his people to joy and celebration in the midst of an arduous, painful season? Nehemiah gives a reason for the importance of joy: "Do not be grieved, for the joy of the LORD is your strength" (8:10). If the joy of the Lord is our strength, we are not only miserable without joy, we are weak without it. In other words, God's joy is not for the good times, but for the bad. It is not just our prize at the finish line, but the fuel by which we get there.
3. Remember you stand by grace.
When Nehemiah is repenting of the sins of God's people that have led to the walls being broken down, he includes himself: "Even I and my father's house have sinned" (Neh. 1:6). This is striking because the particular sins in question happened mostly before Nehemiah's life time and far away (he lives in Susa, 1,000 miles from Jerusalem). But Nehemiah sees himself as a member of the people of God, so he feels a sense of corporate responsibility for their state. That is also how Daniel repents in Daniel 9, even though no sins of Daniel are recorded there.
When we observe a leader fail, or failures in the broader body of Christ, it is easy to want to distance ourselves and say in our hearts, Oh, those kinds of Christians. This attitude probably reflects more of our individualistic, consumeristic culture than a biblical doctrine of the church. In Revelation 2-3, for instance, Jesus tells entire churches to repent—and whether you joined the church 10 years ago or 10 days ago, the entire church must respond to his calling.
Even if we were blameless in the matter, it is appropriate to repent on behalf of the church or group, since we are all one body and spiritually united to one another. So often if we search our hearts, we can find ways we have contributed to the problem, especially when we consider sins of omission like prayerlessness in addition to sins of commission. At the very least, when we see a leader stumble, we can fight a critical spirit by reminding ourselves, That is where I would be but for the grace of God. We stand only by grace. As Paul warns, "Do not become proud, but fear" (Rom. 11:20).
4. Christ is the perfect leader.
When the book of Nehemiah closes with Nehemiah pulling out people's hair (13:25) and then praying, "Remember me with favor, my God" (13:31), you can't help but feel some sadness at lack of resolution. But this lack of closure, coming as it does at the tail end of the Old Testament, makes us long more fully for Jesus, the coming Messiah whose arrival will usher in a kingdom that never ends and a renewal that will perfect God's entire creation.
When we see more clearly the imperfections around us (and within us), the perfect, beautiful righteousness of Christ shines more brightly. Disappointment with human leaders, painful as it can be, gives us the opportunity to put our hope more fully in Christ. When we come to him broken, bleeding, and disillusioned, he meets our needs in himself.
The greatest preachers, leaders, counselors, and ministers in the church today are not worthy of our ultimate trust and allegiance. But Christ is. And he will never let us down.
Get a FREE eBook to strengthen your family discipleship!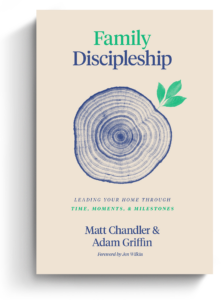 The back-to-school season is stressful for moms and dads. New rhythms of school, sports, and other extracurricular activities can quickly fill up a family's already busy calendar. Where do busy parents look for resources on discipling their family well? Aside from prioritizing church, what else can Christian parents do to instill healthy spiritual habits in their household?
Matt Chandler and Adam Griffin cover these questions and more in Family Discipleship: Leading Your Home through Time, Moments, and Milestones. And we're excited to offer this book to you for FREE as an eBook today.
Click on the link below to get instant access to your FREE Family Discipleship eBook now!