One year ago today, at 10:25 a.m., our baby was born. A girl! Our first daughter, a sister to Ben, a niece, a cousin, a granddaughter, a great-granddaughter. She weighed 7 pounds, her head was covered in dark hair, and she had a nose like her big brother's. We named her Leila Judith Grace. Leila (pronounced "Lay-la"), just because we love the name; Judith, after her great-grandmother from Sydney, Australia; and Grace, because God graced us with a long-awaited second child.
This could have been the beginning of a joyous birth announcement. Except Leila didn't make a sound. Her eyes didn't open; her lungs didn't fill with air; her heart didn't beat. Her body was limp. The hospital room was filled with deathly silence as we held our stillborn daughter, born three days before her due date.
A week earlier, we were like most couples nearing the end of pregnancy. Expectant. Anxious. Excited. We were doing the usual things parents do to prepare: washing outfits, stocking up on diapers, and reading books to Ben about becoming a big brother. Only happy endings in those books. And there wasn't a shadow of doubt in our minds that we'd have one too, with the birth of our second child.
How presumptuous!

Now listen, you who say, "Today or tomorrow we will go to this or that city, spend a year there, carry on business and make money." Why, you do not even know what will happen tomorrow. (James 4:13–14)
I remember thinking we just had to make it past the 20-week scan, the "anomaly" scan as they call it in the UK, and then we'd be in the safe zone. And here we were at 39 weeks! But then I woke one morning unable to feel any movement. Hours later we were in a hospital room with a growing number of medical staff and an ultrasound machine confirming there was no heartbeat. Our baby, whose kicks we'd felt only 12 hours before, was dead, floating lifelessly inside my womb. When the doctors confirmed her death, my husband's horrified and wounded voice rang out through the hospital corridors, No! No! No! It cannot be! But it was.
Cruel Destroyer
Today should have been our daughter's first birthday. The great enemy—death—has stolen something precious from us. Robert L. Dabney, who lost two sons, described death as a "cruel destroyer." In a letter to his brother, he wrote:
Ah! When the mighty wings of the angel of death nestles over your heart's treasures, and his black shadow broods over your home, it shakes the heart with a shuddering terror and a horror of great darkness.
This year we have felt the horror of that great darkness. Not one day has gone by when we haven't thought of our beautiful, dark-haired baby. How we have longed with all our being to hold her, to kiss her, to have her at our family table. At dinner one evening, our 3-year-old Ben observed, "There are only three cups. If Leila was here, there would be four."
When we're all together, we're not all together—her absence is as real as our presence. This world is not as it should be.
And yet today was never going to be Leila's first birthday. She was never going to open her eyes outside the womb; she was never going to utter a sound; she was never going to smile at her parents or brother. Her clothes were never going to be worn; her milk never going to be drunk; her bed never going to be slept in. She was never going to crawl or cry or laugh. Her days were numbered before she was even conceived. And they were numbered just for the womb.
Your eyes saw my unformed body; all the days ordained for me were written in your book before one of them came to be. (Ps. 139:16)
Leila the Evangelist
Today is not Leila's first birthday here on earth. Today is the one-year anniversary of Leila's presence in heaven. Psalm 84:10 says, "Better is one day in your courts than a thousand elsewhere." And she has enjoyed 365, so to speak, in the courts of her Lord.
For us there are days, like today, when we couldn't be more sad. But today, our sweet baby girl couldn't be more happy. She's in the presence of the One who is altogether lovely, the fairest of ten thousand, the King of glory. Her King.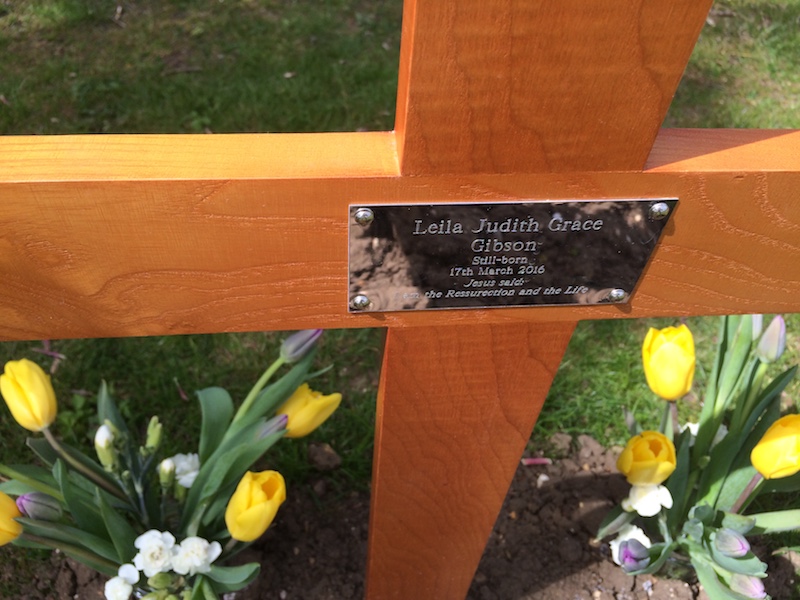 In her death, Leila has ministered to us in the most profound way. Her short-but-significant life has pointed her parents, her brother, and countless others to the One who walked into death and came out the other end, the Firstborn among many brothers and sisters. On the wooden cross marking Leila's grave are the words: "Jesus said, 'I am the Resurrection and the Life.'" She has lifted our eyes to the risen and reigning Christ; she has pointed us all to another world, to a new world. And we've never longed for it more. Leila the Evangelist.
Today, we picture Leila's grave, facing east in a small church graveyard in Cambridge, England. Daffodils are beginning to break through the ground beside her cross, reminding us that the winter can never hold back the spring. Their new life projects us forward to another Day, coming soon, when "the earth will give birth to the dead" (Isa. 26:19). On that Day, perhaps in the morning, with the dew glistening in the light of the risen sun, another Son will appear. And with a voice like the roar of rushing waters, he will say, "Leila, come forth." And she will come. Just as she went when he called her the first time, one year ago: "Little Leila, come to me, for to such as you belongs the kingdom of heaven."