The Story: The Southern Baptist Convention, America's largest Protestant denomination, is forming a study group to address sexual abuse.
The Background: As one of his first official acts, J. D. Greear, the newly elected president of the Southern Baptist Convention (SBC), will partner with the denomination's policy arm, the Ethics & Religious Liberty Commission (ERLC), to form a study group on sexual abuse. The group will be composed of both Southern Baptist leaders and also outside experts who will advise Greear on a broad range of issues related to sexual abuse, including sexual assault and domestic violence.
According to the ERLC, the group's purpose will be to consider how Southern Baptists at every level can take discernible action to respond swiftly and compassionately to incidents of abuse, as well as to foster safe environments within churches and institutions. This group will also study both how Southern Baptists are currently engaging these issues and also develop recommendations on strategies and resources for ministering to victims and protecting people and churches from predators.
Greear, who also serves as pastor of The Summit Church in Durham, North Carolina, says, "How we as a convention of churches care for abuse victims and protect against vile predators says something about what we believe about the gospel of Jesus Christ."
"Our churches should be a refuge for the hurting and a safe haven for the oppressed," Greear added. "Over the next year, I look forward to hearing from this group and partnering with our churches, state conventions, local associations, seminaries, and national entities to determine what we can do to equip churches to minister effectively and stand guard against any who would seek to prey on the vulnerable."
Why It Matters: At their recent denominational meeting in June, Southern Baptists issued a resolution condemning abuse, which they defined as "any act or conscious failure to act resulting in imminent risk, serious injury, death, physical or emotional or sexual harm, or exploitation of another person." Sexual abuse is a subset of abuse that involves some form of sexual misconduct, an umbrella term for a range of behavior used to obtain sexual gratification against another's will or at the expense of another.
Sexual abuse of all types is rampant throughout our society. For example, a study conducted by the U.S. Justice Department found that about 20 million out of 112 million women (18 percent) in the United States have been raped. This includes an estimated 18 million women who have been forcibly raped, nearly 3 million women who have experienced drug-facilitated rape, and 3 million women who have experienced incapacitated rape.
Approximately 1 in 5 Black (22 percent) and White (18.8 percent) non-Hispanic women, and 1 in 7 Hispanic women (14.6 percent) in the United States have experienced rape at some point. More than one-quarter of women (26.9 percent) who identified as American Indian or as Alaska Native and 1 in 3 women (33.5 percent) who identified as multiracial non-Hispanic reported rape victimization.
One out of 59 White non-Hispanic men (1.7 percent) has experienced rape at some point in his life. Nearly one-third of multiracial non-Hispanic men (31.6 percent) and more than one-quarter of Hispanic men (26.2 percent) reported sexual violence other than rape in their lifetimes. (Male rape victims and male victims of non-contact unwanted sexual experiences reported predominantly male perpetrators.)
And according to the Centers for Disease Control, 1 in 4 women (22.3 percent) has been the victim of severe physical violence by an intimate partner. Between 2002 and 2011, 8 percent of female intimate partner victimizations (i.e., domestic violence) involved some form of sexual violence.
As these statistics show, every church in America is likely to have someone in the pews who has been directly affected by sexual abuse. Yet despite it being a common concern, many churches are still unsure about how best to serve both the abused and the abusers.
"Sexual assault and sexual abuse are Satanic to the core, and churches should be the ones leading the way when it comes to protecting the vulnerable from predators," says Russell Moore, president of ERLC and member of The Gospel Coalition Council. "Thankfully, every Southern Baptist pastor I know cares deeply about these issues. We as a denomination, though, owe it to our pastors and churches to come together and provide the very best resources and recommendations possible to address this crisis."
By studying the issue and creating resources that can be shared both with their churches and also with other denomination, Southern Baptists are taking an important step toward confronting abuse and fostering safe environments for the abused.
Get a FREE eBook to strengthen your family discipleship!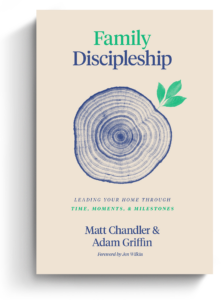 The back-to-school season is stressful for moms and dads. New rhythms of school, sports, and other extracurricular activities can quickly fill up a family's already busy calendar. Where do busy parents look for resources on discipling their family well? Aside from prioritizing church, what else can Christian parents do to instill healthy spiritual habits in their household?
Matt Chandler and Adam Griffin cover these questions and more in Family Discipleship: Leading Your Home through Time, Moments, and Milestones. And we're excited to offer this book to you for FREE as an eBook today.
Click on the link below to get instant access to your FREE Family Discipleship eBook now!