I often feel like a fish out of water among women. I'm the woman who cringes when she gets an invite to a women's retreat, especially if it has teacups on the cover. I was never the girl who daily dreamed of marriage or motherhood. And even now as a wife and mother, I'd rather do push-ups than craft at your kitchen table. I used to feel ashamed in the church because I didn't fit the mold of the Christian woman I often felt was modeled and taught.
But here I am, a women's ministry leader.
At some point I realized appearing different from what I perceived as the female "norm" in the church is one reason I should be ministering to women. As it turns out, feeling like a fish out of water isn't a rarity. While our experience and personhood is unique, much of how we feel is the same. In God's kindness, he made each of us with specific preferences, all of them for his glory (Eph. 2:10; Ps. 100:3). I'm concerned, though, that our churches don't reflect this diversity. I myself can be tempted to squash the body of Christ when I avoid women different than me. I can be tempted to wrongfully judge others according to my personal standard rather than celebrating our common Creator.
Social media and church programs project pictures of "godly women," and in return we begin cloning instead of discipling. Our cultural expectations and boundaries often fill the gaps rather than provide a right understanding of God's Word. External changes produce false maturity and group conformity rather than personal spiritual conviction. Rather than churches that thrive by grace, they limp along by law, conforming women more into the image of each other rather than Christ.
Women Discipling Women 
I spent the beginning of my ministry feeling self-conscious that I was different from another women's leader in our church. I perceived women admiring her as the sign of a healthy ministry, when they were actually striving to look like her. My angst over not imaging this particular leader was unhelpful. God didn't create me to be her. He created me to be me and become like him.
Jesus valued the God-given experiences, relationships, skills, and uniquenesses of the people around him. He didn't simply point his disciples to Scripture. He lived with them, taught truth and grace (John 1:14), and exemplified deeply personal discipleship. We must be willing to know where women are theologically, relationally, and emotionally in order to connect them with God's Word. But if my goal is for people to love me as their savior, I will fall and crush them on my way down.
Do you want people around you to love you more than they love Jesus? Would you rather keep them from turning away from you or turning away from Jesus? Do you correlate the two?
Embracing Womanhood Is Embracing Godliness
To free our churches from cloning, we must move to embrace biblical womanhood. Not embraced as culture sees it, or as mothers see it, or as single women see it, but embraced as Scripture teaches it. I want my daughters to see the beauty of God-given roles for men and women made manifest as we express God-given individuality within the boundaries of gospel freedom. Our goal should be to live and teach the whole counsel of God, while leveraging the gifts God has given individuals (1 Cor. 12:4–7; Rom. 12:3–8) for his glory and for our good (1 Pet. 4:10). Godliness will look radically different from woman to woman. For some it will look like homeschooling your children (beautiful), for others like leading your church Bible study (beautiful), for others like developing software (beautiful), for others like being president of a non-profit (beautiful).
Grapple with what God has given you, not what he's given others. What does it look like to function uniquely as a woman with the gifts God's given you in the place he's deliberately put you?
Teach By Learning
Proverbs 18:13 says that if one gives an answer before he hears, it is his folly and shame. To effectively care for and disciple another woman, you must know her. Why was Jesus so effective in his teaching? Partly because he knew his disciples well. He spent time with them.
Learning about passions, skills, and lifestyle is vital for one to know how to teach someone. Like Jesus, we must spend more time pursuing one another in love, not building walls from women who are different than us. We need to ask questions, seeking to sincerely understand one another.
Teach By Failure
Most women love to-do lists. They help us strive for perfection. We want to be the best cook, engineer, crafter, mom, Instagrammer, servant, lover, or warrior for the latest social justice cause. We often confuse glorifying God in all things with being the best at all things at all times. But when we're striving to be like Jesus, we're forced to recognize God's real power is displayed in our weaknesses (2 Cor. 12:9).
If we truly want to teach others as Titus 2 instructs, not only will our triumphs point to Jesus, but our personal failures will as well. Embracing grace starts with embracing weakness. If your disciples were asked what the main thing was they learned from you, what would the answer be? Would it be about Jesus's strength and power, or yours?
Teach By Scripture
If women are spending time in God's Word, they will find Jesus. Part of discipleship must be teaching women how to study the Bible independently. They will find depth, maturity, and freedom in Christ as they study it.
While studying Scripture does take more discipline than picking up a parenting book, the dividends are far greater. If we want to be effective teachers, we must teach our students to learn from God's Word on their own.
Remember the Goal
We must be careful not to conform women into any image but Christ's. A failure to leverage the vast array of unique gifts and circumstances is a failure to experience the fullness of God's creation.
By insisting on the biblical discipleship Jesus modeled, we help other women to not only be better wives, mothers, or whatever else we want them to be, but to know God. This should be our supreme goal because it is God's. He tells us he will conform those he's predestined into the image of his Son (Rom. 8:29).
Faithful leaders, then, must show Jesus more than themselves. Though I'll never be able to transfer my personality or preferences to another woman, I can transfer my knowledge of God to her. The result will be relishing in our amazing Creator as we celebrate the radically different gifts he gives us to work together, bringing life to the body of Christ.
Get a FREE eBook to strengthen your family discipleship!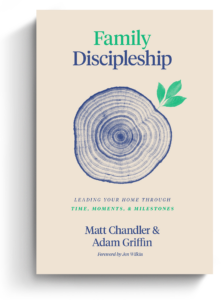 The back-to-school season is stressful for moms and dads. New rhythms of school, sports, and other extracurricular activities can quickly fill up a family's already busy calendar. Where do busy parents look for resources on discipling their family well? Aside from prioritizing church, what else can Christian parents do to instill healthy spiritual habits in their household?
Matt Chandler and Adam Griffin cover these questions and more in Family Discipleship: Leading Your Home through Time, Moments, and Milestones. And we're excited to offer this book to you for FREE as an eBook today.
Click on the link below to get instant access to your FREE Family Discipleship eBook now!