When people ask my wife and me how we met, the story of how Christ met us inevitably takes over. It's unavoidable from the moment I say, "Well, we actually met in a polygamous Mormon cult."
Eyes grow wide, and folks eventually find a few words like, "Wait . . . what?" Their questions lead us into a testimony to boundless grace. It's a story of doubt, God's faithful love, some dead friends, and a book by Tim Keller.
Cult
I was born into mainstream Mormonism. Every branch of my ancestry is connected to the religion's founding. But when I was 14, my parents left the mainstream Church of Jesus Christ of Latter-day Saints to join a Mormon fundamentalist cult. They'd become critical of contemporary Mormonism, condemning all the changes made since the days of Joseph Smith. As an obedient child, I followed them, and I became immersed in a world saturated with end-times scenarios.
My whole life was consumed with preparing for Christ's second coming. We stored food and stocked up on ammo. Outside education was condemned, and young marriages were encouraged. My wife and I married four days after her 16th birthday.
What we did and how we lived was entirely determined by our cult-leader prophet, whom we believed to be God's right-hand man. If he spoke, it was as if God himself had spoken. Absolute obedience to him determined our worthiness for Christ.
Our cult believed we were God's only chosen people on earth and that Christ's return depended on our righteousness.
Our cult believed we were God's only chosen people on earth and that Christ's return depended on our righteousness. When he did return, we believed he'd first come to us and grant us divine power to bring judgment on the world. We'd take out the Mormon church for changing doctrines Joseph Smith had established, and when that was done, we'd take out the rest of the world for refusing our version of the "gospel."
Doubt
I was 20 years old when I began to doubt it all. There was a prophecy in our community that Christ would come on a certain day. The prophet had said, "Thus sayeth the Lord," verifying its truth. But Christ didn't come, and inside, I began to question. With my doubt came a stifling fear. If I was wrong, that meant eternal damnation. I couldn't take that risk, so I stuffed my doubts down and soldiered on.
But the doubt and fear clung to me like pine sap to fingers. When I tried to wash it off, it just got stickier, bringing to the surface feelings of hopelessness. I was trapped. It was about six years into my doubt when I began to entertain the notion that perhaps God isn't real. If I could rationalize him away, then it meant my fear was irrational. I secretly entertained atheism, but no matter how hard I tried to rid myself of God, I couldn't shake a deep awareness that I was loved by a Creator who wanted me back home with him.
You'd think that innate sense of love would soothe me, but it infuriated me. Why would a God who loves me leave me to suffer? I needed a clear answer that would give me the conviction to stay in the cult or go. But as four more years passed with no answer, the fear continued to wreak havoc on my heart.
Faith
One night, at the prompting of my wise wife, I fell to my knees. I cried out, "God, I can't do this anymore. I can't take another step. There is nothing I can do that is good enough for you. Just carry me where you want me to go. I'm done. I'm yours."
When those words left my lips, a realization swept over me. Everything I knew about who God was and what he was about had been built on a foundation of religion and works. But these had proven to be shifting sands, unsteady and unreliable. The only thing I knew to be reliable was Jesus himself. This was what I was seeing in the Bible. If I was to know God, I had to build my foundation on the person of Christ. He alone was worthy.
I surrendered my life to Christ that night, and when I did, everything changed. Then, like the ghosts of Christmas in Charles Dickens's novel, God sent me three dead spirits to guide me back to him: C. S. Lewis, Dietrich Bonhoeffer, and Martin Luther.
Everything I knew about who God was and what he was about had been built on a foundation of religion and works. But these had proven to be shifting sands.
It wasn't their literal presence, of course; it was their writings. I found Lewis through my fascination with Tolkien's fantasy. I found Bonhoeffer when my wife saw a story about him on television. I found Luther while looking through free books on my Kindle to find something that would help me understand the Bible. These three men's lives and writings discipled me into a new relationship with God and his Word, into a beautiful new understanding of grace.
A few weeks after I left the cult, God sent me another man, a living writer. I'd never heard of Tim Keller, but he was one of the first living Christians whose writings I came across. I read The Prodigal God as I struggled to process my former life within the cult. I was struck by the book's unfamiliar approach to a familiar parable. God had brought me into his kingdom as the younger brother, but also as the older brother. For all those years, I'd been doing all the "right" things for my own security and salvation. I'd been the self-centered religious person. Through reading Keller, I discovered true freedom and acceptance can only be found in the righteousness of our all-loving and all-sufficient Savior.
Through all these things, God, in his infinite love, plucked my little family out of a dark place and brought us into his light. He gave us a new identity in Jesus Christ. Praise God for such grace.
Get a FREE eBook to strengthen your family discipleship!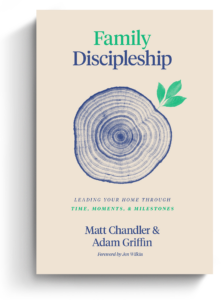 The back-to-school season is stressful for moms and dads. New rhythms of school, sports, and other extracurricular activities can quickly fill up a family's already busy calendar. Where do busy parents look for resources on discipling their family well? Aside from prioritizing church, what else can Christian parents do to instill healthy spiritual habits in their household?
Matt Chandler and Adam Griffin cover these questions and more in Family Discipleship: Leading Your Home through Time, Moments, and Milestones. And we're excited to offer this book to you for FREE as an eBook today.
Click on the link below to get instant access to your FREE Family Discipleship eBook now!