Editors' note:
TBT (Throwback Thursday) with Every Square Inch: Reading the Classics is a weekly column that publishes some of the best writings on vocation from the past. Our hope is to introduce you to thoughtful literature that you may not have discovered yet and, as always, to encourage you to know and love Christ more in all spheres of your life.
Taken and adapted from Creation Regained: Biblical Basics for a Reformational Worldview by Albert M. Wolters. Copyright © 1985, 2005 by Albert M. Wolters. Used by permission of Wm. B. Eerdmans Publishing Co., 2140 Oak Industrial Drive, N.E., Grand Rapids, MI 49505.
We don't just need "spiritual wisdom and understanding" (Col. 1:9-10) in our personal lives; we need it in our professional lives, too. Does God have a will for, say, economics or law? Does he have a design for music or art? Here, Albert M. Wolters argues that "spiritual wisdom and understanding" in our various vocational spheres can often be discerned from the created order—even as he maintains the unique place for proclamation of the gospel.
---
The Lord teaches the farmer his business. There is a right way to plow, to sow, and to thresh, depending on the kind of grain he is growing. Dill, cumin, wheat, and spelt must all be treated differently. A good farmer knows that, and this knowledge too is from the Lord, for the Lord teaches him. This is not a teaching through the revelation of Moses and the Prophets, but a teaching through the revelation of creation—the soil, the seeds, and the tools of his daily experience.
It is by listening to the voice of God in the work of his hands that the farmer finds the way of agricultural wisdom.
Knowability of the Created Order
An implication of the revelation of God in creation is that the creation order is knowable. That is also the significance of the call of Wisdom to all—she appeals to everyone to pay attention and learn from her, for insight and understanding are genuinely available to them if they heed her (Prov. 9; c.f., Is. 28:23-29). The fundamental knowability of the creation order is the basis of all human understanding, both in science and in everyday life.
Many will argue either that the creational scheme of things has been altered by the fall (or at least so obscured as to be inaccessible to our knowing) or else that human powers of cognition have been so corrupted by sin as to make them unable to discern God's will for such areas as art, economics, or politics. Such views either fail to do justice to the constancy of God's will for creation (or to its revelatory power) or else they downplay the renewing power of Jesus Christ in restoring our faculty of discernment.
From among a number of representative passages in the New Testament on this theme (e.g., Eph. 1:17-18; Rom. 12:2; Heb. 5:14), we may select the following words of Paul addressed to the Colossians: "We have not stopped praying for you and asking God to fill you with the knowledge of his will through all spiritual wisdom and understanding. And we pray this in order that you may live a life worthy of the Lord and may please him in every way" (Col. 1:9-10). There is a spiritual discernment necessary if we are to know God's will. There are many things about which the Scriptures are silent, but about which we must nevertheless seek to know the Lord's will. Above and beyond the explicit guidance of Scripture we need "spiritual wisdom and understanding."
Wisdom and Understanding
Traditionally, Christians have understood this phrase to refer to the guidance necessary when making such momentous personal decisions as the choice of a marriage partner, the selection of a vocation, the consideration of a move to another country, or the like—in short, to what we have called the particular aspects of God's law in our lives, his guidance or calling. This is undoubtedly part of what Paul has in mind, but can we exclude the general aspects of God's law, the universal normative principles that govern cultural and societal pursuits such as journalism, education, advertising, international relations? In these areas, too, the Bible does not give more than general parameters. Must we not seek to know and honor the area-specific will of God there too? To ask the question is to answer it. The implicit division between private and public life that many Christians make in applying Paul's words is quite arbitrary. It is in fact based on an unwarranted dualism in their worldview.
In the case of a specific decision, we confess that there is a will of God that we are called to know and that God promises to reveal to us. Through a well-informed assessment of the factors involved, through consultation with trusted Christian advisers, through prayer and searching the Scriptures, we seek God's will; through the gift of "spiritual wisdom and understanding" we begin to discern it. Sometimes we make our decision in full assurance of having found God's way, but more often we do so with some hesitancy, remaining open to correction. Either way we may be making a choice against the advice of fellow Christians whose wisdom and discernment we respect. But the point is that the lack of assurance or unanimity does not invalidate the basic Christian confession that there is a will of God for my life, that it can be known, and that I must seek it and act on it.
Precisely the same considerations apply to the discernment of the general creational norms that hold for every area of human affairs. That, too, involves the perspective experience and investigation of immediate reality, teamwork, and sharing with brothers and sisters in the same field, earnest prayer for guidance and insight, constant reference to Scripture, and familiarity with its overarching themes. And here too a measure of "spiritual wisdom and understanding" is indispensable, for human life in all its aspects is a thoroughly spiritual affair. Christians of all vocations and walks of life—business executives, farmers, academics, politicians, educators, homemakers, lawyers—must take to heart, not only in their private but also in their public capacity, the well-known exhortation of the apostle, "Do not conform any longer to the pattern of this world, but be transformed by the renewing of your mind. Then you will be able to test and approve what God's will is—his good, pleasing and perfect will" (Rom. 12:2).
To sum up, the whole world of our experience is constituted by the creative will and wisdom of God, and that will and wisdom—that is, his law—is everywhere in principle knowable by virtue of God's creational revelation.
Unique Place of Special Revelation
In putting such a great emphasis on general revelation, are we not in danger of minimizing special revelation? Do we not thereby compromise the Reformation's great principle of sola Scriptura?
This is a legitimate concern. To clarify, we should first of all note that biblical revelation includes a great deal that has no parallel whatever in creational revelation. In a fundamental sense, the Scriptures are the story of our sin in Adam and God's forgiving grace in Christ. Creation, by contrast, does not tell a story at all, nor does it tell anything of that sin or grace. As a message of salvation, its revelation is useless. In that regard, the two revelations are not comparable. They are comparable, however, as manifestations of God's law, as two ways of making known his will, specifically for human life.
A sound approach to guidance will always stress the primary and indispensability of Scripture as well as the exercise of "sanctified common sense," but it will not thereby downplay the reality of a knowable and specific will of God for our personal lives. In fact, the Scriptures themselves by their insistent teaching of God's lordship over all our lives continually drive us to consider questions of guidance.
In a season of sorrow? This FREE eBook will guide you in biblical lament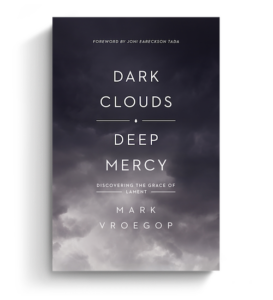 Lament is how we bring our sorrow to God—but it is a neglected dimension of the Christian life for many Christians today. We need to recover the practice of honest spiritual struggle that gives us permission to vocalize our pain and wrestle with our sorrow.
In Dark Clouds, Deep Mercy, pastor and TGC Council member Mark Vroegop explores how the Bible—through the psalms of lament and the book of Lamentations—gives voice to our pain. He invites readers to grieve, struggle, and tap into the rich reservoir of grace and mercy God offers in the darkest moments of our lives.
Click on the link below to get instant access to your FREE Dark Clouds, Deep Mercy eBook now!