As I walked into the consultant's room, two different people told me it was nothing to worry about. They were wrong, as the consultant's words made clear: "Your son could be dead in half an hour, not more than a week." 
The first Bible passage I ever learned to sing was the Psalter's version of Psalm 23: "The Lord's my shepherd; I'll not want. . . . Goodness and mercy, all my life, shall surely follow me." At home and in church, as a toddler on my mum's knee, and as a newlywed, this psalm was a constant in my life.
As I sat in an empty Neonatal Intensive Care Unit (NICU) room I sobbed, because until then Psalm 23 was so obviously true: a happy childhood, a happy marriage, happy twin sons. Goodness and mercy, all my life. And now what? My third son, Wilfred, was born three months prematurely; he was six weeks old; and he was going to die.
When you're in a trial, you come face to face with this question: Do I believe what I say I believe? I'd been singing Psalm 23 my whole life, but did I mean it? Was "I will fear none ill" only true when death's dark vale was nowhere to be seen?
Singing in Death's Dark Vale
In the NICU in Belfast, Northern Ireland, the 10 sickest babies in the country are in one room. The room is dark, because light would be too much for them. The alarms on their monitors are dinging, dinging, dinging all day and night. Parents stumble about with unbrushed hair and unwashed faces, crying.
When you're in a trial, you come face to face with this question: Do I believe what I say I believe?
There's little you can do when your baby is dying inside an incubator. My husband, Joel, and I held Wilfred's hand and sang to him. We'd both been singing the psalms for as long as we could sing: nightly in family worship, weekly in church, now in the hospital. 
I sang the Psalter's version of Psalm 22 often. It described my agony perfectly: "And all my bones are out of joint, Like wax so feels my heart, It seems to have been melted there, within my inmost part." It also had words of comfort: "You took me from my mother's womb, in safety I did rest. . . . Upon you I've been cast since I, in birth did come to be. Since I came from my mother's womb, you've been a God to me."
A few days after that meeting, the doctors decided surgery was an option for Wilfred. But they were clear: it was unlikely he'd survive, and even less likely it would be successful. We'd have to turn off his life support afterward. Under the consent form heading "Possible Side Effects" someone had written "DEATH" in capital letters. 
We signed the form, and we sang on: "Yea, though I walk in death's dark vale, yet will I fear none ill."
I Kept Singing
There are three bedrooms for parents at the NICU. We were in one, and two other couples with very sick little boys were in the others. On Sunday, one of them died; on Monday, the other. Wilfred's surgery was scheduled for Tuesday.
Wilfred survived the operation, and it was successful! We were overwhelmed with joy. After a grueling recovery period, he began to thrive. He was out of the incubator, drinking from a bottle, and the oxygen machine was switched off. We were hoping to take our healthy baby home very soon. 
Then God in his wisdom took all that away again, and Wilfred's health deteriorated. One morning we woke up knowing he was fighting a cold. By the evening we were offered palliative care. 
When Wilfred was doing well, I sang of God's goodness. When he was struggling, I kept singing. The psalms reminded me of truth my mind knew but my heart couldn't always comprehend. Singing them disciplined me to continue worshiping God, even when I felt like doing nothing but screaming in distress.
The psalms reminded me of truth my mind knew but my heart couldn't always comprehend.
Oh Lord, Soon Answer Me
I sat by Wilfred's cot that whole night, holding his hand and singing Psalm 143. There's no better prayer when you're in distress than Psalm 143. 
"O Lord my prayer hear, and heed my pleading cry! In faithfulness give ear; in righteousness reply." Even as the psalm petitions God, it teaches me, the pleader, that he will faithfully listen and righteously reply.
"My heart's in me dismayed, my spirit faint does grow. Yet I do call to mind the memory of past days, your works of every kind, and muse upon your ways." That night I thought of all God's goodness to me and to Wilfred.
Even as the psalm petitions God, it teaches me, the pleader, that he will faithfully listen and righteously reply.
"To you I stretch my hands." There I was, helpless as a child, reaching to God for help.
"O Lord, soon answer me. . . . When morning comes, to me your loving-kindness show; my trust in you will be." My trust was in God. Would morning bring the kindness of Wilfred living, or would it bring the kindness of God taking Wilfred to heaven?
My husband and I decided against palliative care. As the night wore on, Wilfred became sicker, and the only option left was to ventilate him (which might be impossible, they said) and transfer him to another hospital. We left the room and sat in the hall, looking out the window over the darkened hospital car park. 
For the next hour they tried to intubate him, and more and more doctors rushed into the room. By the end there were about 15 people working on him. The nurses were crying. Eventually his consultant came out. Wilfred was on the ventilator, still alive, and the ambulance was waiting. Morning was just breaking.
Goodness and Mercy
Our trials didn't end that morning, but neither did God's grace. In the two years since, we've faced Wilfred's death many more times. And we haven't stopped singing. 
The psalms give us words to sing in every situation. They show us how to trust God and praise him, in joyful times and in the depths of despair.
Today there's a happy 3-year-old running around our house. Wilfred lives with mental and physical handicaps because of his long illness, and he waits on another surgery, which again comes with the risk of death. Yet as I look back over all that's happened, I see nothing but goodness and mercy—all my life, surely following me.
In a season of sorrow? This FREE eBook will guide you in biblical lament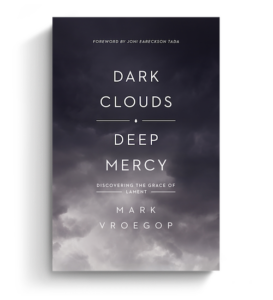 Lament is how we bring our sorrow to God—but it is a neglected dimension of the Christian life for many Christians today. We need to recover the practice of honest spiritual struggle that gives us permission to vocalize our pain and wrestle with our sorrow.
In Dark Clouds, Deep Mercy, pastor and TGC Council member Mark Vroegop explores how the Bible—through the psalms of lament and the book of Lamentations—gives voice to our pain. He invites readers to grieve, struggle, and tap into the rich reservoir of grace and mercy God offers in the darkest moments of our lives.
Click on the link below to get instant access to your FREE Dark Clouds, Deep Mercy eBook now!