Editors' note:
The weekly TGCvocations column asks practitioners about their jobs and how they integrate their faith and work. Interviews are condensed.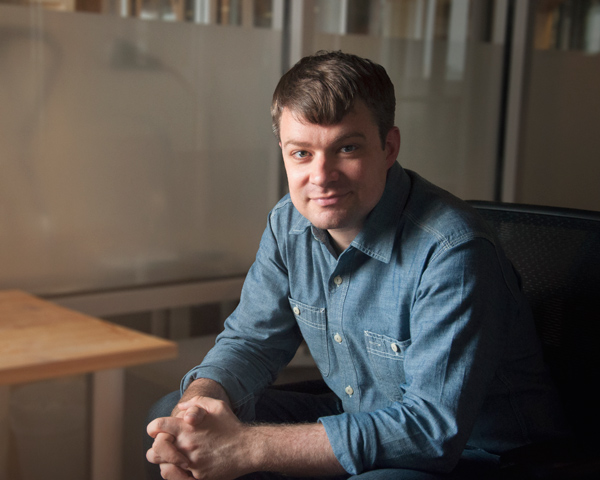 Brannon McAllister is many things—graphic designer, strategist, entrepreneur and, according to Christianity Today's "33 under 33" list, a music connector. He grew up in Greenville, South Carolina. Five years ago, he and his wife, Melissa, moved to Brooklyn, New York, where they are now preparing to add a new role to Brannon's list: father.
---
With which of your roles do you identify the most?
While growing up in school, I had always thought of myself as an artist. After college, some of my friends and I started an illustration and design company, and over time I saw my role naturally shift from being at the drawing table to being involved in the business. Through the relationships built during that time, I connected with some new friends in Nashville. In 2008, we co-founded NoiseTrade, where I helped to bootstrap the platform and became head of product. In that role, I have spent a lot of time imagining the roadmap of future features, designing the site in Photoshop, and then working alongside developers. These days, I think of myself mostly as an entrepreneur who happens to use design as a way to solve problems.
What are some things you've struggled with professionally?
Throughout my career, I've really struggled with the idea of the imposter syndrome, where you constantly feel like you're going to be found out as a fraud. In some sense, of course, this is true. We have a reason to feel like imposters because we are, as Andy Crouch puts it, playing God. I'm increasingly driving an incredible truth down into my soul—namely, that I've already been found out and, in Christ, I wasn't pushed away, but embraced.
How has this perspective changed your work?
In the past four years or so, there has been a steadiness in my daily work that wasn't present before. I can work in freedom because I know my work is not the source of my identity, but an expression of it. My identity is in Christ. This view releases me from self-justifying work and empowers me to serve others. In terms of my specific work in platform development, it helps me to see how my work is an act of empathy. I try to imagine as much as possible how end users feel and, then, create ways to enhance their experiences. This is "faith working through love" (Gal. 5:6) because it's seeing what cannot yet be seen and innovating ways to serve others.
How does your latest venture, The Gospel Fund, do this?
The Gospel Fund is a nonprofit crowdfunding platform with a vision for simplifying missions and church planting fundraising, communication, and mobilization. The site allows any Christian ministry, church, sending agency, or individual to present their organization or specific projects and accept one-time and recurring donations. The Gospel Fund combines the best practices of crowdfunding, technology, and social media with a vision for global missions. This concept builds on lessons I learned at NoiseTrade: direct connection with supporters, generosity, and sharing—combined with what I hope will be a clean, beautiful design.
How did you come to be focused on this new project?
I've always been involved in church planting because my dad was a church planter and pastor. In fact, throughout my life, I've almost always been involved with new churches—even my church in Brooklyn is a church plant. As for global missions, I have helped to produce Dispatches from the Front with Tim Keesee and Pete Hansen and, in 2009, had the honor of going with the team to Albania, Kosovo, and Montenegro. It was an incredible experience that opened my heart to love global missions. My experience and love for building platforms and background in helping people connect with their supporters made The Gospel Fund a natural next step.
---
If you would like to find out more about The Gospel Fund or help its launch, you can email Brannon at brannon@gospelfund.co.