Becoming a mother changes everything. There is so much they don't tell you when you sign your discharge papers at the hospital. Of course they prepare you for things like feeding, changing a diaper, and general hygiene. But they don't tell you how exhausted you will feel in those early days, or how uncertain you will feel about your skill as a mother, or how lonely you feel when your every day suddenly feels like Groundhog Day.
Motherhood is the most exhilarating experience. But it is also extremely isolating. You can go in short order from a vivacious social butterfly to a homebody who goes three days without changing her clothes. Everybody gets that motherhood changes them. But no one is quite prepared for how motherhood changes them.
Purpose of Loneliness
It's hard to see a plan for our circumstances when they are clouded by tantrums, spit-up, and other mundane realities of motherhood. But that doesn't deny that a sovereign hand guides it all. In the all-consuming days of being a mother it can often feel like the loneliness we feel is just the icing on an already bitter cake. Elisabeth Elliot said about our loneliness:
Loneliness is one kind of "dying" most of us learn about sooner or later. Far from being "bad" for us, a hindrance to spiritual growth, it may be the means of unfolding spiritual "blossoms" hitherto enfolded. The full-blown beauty of the wild rose, its very "fulfillment" depends on its continuously dying and living again. . . . In God's economy, whether he is making a flower or a human soul, nothing ever comes to nothing. The losses are his way of accomplishing the gains.
Like so many other difficult things we face in the Christian life, loneliness is part of God's loving plan to work all things for our good (Rom. 8:28). So the days where the only human being you converse with talks in two-word sentences or baby babble is not a loss to God or you. It is preparing for you a weight of glory beyond comparison (2 Cor. 4:17).
This daily dying to ourselves is not unique to motherhood, either. As Christians, we are called to die to our own glory and desires on a regular basis. The Son of God's lonely, painful death secured our life. So every little death to our own desires in our mothering journey allows us to share in the suffering of our Christ (1 Peter 4:13). Our death to social interaction and variety in our day means life for our children. And it is never in vain.
Hope for the Lonely
On paper it seems noble to say we are daily dying for our children. But it doesn't feel so wonderful when they cry out for us before the sun even rises. Or when we have to miss another Sunday at church because our child is sick or needs us in the nursery. In these moments we don't often care if loneliness means life for our child. We just want to talk to our friends for a change. Thankfully, we can rely on more than our feeble efforts to endure such loneliness.
Christ was alone so we would never have to be alone. And he ensured that even when we respond sinfully to our loneliness, he will give us the grace to repent and respond better the next time. Even on the most isolating days, where all you do is feed, clean, and hold a baby who you aren't sure even knows you are there, you are not alone. The loneliness you feel can be swallowed up with the amazing reality that Christ will never leave your side. He is our comfort when we are shedding nearly as many tears as our colicky baby. He is our strength when we feel like we can't get out of bed for one more middle-of-the-night feeding. He upholds us when we collapse on the couch after another long day of caring for little ones. And he is our righteousness when we fail our kids in a moment of sleep-deprived frustration.
I've learned in only a few short months of motherhood that I can't fool anyone into thinking I have it all together. I've also learned that even in my frazzled, sometimes lonely state of new motherhood, I am being held by the loving hands of my heavenly Father. He has ordained these long days for my good and my ultimate joy.
Yes, motherhood is hard work. It's lonely work. It's a work that doesn't always yield results for all of the input. But it's a Christ-like work. Every day we die to ourselves whether through lack of sleep, time, or social interaction, we are taking on the form of a servant in the spirit of our Christ (Phil. 2:7). And it's beautiful to God.
Children are a precious gift. There is nothing more amazing than staring at the life God created inside of you (or inside someone else). The long days we spend mothering our children have eternal significance that will, Lord willing, one day reap many rewards. Until then, we labor. We wait. And we cry out to the only One who truly understands what it means to lay down his life for his own.
Get a FREE eBook to strengthen your family discipleship!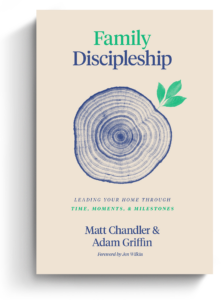 The back-to-school season is stressful for moms and dads. New rhythms of school, sports, and other extracurricular activities can quickly fill up a family's already busy calendar. Where do busy parents look for resources on discipling their family well? Aside from prioritizing church, what else can Christian parents do to instill healthy spiritual habits in their household?
Matt Chandler and Adam Griffin cover these questions and more in Family Discipleship: Leading Your Home through Time, Moments, and Milestones. And we're excited to offer this book to you for FREE as an eBook today.
Click on the link below to get instant access to your FREE Family Discipleship eBook now!