At a house in California, a group of Hindu seekers gathered to study John's Gospel. After reading the story of Jesus washing the disciples' feet, they concluded, "This shows Jesus is an average person and not a god."
These nonbelievers were answering the question, "What does this passage tell us about Jesus?" For them, it was clear he wasn't the God, and apparently not even a god. Meanwhile, the lone Christian in the room, strictly following a version of Discovery Bible Study (DBS), offered no correction.
The DBS method of leading group studies (and eventually house churches) has gained traction in recent years among missionaries at home and abroad. It employs a Socratic approach to teaching, asking questions to facilitate learning. DBS is also based on a healthy confidence in God's Spirit and Word. However, missionaries must recognize that God's Spirit has given leaders to teach God's people, and those leaders must do more than ask questions.
Are Word and Spirit Enough?
Recently in our South Asian city, some missionaries who are proponents of DBS told me, "The only guides a church needs are the Word and the Spirit." On the surface, it sounds credible. The instinct seems biblical. After all, we believe God's Spirit is sufficient to transform lives through his Word.
Such a perspective also seems to come from a reformational principle. John Calvin is widely known as the "theologian of the Holy Spirit." In his writings, it's clear he sees the Spirit and the Word as being inseparable agents to accomplish God's purposes. But would he say that the Word and Spirit are all the church needs?
In his Genevan catechism, Calvin writes that obedience to God's Word is only possible through the power of the Holy Spirit. The Spirit's work and our ability to keep God's commands go hand in hand. Yet for Calvin, this priority of Word and Spirit doesn't diminish the role of teachers in the church. In fact, within that same catechism, he explicitly affirms the need for pastors:
Is it necessary, then, that there should be pastors? Yes; and that we should hear them, receiving the teaching of the Lord in humility by their mouth. Therefore whoever despises them and refuses to hear them, rejects Jesus Christ, and separates himself from the fellowship of the faithful (Matt. 10:40; Luke 10:16).
Calvin's strong emphasis on the Word and Spirit doesn't imply that Bible teachers are needless.
Calvin's strong emphasis on the Word and Spirit doesn't imply, nor does he explicitly state, that Bible teachers are needless. On the contrary, he clearly sees the absolute necessity of such teaching, devoting himself as a pastor to instructing his congregation in the Scriptures chapter by chapter.
God's People Need Shepherds
Scripture is replete with examples of God-ordained leaders who shepherd God's people through his Word. We see Moses leading through the prophetic law, King David delighting in God's commands, and Ezra explaining and applying Scripture to the Israelites (Ex. 20; Ps. 19; Neh. 8). Yet God's people—including his shepherds—ultimately failed. So, God promised to send a final, good shepherd (Ezek. 34). This promise also came alongside the hope that God would pour out his Spirit through the rule of the true and greater David (Ezek. 37).
By the time we reach Pentecost, the royal Messiah has ascended to the place of all authority. He then pours out the Holy Spirit to empower his people for mission. At that moment, Jesus's first followers might have been tempted to think, "Great! We have all we need!" But there was another prophecy yet to be fulfilled. Through Jeremiah, God promised he would provide his people with shepherds after his own heart (Jer. 3:15). In fact, it was this need for good shepherds that moved Jesus to call for more workers in the harvest (Matt. 9:35–38).
The New Testament shows that when Jesus sends the Spirit, this isn't the end. The ascended Christ, by his Spirit, sends out leaders and teachers as gifts to the church (Eph. 4:8–12). Scripture is clear that those leaders—including missionaries and elders—then have the responsibility to feed Christ's sheep by declaring the whole counsel of God. They must teach. As Paul explains to the elders in Ephesus, those who are overseers in the church haven't received this responsibility by human authority. They are appointed by the Spirit (Acts 20:28).
Answering the Call
The same Spirit who inspired God's Word and fills his people also empowers leaders to teach and shepherd his people. This has been God's plan from the beginning. However, it's not uncommon on the mission field—and in America—to have a minimalist approach to teaching. Recently, I heard about one church planter near where I live in Asia who goes into villages, baptizes people, and then doesn't return. He says he doesn't have enough time to disciple them.
The same Spirit who inspired God's Word and fills his people also empowers leaders to teach and shepherd his people.
Of course, it's challenging to teach, equip, and appoint qualified elders. This takes a significant investment of time on the part of the missionary, an investment that could slow down the spread of the gospel. But the health of the church and the preservation of the faith depends on the missionary's faithfulness to follow in the footsteps of Paul by first teaching then appointing others who will do the same (Acts 14:23; cf. 2 Tim. 2:2). This is our call.
While it's true that good teachers ask good questions, that doesn't require a hands-off, purely democratic approach to studying the Bible, and certainly not to leading the church. Instead, we need leaders who not only ask questions but also give answers, explain doctrine, and show how the whole Bible points to Christ. We need shepherds who can boldly say, "No, Jesus isn't just a man. He's the Lord of the universe who stoops down, takes the place of a slave, and washes the feet of sinners. He alone is worthy of our devotion."
Get a FREE eBook to strengthen your family discipleship!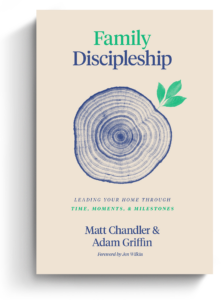 The back-to-school season is stressful for moms and dads. New rhythms of school, sports, and other extracurricular activities can quickly fill up a family's already busy calendar. Where do busy parents look for resources on discipling their family well? Aside from prioritizing church, what else can Christian parents do to instill healthy spiritual habits in their household?
Matt Chandler and Adam Griffin cover these questions and more in Family Discipleship: Leading Your Home through Time, Moments, and Milestones. And we're excited to offer this book to you for FREE as an eBook today.
Click on the link below to get instant access to your FREE Family Discipleship eBook now!