Change is the deepest dream of the human heart. We'd all like to become someone new. It's also the great promise of the gospel—that Jesus makes all things new.
As 2018 fades into 2019, the whole world is getting caught up in the dream of change. In a way, this is wonderful. There is common grace in a calendar that regularly presents us with opportunities to reconsider how we live. The flurry of resolutions made this time of year reminds us that we really do long to be made new.
But there's also a dark side. We waste the redemptive desire to be made new on resolutions that have no power to change us. This week, many of us will make ambitious, sweeping resolutions; and in less than a month our collective amnesia will set in. Our hopes will be quietly discarded, and our remarkable capacity to forget will be the only thing that saves us from the embarrassment of it all.
So here's a challenge for next year: Don't make resolutions—make habits.
Unlike resolutions, we actually become our habits. There are no changed lives outside of changed habits. And if we want to actually change, we need to take a sober look at where our habits are leading us.
Power of Habits
Habits form who we are, because habits are little liturgies of worship.
Think about it. A habit is something you do over and over without noticing it. We wake up and we scroll Instagram. We roll up to the stoplight and check our texts. We get a controversial work email and check the news headlines instead of facing the task.
We might be vaguely annoyed at these things, but we probably don't think of them as deeply formative. We are terribly mistaken.
Unlike resolutions, we actually become our habits.
At the root of each of these little liturgies is a search for something fundamental—our eyes search the photos for a vision of the good life; at the stoplight we itch for a connection with another human; in difficult work moments we realize we'd rather numb ourselves with distraction than face the pain of life itself.
Humans were made to worship, so we can't stop worshiping. Ever. And under each of these tiny, ordinary, and tremendously powerful moments lies a habit of worship. In a world where new technological habits are emerging in every aspect of our lives, to do nothing is actually to do something quite extraordinary. It is to submit to a strange and deformed modern order of worship.
This presents us with a problem: If we want to be formed in the love of God and neighbor, we must take hold of our habits.
Modern Problem, Ancient Solution
For millennia, communities of Christians have committed to communal patterns of habit as a way to resist formation in cultural habits and embrace formation in the love of God and neighbor. This practice has various names and forms, but in the monastic context these communal programs of habit were sometimes called a "rule of life."
Some think these practices are legalistic. This is understandable, because if we were to try to pursue habits to earn God's love, they would be. But when we're so enamored with the love of God that we decide to order every bit of our lives accordingly—that's simply responding to the beauty of our Savior. Habits before love is legalism. But love before habits is the logic of grace.
Habits before love is legalism. But love before habits is the logic of grace.
The fascinating thing about our modern moment is that we're already semi-consciously adopting a new rule of life. But this new rule of life isn't designed by those who care about our formation in the image of Christ—it's formed by companies that want to attract our attention and sell it to advertisers. To do nothing is to adopt a competing rule of life that's trying to get you to believe you're loved because of what you buy, post, read, accomplish, or think. To do nothing is to submit to a rule of life that tries to talk you out of beauty of the gospel.
We urgently need to wake up. There's a better way, and it lies in crafting a rule of life that uses ordinary habits to form us in the gospel.
We don't need new resolutions—we need a better rule of life. We need counter-formational habits that will invade our moments of waking, our rhythms of work, and our patterns of community. We need tiny habits that point us to the gospel of Jesus in moments both big and small.
This is why I invite communities to try the Common Rule.
Adopt a Common Rule of Life
The Common Rule is a communal pattern of four daily and four weekly habits designed to counter the chaos of our modern technological life. It's meant to be done with other people, and it's designed to push ordinary life toward love of God and neighbor.
You can read more about the habits on the website. There are daily habits like Scripture before phone and turning your phone off for an hour a day of presence. There are also weekly habits like sabbath and pursuing intentional conversation with friends.
These habits are designed to disrupt the patterns of cultural formation that currently frame our lives and introduce habits that push us toward community, toward presence, and toward believing the gospel more deeply.
So here's the challenge: Don't make any resolutions this year. Instead, find a couple friends in your church or small group, download the guide on the website, and spend the first 31 days of January trying out some of the habits of the Common Rule.
Get your FREE 7-day devotional!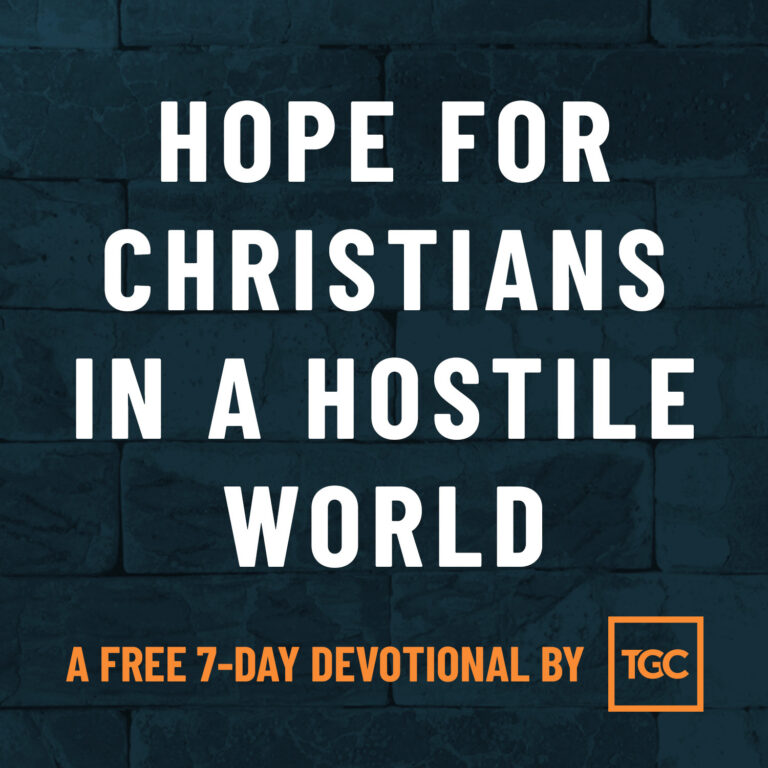 God's people have always been strangers and sojourners in this world. Do you feel that way, too?
You're not alone. Since the church's beginnings, Christians have often felt ostracized. And the Bible offers great encouragement for how to live with hope.
If you're feeling the weight of cultural exile today, our new 7-day devotional, Hope for Christians in a Hostile World, will encourage you.
If you sign up for this FREE resource, we'll send you an email each day for a week with a daily devotional featuring Bible readings and reflections written by TGC staff and friends.