In her introduction to Sam Smith and Kim Petras's satanic performance of "Unholy" at the 2023 Grammy Awards, Madonna teed up the audience for the provocative display: "Are you ready for a little controversy?!"
Donning a dramatically altered face that was itself praised as a "brilliant provocation" (by the New York Times), Madonna went on to celebrate the value of transgression in pop music:
Here's what I've learned after four decades in music. If they call you shocking, scandalous, troublesome, problematic, provocative, or dangerous, you are definitely onto something. I'm here to give thanks to all the rebels out there, forging a new path and taking the heat for all of it. You guys need to know—all you troublemakers out there—that your fearlessness does not go unnoticed. You are seen, you are heard, and most of all, you are appreciated.
But what is the "something," pop provocateurs and troublemakers are onto? Because surely in Western culture—which has churned out anticulture deathworks for decades now—the profane, iconoclastic, and transgressive no longer shocks like it once did. Maybe by "onto something," Madonna is simply nodding to the realities of clickbait capitalism, which does tend to reward manufactured displays of provocation. She knows better than most: sex sells and controversy gets clicks.
But if by "onto something" she intends to mean something higher than accumulating YouTube views and making money, she's mistaken. Because "transgression" in contemporary pop culture has become ubiquitous to the point of banality. Transgressing gender binaries in fashion, pushing the envelope of sex and nudity on TV, ratcheting up gore in horror movies, celebrating "completely filthy" chart-topping singles—it's all so pervasive by now that it's tiresome, as "transgressive" as the khaki section of Old Navy.
Moral boundaries and norms have been transgressed for so long, and in so many ways, that today the truly transgressive act is to choose life within moral constraints rather than libertine freedom. Holiness is the new transgression.
Pop Culture's 'Transgression' Obsession
From the early 20th-century Dadaist and surrealist movements of the European avant-garde to the shock art of Duchamp's "Fountain" and Serrano's "Piss Christ," the movement of contemporary art has been away from beauty and goodness and toward ugliness and offense. Pop culture has followed suit—with music, movies, and television constantly baiting censors and looking for new ways to scandalize audiences (and grab headlines in the process).
Transgression in contemporary pop culture has become ubiquitous to the point of banality.
To be "transgressive"—to violate social norms, undermine traditional morality, and troll bourgeois tastes—has always been tempting for artists. But until recently, most artists generally saw their work within a more generative, beauty-seeking project. That started to change in the early decades of the 20th century (accelerated by the shattering spiritual effects of two world wars), when the general disposition of artists shifted decisively: from meaning to chaos, representation to abstraction, harmony to dissonance, making beauty to making trouble.
The innovation of culture making used to be constructive: creating new ways to build and beautify. But now, cultural innovation is mostly destructive: dreaming up new ways to trash, demolish, destabilize, pervert, and provoke, especially as it pertains to established orthodoxies or anything "sacred." This is the type of culture Philip Rieff calls "third world": a culture that "persists independent of all sacred orders," where "there is no truth, only rhetorics of self-interest."
Consider how much has changed over the last 70 years in what "scandalizes" in pop music. In the 1950s, Elvis's gyrating "Hound Dog" hips were widely considered vulgar and fodder for censors. Today, female pop singers regularly twerk on stage in various states of undress (sometimes while playing historic flutes) or dance on stripper poles during Super Bowl halftime shows. Not to be outdone, queer rapper Lil Nas X ratcheted up the stripper-shock in his 2021 video for "Montero (Call Me By Your Name)," in which he cavorted down a stripper pole to hell, giving Satan an erotic lap dance.
"What could possibly top that?" we might ask. But something always does. The transgressive game requires it. And when the next vaudeville grotesquerie arrives, few will be surprised or particularly provoked.
Subversion Is Stale. Holiness Is Fresh.
The problem with transgression as the raison d'être of art making is that the ante is always being upped. The boundaries are so regularly crossed that the move becomes predictable and boring. Transgression begins to feel less innovative than derivative, less pioneering than pitiful. When an "anti-establishment" display airs in prime time on CBS, it means the anti-establishment brand has become the establishment. When the rainbow pride flag —previously a "subversive" symbol flown most freely in Greenwich Village and San Francisco's Castro District—becomes inspiration for special edition Doritos and toddler T-shirts at Kohl's, it's clear transgression has gone mainstream.
When an 'anti-establishment' display airs in prime time on CBS, it means the anti-establishment brand has become the establishment.
In a twist Salvador Dalí and Luis Buñuel likely never saw coming, the avant-garde has, in the 21st century, become middlebrow ennui. Subversion has scaled up like Starbucks, going stale in the process. This means "normal" starts to feel unexpectedly radical.
In a world where vice is vanilla, virtue is spicy.
In an age where amoral excess is the bland standard, disciplined restraint is the flavorful exception.
As a longtime movie and pop culture critic, I've grown weary and bored by Hollywood's tired, clichéd transgression. It's uninteresting when indie films find another convention to subvert or moral boundary to transgress. Far more interesting are the movies and TV shows that unapologetically depict healthy marriages, stable nuclear families, time-tested wisdom, heroic valor, and straightforward romance.
This is part of why Friday Night Lights appeals to me so much more than a show like Game of Thrones. The former celebrates the flourishing that ripples out from the centerpiece of the Taylors' loving, committed marriage. The latter relishes the carnage that ensues from moral depravity (incest, rape, betrayal, brutality). I want more pop culture to inspire me by its celebration of goodness, innocence, purity, and sacrifice, challenging me to aspire to these qualities myself. I don't want more of the same: pop culture that delights in narcissism, sin, and subversion (often under the banner of "authenticity"), leaving me depressed and disgusted.
Transgression That Transforms
Pop culture that touts itself as "raw," "gritty," "edgy," "naughty," "dirty," and the like may be enticing, but it won't nourish. It may be titillating in the moment, but it won't transform in the long term (at least not in a positive direction). Rather than stories that present sin as some sort of perverse currency of "relatability," we need narratives that challenge us aspirationally: to be better, more selfless, more humble, more holy.
In an age when amoral excess is the bland standard, disciplined restraint is the flavorful exception.
The truly radical, truly transgressive works of culture today will not be those that invite us to gawk at moral trainwrecks and grimace at the deathworks of a decadent age. Rather, they'll be the works that challenge us to "not be conformed to the passions of [our] former ignorance" (1 Pet. 1:14), to "not be conformed to this world, but be transformed by the renewal" of our minds (Rom. 12:2), and to "put away all filthiness and rampant wickedness and receive with meekness the implanted word, which is able to save [our] souls" (James 1:21).
Not only will these works be better for us, but they'll also be more enjoyable too. There's much more drama and satisfaction in narratives of growth and grace ("I once was lost, but now am found") than in spectacles of shock and awe. The lost, lonely souls of our secular age need no more "troublemaking" trifles; they need meaty provocation in the direction of holiness—fueled by gospel hope.
Let's seek out, create, consume, and celebrate works like that: works that spur souls toward holiness; inflame hearts for the good, true, and beautiful; and rekindle interest in the sweeping thrill of sanctification. Works that encourage us to "put off" our old selves, which belong to our "former manner of life and [are] corrupt through deceitful desires," and then to "put on the new self, created after the likeness of God in true righteousness and holiness" (Eph. 4:22, 24).
That's the turn that truly makes heads turn. That's the transgression that truly transforms.
Get a FREE eBook to strengthen your family discipleship!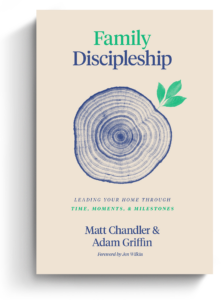 The back-to-school season is stressful for moms and dads. New rhythms of school, sports, and other extracurricular activities can quickly fill up a family's already busy calendar. Where do busy parents look for resources on discipling their family well? Aside from prioritizing church, what else can Christian parents do to instill healthy spiritual habits in their household?
Matt Chandler and Adam Griffin cover these questions and more in Family Discipleship: Leading Your Home through Time, Moments, and Milestones. And we're excited to offer this book to you for FREE as an eBook today.
Click on the link below to get instant access to your FREE Family Discipleship eBook now!