Dear Pastor Jeff,
I have now logged a little more than five years in pastoral ministry, yet a burning question has confronted my mind of late and has thrown a chill on my desire to persevere: Am I really called to serve in the office of pastor after all? Is this really the kind of service for which the Lord has suited me? Might it not be better for me to serve in another corner of the Lord's vineyard? I have advanced degrees in theology. Perhaps the church would be better served by my leaving and pursuing a position in Christian academia.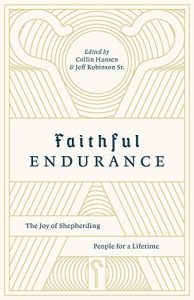 Why would I ask such potentially life-altering questions? Because evidence seems to be mounting that perhaps I have misunderstood God's will. Each Lord's Day, the people seem disconnected from my preaching. Some fall asleep. All look bored. There've been no converts lately. I've heard comments such as "You sound more like a lecturer than a preacher." That hurts. But is it telling? Am I called to serve as a professor instead of a pastor? Maybe. Am I called to some other form of ministry? A writer or editor? It's possible to serve the local church well in that capacity. I just don't know.
You may say, "Well, perhaps you simply need to grow as a preacher," but they just don't seem to be following me. A wise man once told me, "If you are trying to lead and nobody is following, then you are just going for a walk." Maybe that's the case for me. This just doesn't feel like success.
Have I confused a passion for the Bible, theology, and the things of God with a call to pastoral ministry? Am I merely being tempted by my flesh or the devil to flee on the next sailing vessel for Tarshish? Maybe I'm just tired of the war here and want to find peacetime there? Have you ever questioned your own calling?
Faithfully yours,
Dazed and Confused
__________
Dear Dazed and Confused,
I know all about this. The first church I pastored left me bruised and battered. Some of the people and more than one elder—out of motives they hid from me in plain sight—tried to convince me that I was no pastor. I heard numerous explanations as to my identity: I was really a seminary professor. I might be a good staff member. Maybe I should try military chaplaincy. Alluding to my preministry vocation, one even suggested that, as pastors go, I was probably a pretty good journalist.
Despite all the flak, that gnawing in my gut to serve God's people flew on. That fire shut up in my bones simply wouldn't abate, and I think it was the Holy Spirit. The desire to do the work of a pastor haunted me, keeping me awake night after sleepless night. As Charles Spurgeon advised his students, that itself may be the first subjective sign of a genuine, irrevocable call to the pastorate.
Was I tempted toward bitterness? Yes, strongly. Despair? Time after time. But God kept me from that.
Today, I am privileged to pastor another church under more peaceful circumstances. The Lord has been merciful to me and my family. I'm grateful I didn't follow through with my plans to return to the newspaper business—newspapers aren't exactly flourishing these days anyway. When it comes to calling, there are objective aspects, as when the local church confirms your gifts and calling externally, and there are subjective aspects, as when you sense the call of God inwardly. Both are important.
Here are six lessons I've learned about calling from my years in ministry. Granted, these lean toward the subjective side and are by no means absolute, but they've helped me wrestle with the issue.
1. If you suffer seasons of affliction and still want to pastor, you're probably called.
Affliction will either confirm your ministry or destroy it. I once met with a young man who harbored uncertainty about his calling. It didn't take me long to discover that his doubts were rooted in a minor methodological disagreement with the pastor with whom he served. This disagreement had plunged him into deep anxiety and doubt. He saw it as suffering. I saw it differently.
After talking to me and a couple of other ministry friends, we all agreed that if such a relatively trifling matter made him want to quit ministry, perhaps he should reconsider his calling. Today, he is happy working outside the church, leading his family well in the Lord, and serving as a deacon in his congregation. Every vocation comes with its difficulties. If it's the difficulties that are scaring you away, then perhaps you've misunderstood the nature of gospel ministry.
2. If the church has confirmed your gifts, and your ministry has borne at least some fruit, you're probably called.
You've seen tangible fruit from your labors—souls have been saved, believers have grown, young men have been raised up for ministry. But you've been knocked off the horse, and you're sore. Perhaps consider taking some time for healing, and then get back on the horse. After my painful foray into pastoral ministry, I took about 18 months before entering the pastorate again. My desires for preaching God's Word and shepherding never waned, and I spent significant time in prayerful meditation pondering lessons I might learn from my previous pastorate that would benefit those I would lead in the future. This book is actually one of the fruits from that time.
3. You might be called away from the pastorate for a season into another form of service, only to return in the future.
I had a friend recently step away from pastoral ministry and go to Africa to help plant a church over the next two years. Another brother took a teaching job at a seminary and fell back from the lead elder to a lay elder position in his church. Both hope to continue as a pastor in the future—either alongside their present calling or as a return to the local church as a full-time vocation.
David Platt left the Church at Brook Hills after many years as its pastor to lead the Southern Baptist Convention's International Mission Board for a season and then returned to pastoral ministry. After a few years, he has returned as lead pastor of a church in Virginia. God may use your gifts in a wide variety of ways. I've been an editor and adjunct professor between and during pastoral gigs. God won't waste any of the gifts he's given you.
4. Success in ministry—as defined by the world—is no certain sign of a call to ministry.
Remember, false teachers build churches that number in the thousands, while thousands of faithful pastors lead congregations with membership rolls in double digits—or less. The "super apostles" of 2 Corinthians had no small following, yet Paul rightly dismissed them as charlatans. Healthy gospel fruit is not the same thing as bloated attendance figures and multimillion-dollar budgets, though those things don't always indicate compromise either.
5. If you're called, the calling likely remains unless you're morally disqualified.
If you meet the qualifications for elders in 1 Timothy 3 and Titus 1 and seek the humility that Peter expects to typify church leaders in 1 Peter 5:1–6, then it may be the Lord's will that you press on in ministry, even though the fruit you see may not be ripening fast. Moses did. Jeremiah did. Paul did.
Spurgeon is helpful here. The Prince of Preachers told students in his pastor's school that the first sign of the "heavenly calling" is "an intense, all-absorbing desire for the work." Indeed. Paul seems to concur in his counsel to Timothy, a young pastor whom he was mentoring. In 1 Timothy 4, Paul famously exhorts Timothy to keep a close eye on his life and doctrine. But first, he tells Timothy not to neglect the gift that the council of elders set him apart to deploy, telling him to "practice these things" and "immerse [himself] in them" (1 Tim. 4:15).
6. If you're married, ask your wife.
I know, I hear your objection: this undermines complementarianism. No, this is complementarianism at its best. When things went sour in my first pastorate, my wife continued to encourage me to press on. She even exhorted me with strong words when I fell into the slough of self-pity. She reminded me that what had happened there had nothing to do with my calling and everything to do with God's goodness and mercy in sanctifying me in his laboratory of affliction—a truth she had heard me preach dozens of times.
God broke me, but he made Lisa strong. She knows me best, knows my heart, knows my strengths and weaknesses, what I'm good at, what I'm not. If not for her steady encouragement, I probably would not be a pastor today. I'm glad God gave me a godly, wise wife who's not afraid to tell me what I need to hear. I'm thankful he broke through my stubbornness and gave me ears to hear her loving (and sometimes firm) admonitions. Ask your wife if she thinks you're called, and then listen to her.
It's Not about You
I'm not a big fan of "life verses." Too often, they are based on a shallow reading of Scripture that fails to interpret said verse in light of its context. But shortly after I surrendered to the call to ministry in 1997, my study of Acts 20 riveted my gaze on a single verse. It's about as close to a perfect pastoral mission statement as you're ever going to read. Since it's the Word of God, it doesn't apply merely to me but is a summary of the calling of every servant of Jesus:
But I do not account my life of any value nor as precious to myself, if only I may finish my course and the ministry that I received from the Lord Jesus, to testify to the gospel of the grace of God. (Acts 20:24)
Perhaps you're reconsidering whether all that stress and strain is really worth it. Maybe they have unmasked you as a ministerial fraud. But when you surrendered to ministry (and really when you became a Christian), you signed over the title deed of your life to Jesus. Don't give up easily, because it's not about you. Your assignment is not to build yourself a respectable middle-class life but to finish the course and the ministry given you by divine providence. Count your afflictions as joy (James 1:2), and give your life to testifying to the glorious gospel of God.