Theologically hungry pastors in Myanmar recently had their souls fed with a large assortment of solid books donated by The Gospel Coalition-International Outreach (TGC-IO). What a pleasure to see the glow of appreciation on their faces! These Kachin pastors serve small, remote churches in the mountains of northern Myanmar (formerly Burma) and in larger urban churches along the Irrawaddy River.
Their resources are few, but hope is rising despite their ongoing oppression as Christians under a Buddhist-dominated dictatorship.
Long-Term Relationship 
Bethlehem Baptist Church in Minneapolis has a relationship with this people group dating to 1890, when the church ordained and commissioned Ola Hanson to serve among the Kachin people of Burma. He and his wife, Minnie, arrived seven years after the first Kachin believers were baptized. Hanson devoted the next 37 years of his life to learning Jinghpaw, the language of the Kachin. He chose an alphabet and a script to commit the language to writing for the first time to translate the Old and New Testament from the original languages.
The Kachin culture has retained a story passed down through the generations. Its people heard about the creator-god who gave them a book that became lost, but would one day come back to them. In 1927, when Hanson gave the Kachin the Scriptures in Jinghpaw at a formal ceremony, they received this gift with unusual joy. Their long-held hope was realized. Since then, the gospel has spread steadily and, at times, rapidly throughout their region.
Today the majority of the Kachin people profess to be Christians, though nominalism and liberal theology have afflicted many of the churches. Today a number of key leaders want to get the Kachin churches back on the solid ground of biblical truth. In 1990 Bethlehem Baptist Church re-connected with the Kachin and was invited to help their churches grow in the commitment to God's Word. Many of our teams have been sent to Myanmar over the years, and Kachin believers have visited us in return.
Long-Term Reinforcements
As I write this dispatch from Myitkyina, the capital city of the Kachin state, I am watching our Bethlehem team teach a select group of pastors who represent each geographical association of the Kachin Baptist Convention. In partnership with Training Leaders International we are teaching the attributes of God and pastoral theology. These are part of an eight-course sequence we will share with them over a four-year period. The Packing Hope books donated through International Outreach sit bundled together in the pastors' study library. Virtually all of these will supplement the courses we teach here. Many of the pastors know sufficient English to benefit from these books. They will return home with resources to reinforce those things they learn.
Our prayer is that some of these books will be translated into Jinghpaw, and that is beginning to happen. On this visit, we also had the privilege of putting into their hands Wayne Grudem's Systematic Theology in Jinghpaw—a ten-year project. This combination of personal teaching and well-written biblical resources will serve these pastors well.
Get your FREE 7-day devotional!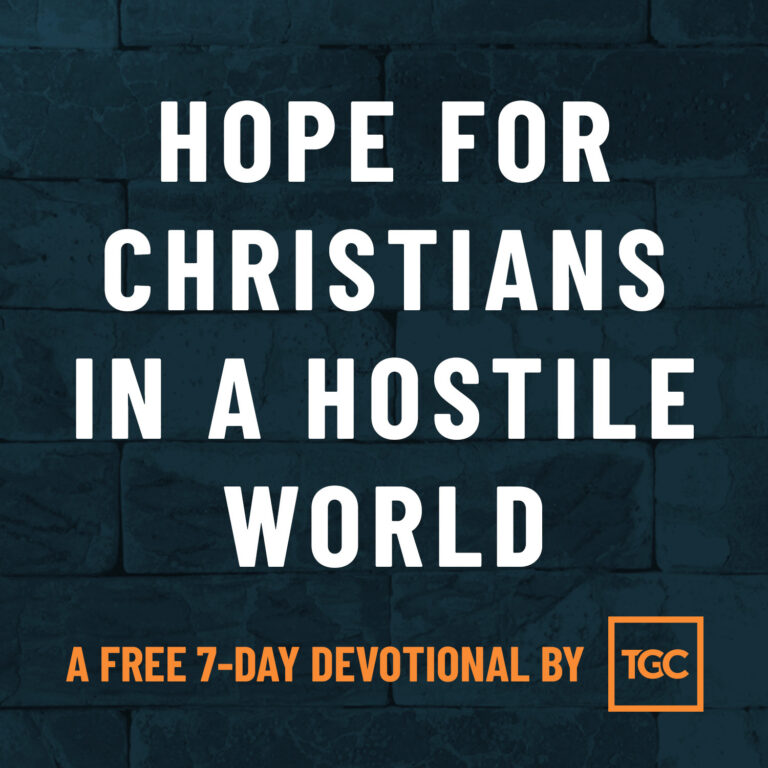 God's people have always been strangers and sojourners in this world. Do you feel that way, too?
You're not alone. Since the church's beginnings, Christians have often felt ostracized. And the Bible offers great encouragement for how to live with hope.
If you're feeling the weight of cultural exile today, our new 7-day devotional, Hope for Christians in a Hostile World, will encourage you.
If you sign up for this FREE resource, we'll send you an email each day for a week with a daily devotional featuring Bible readings and reflections written by TGC staff and friends.