When Ellen Hilliard was in college, she knew one thing for sure: she was not going to do a fellows program after she graduated.
"My older sister Laura did it four years before me," Ellen said. "Because she had done it, I was not going to. I was going to forge my own path."
But her path didn't seem to be going anywhere. She loved mentoring youth, but not enough to go into ministry. She loved learning, but not enough to consider graduate school. She loved her major of American studies, but didn't know what job it could secure.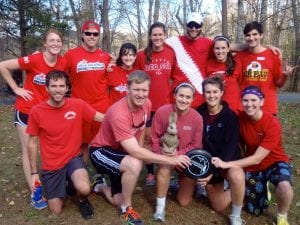 "I decided to pretend that Laura hadn't done the fellows program and to critically look at what it entailed," she said. "I realized I could get a flavor of all three of these—mentoring, learning, and working—for a brief amount of time."
So Hilliard applied for the nine-month program at The Falls Church Anglican in Washington, D.C. She worked as an administrative assistant for a trade association ("My boss was a believer, and that relationship was really pivotal."), lived with a host family ("It was the highlight of the program for me and widened my perspective on different ways families work."), and studied faith-and-work questions through books and speakers and discussions ("You slow down to ask questions. I was able to have a slower and more thoughtful pace, even in my prayer life, regarding my vocation.").
Six years later, "I'm continuing to see the ripple effects of that year," said Hilliard, who earned a master's degree in counseling and now works as a counselor at a public school. "It changed how I view work, how I view hospitality. It gave me the ability to slow down and intentionally think through vocation and what would be a good fit for me."
The Falls Church Anglican is feeling the ripples, too.
"You'll find former fellows on the worship team, on the welcome team, on the [elder board]," Fellows Initiative program development director Morna Comeau said. "They're leading Bible studies, because they know how to do it. They're leaving with church plants, because they've been taught and want to do what their mentors have done. They're invested, and that's what changes the church."
The Fellows Program has been so effective that former rector John Yates—who led the church through a split with the Episcopal Church, helped found the Anglican Church in North America, and sent out eight church plants while looking for his own permanent building—calls it his best legacy.
The Fellows Program has been so effective that former rector John Yates—who led the church through a split with the Episcopal Church, helped found the Anglican Church in North America, and sent out eight church plants while looking for his own permanent building—calls it his best legacy.
"It has had a huge impact on our church," he said. Other churches saw what was happening and asked how they could do it too. One of them was Redeemer Presbyterian Church in New York City, which created their own version for professionals and named it the Gotham Fellowship.
This year, there were 29 churches—and more than 2,000 graduates—in The Fellows Initiative network. The Gotham Network ran another 15 programs, with a different demographic and content, in 15 cities.
"It's really quite exciting," Yates, a TGC Council member, said. "When you get all the fellows together, it feels like a movement."
Mentoring Youth
John Yates has loved youth ministry since he was part of Young Life at the University of North Carolina, sharing a house with his close friend Doug Holladay. When he came to The Falls Church in 1979, youth ministry was a major priority.
Along with running his own growing programs, "I was thinking about training young adults, so that they would either go into youth ministry or, as they went into other vocations and ended up at local churches, they would be committed to helping those churches develop strong youth ministries," he said.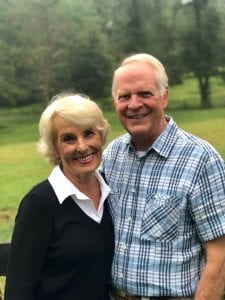 Yates told all this to Holladay, who had gone into business when Yates went to seminary. ("Holladay has always had an anticlerical streak," Yates said with a laugh. "He's always giving me grief about being a pastor when I could be out doing really good ministry.")
"What makes you think youth pastors are the most important people in the world?" Holladay asked him. "I come up against more unbelievers in a week than you do in six months."
Think bigger, Holladay advised. Don't just mentor youth pastors—mentor youth. Give them a vision for serving Christ in their vocations.
Yates wasn't hard to convince. "I pulled together a couple other key leaders, and we developed the idea of recruiting a small number of young men and women just out of college," he said. "We'd give them a year that would impact their lives forever."
Yates figured the young people would need jobs, so The Falls Church pulled together part-time work for them in hospitals or law firms or businesses or congressional offices. They needed theological education, so The Falls Church members—and later Reformed Theological Seminary professors—taught one morning a week. They needed somewhere to stay, so The Falls Church families opened up their homes. They needed to disciple somebody else, so The Falls Church youth group connected each of them with a younger student.
We developed the idea of recruiting a small number of young men and women just out of college. We'd give them a year that would impact their lives forever.
"It was as well organized as it could be for something we'd never done before," said Steve Skancke, who has been involved since Yates first proposed the idea. "When you think about it, to have a dozen young men and women you don't know well show up to work with employers and live with your families and disciple your youth—it's a bit of a gamble."
But the whole thing felt like it was from God. For one thing, church members were eager to help and host. For another, about a dozen kids—mostly friends of Yates's kids—signed up to come.
"We kept it bathed in prayer and surrendered it to God, figuring he'd show us how to make it happen," Skancke said. "It's been absolutely amazing how well it works."
Adjustments
But it wasn't perfect, especially in the beginning.
"First of all, we way overprogrammed with coursework," Comeau said. "They each took several courses a semester. We realized after the first year we wanted this to be more of a holistic, transformative Christian program, and that the courses weren't bad—they were just too much."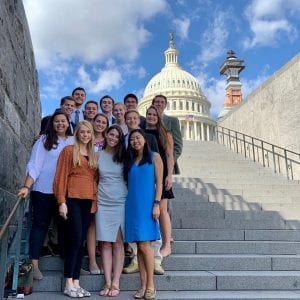 So The Falls Church lopped off a few classes, dropping down to one master's-level course per semester, designed especially for the fellows.
"Another thing was, in the beginning, we didn't have a Bible study," Comeau said. "We had courses on the Bible, but there is a difference between learning about the Bible and learning how to study the Bible."
So The Falls Church added a weekly Bible study, taught with the goal of helping the fellows encounter Jesus and, eventually, learn how to be Bible study leaders themselves.
"Another big thing they didn't do in the beginning was to have regular community dinners," Comeau said. The fellows' time together was often transactional—learning in class or working with the youth group.
So The Falls Church added a weekly dinner—they call it "round table"—where the fellows and their director cook and eat and clean up together. They can talk and worship and pray and "work out all they've been learning together," Comeau said.
The goal was for the church to serve the fellows—"to get a dozen kids a place to live, pour into them, get them some teaching, get them some jobs, and see what happens," Yates said.
What Happened
Right away, The Falls Church benefited from the infusion of a dozen young, thoughtful fellows into the congregation.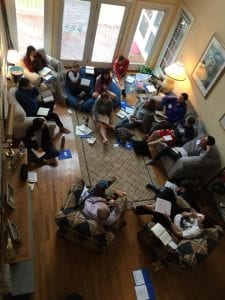 The members who came each week to tell their stories—engineers and government employees and stay-at-home moms and pediatricians—loved the chance to think deeply about their work. The families hosting the fellows, for the most part, loved having someone at the dinner table who was sharing what he or she was learning. The youth leaders loved the extra hands. And the parents loved the godly influence.
"When my children were in middle school, they always had a fellow who worked with their small group," Comeau said. "So when we were asked if we would host a fellow in our home, we were so grateful for what the fellows had done for our own kids that we said, 'Of course.'"
The Comeau family hosted fellows for five years in a row. "It was a great way to raise teenagers, having a 22-year-old living with you. We felt the fellow was on our side as parents, but my kids thought they were the coolest things—way cooler than we were."
The longer The Falls Church ran the fellows program, the better they liked it.
"If you came to The Falls Church on a Sunday morning and looked out in the room, you'd see several hundred people that are there because they are current fellows, or former fellows, or married to a fellow, or a friend of the fellow from college," Skancke said. "A remarkable side effect is the renewal of the relevance of the local church to millennials."
Fellows are leading Bible studies. They're teaching Sunday school. They're overseas on the mission field. They're heading out with church plants. They're leading the next generations of fellows.
A remarkable side effect is the renewal of the relevance of the local church to millennials.
"It's had a huge impact on our church," Yates said. "There are now hundreds of people in our church who have been either host families or mentors or workplace hosts. What that's done is given our church a vision for pouring into the lives of young generations, and it's given them a sense of community around a common purpose. There are tons of relationships between church members that have come out of their involvement in the program."
The program was working. And people were talking. ("Within a few years, word of mouth was spreading among young adults, and people began to write and apply," Yates said.)
After a while, other churches started calling.
Spreading Out
Starting a fellows program like the one at The Falls Church requires an enormous amount of time, energy, and resources. The recommended class size is 12, which means you need a dozen host families, a dozen mentors, and a dozen part-time jobs that hopefully match the fields your fellows are interested in.
You need someone to interview the applicants, check references, and maybe run background checks (after all, you're putting them in with your families and asking them to work with your youth). You need someone to coordinate their schedules, to find teachers, and to line up speakers. You need someone who can teach a graduate-level class in theology, someone who can mediate occasional disputes between fellows and their employers or families, and someone who can find leadership and service opportunities for them.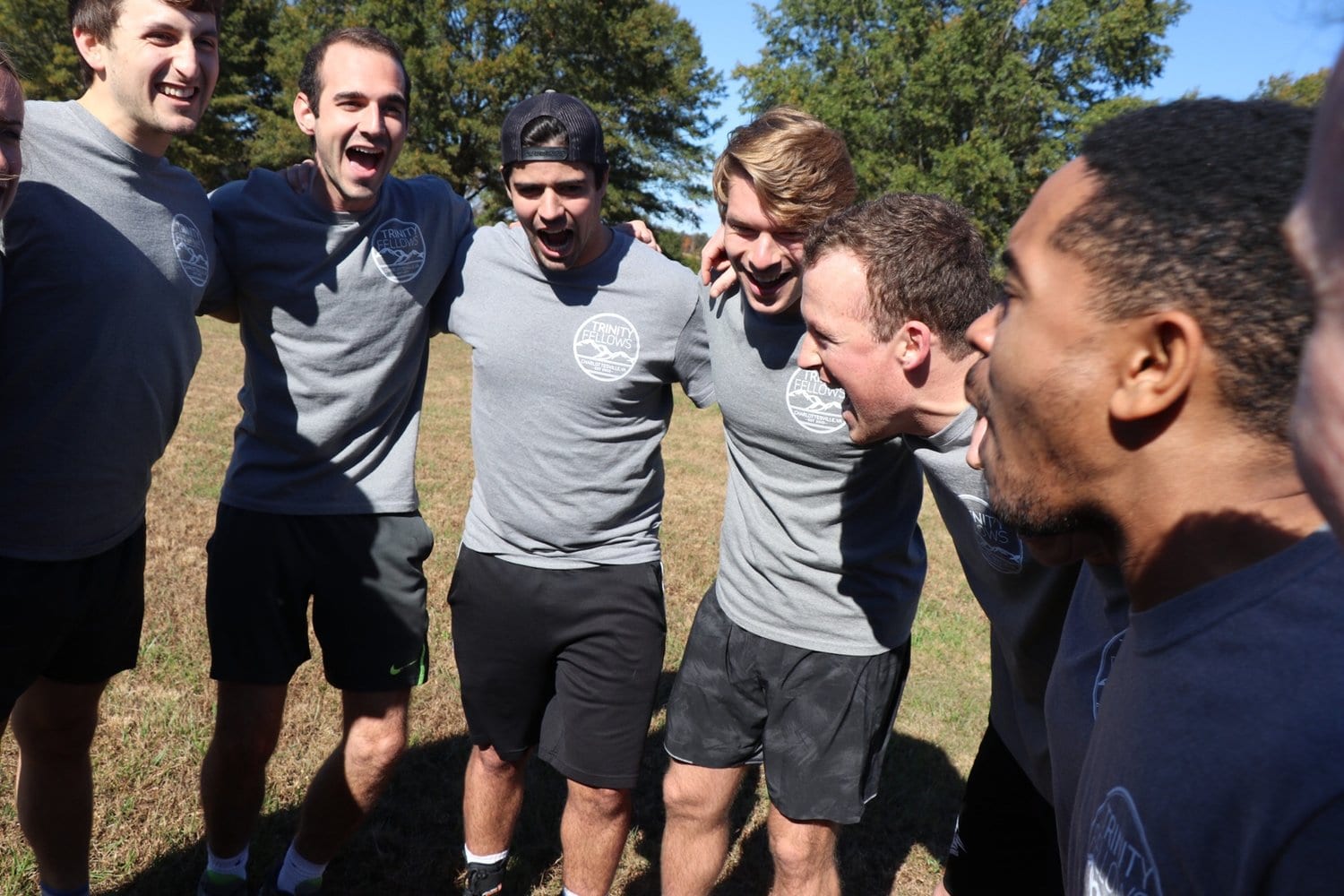 "It's a huge amount of work," said Regent College professor of marketplace theology and leadership Steve Garber, who helped dream up the fellows curriculum at The Falls Church.
Some churches are better positioned to do it. One that is "appealing to young people," in a city "where young people love to live," and "has a group of people who would really be committed to the vision," has a better shot, Yates said.
It also helps to have at least 1,000 members, though a few smaller churches combining resources works just as well, Comeau said. Originally, Yates hoped the fellows program would pay for itself, and it nearly does. The Falls Church pays the director's salary, and asks each fellow to raise $7,500 to pay for the classes, books, and occasional retreat.
By 2003, Trinity Presbyterian Church in Charlottesville, Virginia, was ready to start its version of The Falls Church Fellows. Three years later, McLean Presbyterian Church started one called Capital Fellows. By then, enough churches were interested that it made sense to start a network of them. (Today, students can use a common application and indicate their top three locations—anywhere from Pittsburgh to Dallas to Colorado Springs.)
In New York City, Redeemer Presbyterian Church was taking notes.
Gotham Fellows
"I went down and visited The Falls Church and some of its other offshoots when we were creating the Gotham Fellowship," said Katherine Leary Alsdorf, who had started Redeemer Presbyterian Church's Center for Faith and Work in 2002.
At the time, the average age of a Redeemer member was 32. Many had moved to New York to pursue careers in areas like finance, performing arts, law, or education.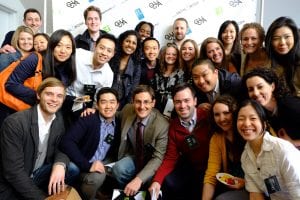 "Their vocational education was serving them well, but their knowledge of God and the foundations of their faith were insufficient for navigating the challenges of life in a post-Christian world," Alsdorf said. "So a fellows program, with a focus on strong theological grounding, spiritual transformation, and community-based learning, seemed like the best possible solution."
She "learned a lot from The Falls Church program," but knew the model had to be different. New Yorkers live in apartments, so it's hard for them to host a long-time guest. The city is expensive, so it's hard to live off a part-time income. And if you're working full-time, you can't take off every Monday for a theology class.
Alsdorf designed a program for older, working adults—two or three classes of 12 meeting one night a week, one Saturday a month, and one weekend a quarter. They read 100 pages a week, commit to daily devotionals, and do special projects.
"We work them hard," she said. "It's like getting an executive MBA on nights and weekends."
The church also works hard on the program—enough to require a full-time pastor. "That investment is often a hard sell," Alsdorf said. "Initially, you have one pastor working all year with just 24 people. How can you justify this?"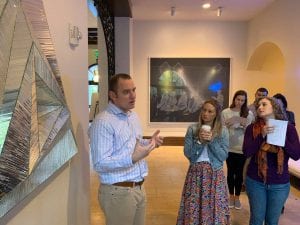 But you need that long for "the very interactive, holistic learning model" to help the theological concepts "to really, fully sink in," she said. "It couldn't happen in a five-week class."
Within a few years, as Gotham alumni piled up from 24 to 48 to several hundred, the benefits to the church and community became obvious.
"In some ways, this program embodies everything Redeemer has been about from the beginning," founding pastor Tim Keller said. "In the very beginning, we talked about how the gospel changes the heart; [it's not about] just trying harder. We talked about the fact that the gospel shapes every area of your life—not just your private life, but your public life. In some ways Gotham Fellows is realizing this vision and finding a way to encode and distill that gospel DNA . . . in people in a very deliberate and systematic way. And I'm grateful for that."
The Gotham alums have "really benefited the rest of the church and the city," said Alsdorf, who co-authored Every Good Endeavor with Keller. "Honestly, it felt worth it from the very first class—to see transformation in people's lives. Everything after that has been wonderful icing on the cake."
"Everything after that" includes that steady output of fellows—now more than 350—from Redeemer. It also includes the expansion of the program to other churches. This year, fellows programs based on the Gotham Fellowship are operating in 15 churches in 15 cities.
"My husband and I 'retired' into a dream job of starting another fellows program with Holy Trinity Anglican Church in Raleigh, North Carolina," Alsdorf said. "We turned over the leadership of that program to Josh Chatraw last summer and it's thriving. Leading programs like this is the best job ever."
Working 'Flat Out' for God
Over the last 25 years, faith-and-work fellows programs have grown so popular that Damein Schitter did his Trinity Evangelical Divinity School dissertation on how they affected participants. He interviewed 23 graduates from across the country.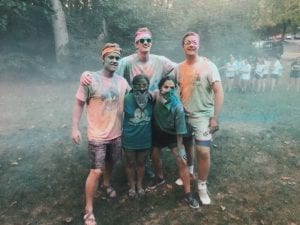 "People started saying the exact same thing, which was crazy, because they weren't even in the same program," Schitter said. "Did the program help them? Yes. Unequivocally."
Even if they had graduated years ago, even if they were frustrated that they hadn't implemented all they'd learned, former fellows told Schitter "it changed them forever in a positive way."
"Basically, they were changed by coming out with the conviction that God is restoring all things through Christ, and Christian discipleship is a participation in that restoration," Schitter said. "It called them from passivity to participation. . . . It also changed them to work from—and not for—an identity in their work."
After a while, "I started knowing what they were going to say," Schitter said.
Missy Wallace, who leads a Gotham program in Nashville, says part of what makes it stick is doing hard things together. "Done well, faith-and-work ends up simultaneously fulfilling the Great Commandment, the Great Commission, and the Cultural Mandate."
That's what Holladay and Yates were aiming at—giving fellows "an intense community in the local church" and the understanding "that Christian ministry is not narrowly defined as being ordained or working for Young Life or Cru," Yates said. "It's doing whatever God has equipped you to do, and doing it flat out for him."