The Story: When President Trump made an appearance at a church in northern Virginia this afternoon, David Platt showed how we can and should pray for our presidents.
The Background: After attending a Sunday morning golf outing at Trump National Golf Club in Sterling, Virginia, President Trump stopped by McLean Bible Church in Vienna, Virginia, this afternoon. A spokesperson for the White House said the president was there to "visit with the pastor and pray for the victims and community of Virginia Beach." The pastor of McLean Bible is David Platt, who is also a TGC Council member.
The president arrived at 2:25 pm during a musical performance and wore khakis and a jacket over a polo shirt. He held a golf hat. During the 15-minute visit to one of the D.C. metro area's largest churches, the president made no remarks while on stage. But Platt noted there had been calls to pray for the president on this day. "Many of you may have seen that there was calls to, particularly on this Sunday, pray for our president," Platt said. "We don't want to do that just on this Sunday. We want to do that continually, day in and day out. So I want to ask us to bow our heads together now and pray for our president."
The following is a transcript of the prayer:
O God, we praise you as the one universal king over all. You are our leader and our Lord and we worship you. There is one God and one Savior—and it's you, and your name is Jesus. And we exalt you, Jesus. We know we need your mercy. We need your grace. We need your help. We need your wisdom in our country. And so we stand right now on behalf of our president, and we pray for your grace and your mercy and your wisdom upon him.
God, we pray that he would know how much you love him—so much that you sent Jesus to die for his sins, our sins—so we pray that he would look to you. That he would trust in you, that he would lean on you. That he would govern and make decisions in ways that are good for justice, and good for righteousness, and good for equity, every good path.
Lord we pray, we pray, that you would give him all the grace he needs to govern in ways that we just saw in 1 Timothy 2 that lead to peaceful and quiet lives, godly and dignified in every way. God we pray for your blessing in that way upon his family. We pray that you would give them strength. We pray that you would give them clarity. Wisdom, wisdom, the fear of the Lord is the beginning of wisdom. Fools despise wisdom and instruction.
Please, O God, give him wisdom and help him to lead our country alongside other leaders. We pray today for leaders in Congress. We pray for leaders in courts. We pray for leaders in national and state levels. Please, O God, help us to look to you, help us to trust in your Word, help us to seek your wisdom, and live in ways that reflect your love and your grace, your righteousness and your justice. We pray for your blessings on our president toward that end.
In Jesus's name we pray. Amen.
After the prayer the president thanked Platt and returned to the White House. Platt did not explicitly mention the Virginia Beach shooting in his prayer or other remarks. A video of the prayer was posted by TicToc by Bloomberg.
Update: David Platt wrote a post MBC's website explaining how the event happened:
At the end of my sermon at the 1:00 worship gathering, I stepped to the side for what I thought would be a couple of moments in quiet reflection as we prepared to take the Lord's Supper. But I was immediately called backstage and told that the President of the United States was on his way to the church, would be there in a matter of minutes, and would like for us to pray for him. I immediately thought about my longing to guard the integrity of the gospel in our church.

Why It Matters: Last week Franklin Graham, president of Samaritan's Purse and the Billy Graham Evangelistic Association, posted a video on Twitter calling on Christians to take a moment on Sunday, June 2, to pray for President Trump:
I don't believe any president in the history of this nation has been attacked more than Donald Trump. He is our president and if he succeeds, we all benefit. But if his enemies are allowed to destroy him and pull down the presidency, it will hurt our entire nation. And so I'm asking that we take a few moments and that we pray on the second of June. Pray for him and his family. We're going to do this all over the country, many thousands of churches. So please join us on June 2 and pray for President Donald J. Trump.
In response, the president wrote on Twitter, "We will all stick together and WIN! Thank you Franklin."
While many churches already make a regular practice of praying for our country's chief executive, Graham's call to prayer was criticized for being ahistorical and partisan. If President Trump was hoping on Sunday to hear a Franklin Graham-style condemnation of his enemies, he was at the wrong church—and chose the wrong pastor.
Instead, Platt presented the gospel in his prayer and asked God to give the president clarity, strength, and wisdom. Platt also prayed that the Lord would help President Trump govern for the good of equity, justice, and righteousness. Above all, Platt made it clear that our earthly leaders will benefit most when they follow the "the one universal king over all"—King Jesus.
Platt reminded us that we pray for authorities not to protect them from criticism but so that we as Christians "may live peaceful and quiet lives in all godliness and holiness" (1 Tim. 2:2). In doing so, he provided us with a model for how we should all pray for our president.
Get a FREE eBook to strengthen your family discipleship!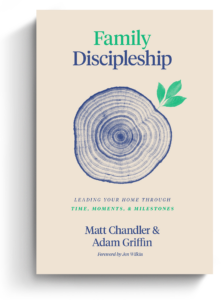 The back-to-school season is stressful for moms and dads. New rhythms of school, sports, and other extracurricular activities can quickly fill up a family's already busy calendar. Where do busy parents look for resources on discipling their family well? Aside from prioritizing church, what else can Christian parents do to instill healthy spiritual habits in their household?
Matt Chandler and Adam Griffin cover these questions and more in Family Discipleship: Leading Your Home through Time, Moments, and Milestones. And we're excited to offer this book to you for FREE as an eBook today.
Click on the link below to get instant access to your FREE Family Discipleship eBook now!