The recently concluded HBO series Game of Thrones, during eight acclaimed seasons, captured the zeitgeist and enlarged the enduring popularity of epic fantasy.
Thrones often drew comparisons to the original classic of the genre, J. R. R. Tolkien's The Lord of the Rings (LOTR). Indeed, the books on which Thrones is based—George R. R. Martin's A Song of Ice and Fire series—are appreciatively indebted to Tolkien.
Yet despite their similarity, Tolkien's and Martin's manner of storytelling differs, perhaps most notably in their portrayal of the manifestation of evil.
Evil in 'Lord of the Rings'
Ross Douthat recently tweeted a brief but insightful comparison of the two fantasy stories that crystallized part of the Christian essence of LOTR—which Thrones de-emphasizes:
It's true . . . that many of [author George R. R. Martin's] villains are more interesting than Sauron. But Tolkien was very effective at dramatizing temptation and corruption among the well-meaning + the good. . . . [W]hat's interesting isn't the Big Bad himself, but the effect of evil on people trying to resist it.
Douthat hints at a larger point for which Tolkien has been criticized: an alleged oversimplification of evil. In LOTR, no ambiguity or drama exists in the determination of who is good and bad in Middle-earth; we never learn exactly why Sauron is evil, nor exactly what he did to earn the status of chief antagonist. The intrinsic nature of Sauron's evil may even strike modern sensibilities as mildly unjust or at least arbitrary. Fantasy writer Michael Moorcock mused that as readers "we are not sure . . . if Sauron and Co. are quite as evil as we're told." This is because, as another author, Fritz Leiber, put it, Tolkien "does not explore and even seems uninterested in exploring the mentality and consciousness and inner life of his chief villains."
Bradley Birzer observes in his wonderful book, Sanctifying Myth, that Tolkien refrained from probing the depths of his evil characters by design—since the reality and, indeed, the banality of evil does not require elaborate fictionalization:
The monsters of fiction and nightmares are merely manifestations of the true, original evil—the perversion and mocking of God's creation. In its essence, evil is and always will be merely derivative and perverse.
Rather than contriving Sauron's particular evil actions, Tolkien portrays evil as a force, one that is "outright ominous, for it seems to be everywhere, pervading the entire landscape of Middle-earth, surrounding the Fellowship of the Ring on all sides."
Tolkien's view of evil as an ever-present force—represented by Sauron and by the tempting power of the Ring—both reflects the Christian view of the universality of sin and also reveals the struggle of resisting sin in a manner far closer to daily Christian experience. By the grace of God, most of us will never face an ambiguous decision of which side to join should a grand, life-threatening, political conflict arise. Nor do Christians sense the polarizing need to explain evil by examining and categorizing certain persons or groups as the oppressing villains; as Tolkien understood, evil arises merely because "creation was subjected to futility," and the only final victory over evil we expect is a future one beyond the control of our human efforts (Rom. 8:20–21).
Nevertheless, we all battle evil daily by aiming to "walk by the Spirit" rather than "gratify the desires of the flesh" (Gal. 5:16). This, of course, is Frodo's experience as he resists the temptation to trust the power of the Ring. One can even imagine Frodo, as he climbs the Stairs of Cirith Ungol, uttering words similar to Paul's: "For I have the desire to do what is right, but not the ability to carry it out. For I do not do the good I want, but the evil I do not want is what I keep on doing" (Rom. 7:18–19).
Similar tensions confront other LOTR characters. Tolkien develops fleeting antagonists who depict the depth of human experience, including destructive concession to evil despite knowledge of good: Boromir, Saruman, Denethor, and Gollum, among others. Powerfully, these characters are uniformly objects not of hatred, but of pity for their surrender to the familiar burden of sin.
Criticism of Tolkien's supposedly bland depictions of evil strikes me as reflecting our culture's stunted view of evil, which isolates it as something existing only in certain persons or groups—and thus removable from our immediate world and communities. Whenever I pass a well-meaning sign that reads, "Hate is not welcome here," I can imagine Sauron's scorn at the notion that hate is something so discrete and excisable.
Tolkien's depiction of evil characters may be sparing compared to the evils depicted by other authors, but his view of evil is large.
Criticism of Tolkien's supposedly bland depictions of evil strikes me as reflecting our culture's stunted view of evil, which isolates it as something existing only in certain persons or groups, and thus removable from our immediate world and communities. 
Evil in 'A Song of Ice and Fire'
To be fair to Martin (whose books I read and enjoy while abstaining from the show), his world can hardly be accused of depicting a small view of the evil of the human heart. Martin blurs the lines of good and bad in order to show that evil can occur on any side of a human conflict.
Some of Martin's characters, though, seem unnaturally dominated by a desire to do evil. In certain actions of Cersei Lannister or Melisandre, for example, one doesn't get the sense of sin overcoming better natures, but of a distinct class of human—or, in Melisandre's case, representative of a particular institution, religious fundamentalism—with a special appetite for hatred and perversity. Certainly, humans who struggle with especially perverse evils do exist in history, and thus are typical in fantasy. Most of us, however, will never be called on to triumph over an evil of that magnitude. Perhaps more importantly, most of us will never be tempted to engage in evil of that sort, and prudence should warn Christians against dwelling on especially disturbing evil in fiction. In the ordinary Christian life we are called to wage war against the more subtle, yet also more pervasive, operations of sin. On this subject, Tolkien has more to say: He finds evil nearer to us all without needing to look for it in exaggerated and perverse ways, while nonetheless captivating us with the triumph over a singularly great, yet deliberately amorphous, evil.
Even at their best, Martin's characters seem to lack much sense of innate good. Rather than a world in which humans have the natural law "written on their hearts" (Rom. 2:15), Martin depicts an amoral world in which political strength is the primary good, and conflict derives from tension between political ends and family honor and survival. Martin's most compelling protagonists, such as Jon Snow and Tyrion Lannister, overcome great evil and harsh circumstances, yet they do so mostly by relying on their own strength in service of temporal aims. Among stories about conquering evil, Tolkien's remains unique in its depth of focus on sacrifice and self-denial in service of higher aims.
Of course, Martin is not a Christian, and he draws on elements of medieval history realistically. One of his stated goals is to illustrate the brutality of war, which his novels accomplish perhaps too well. Yet his books cannot help but romanticize this same brutality. Martin's characters relish violence and courage, but without also sensing innate goodness—the referent that reveals evil to be evil—these characters lack an aspect of the full human experience. Christians, therefore, must be wary of seeing themselves in characters like this—who seek victory over the evil of their enemy while often remaining blind to the evil in themselves.
Christians must be wary of seeing themselves in characters like this—who seek victory over the evil of their enemy while often remaining blind to the evil in themselves.
Though there are similarities between LOTR and GOT in their depictions of evil, their differences are telling. GOT's more detached view ironically sanitizes the seriousness of sin by presenting it in ways that seem both foreign to our experience and also without reference to inherent good. By contrast, LOTR positions evil as a struggle with temptation, implicating us all and forcing us all—perhaps uncomfortably—to reckon with the reality of sin.
Here's hoping the popular interest in epic fantasy spawned by GOT will send a new generation of readers to Tolkien's classic work, and his more Christian vision of good and evil.
Get a FREE eBook to strengthen your family discipleship!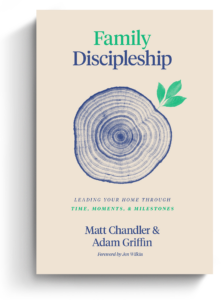 The back-to-school season is stressful for moms and dads. New rhythms of school, sports, and other extracurricular activities can quickly fill up a family's already busy calendar. Where do busy parents look for resources on discipling their family well? Aside from prioritizing church, what else can Christian parents do to instill healthy spiritual habits in their household?
Matt Chandler and Adam Griffin cover these questions and more in Family Discipleship: Leading Your Home through Time, Moments, and Milestones. And we're excited to offer this book to you for FREE as an eBook today.
Click on the link below to get instant access to your FREE Family Discipleship eBook now!