Just outside the Romanian city of Sighetu Marmației and across the black Tisza River, a caravan sits in dark night. The glow of vehicle headlights illumines shadowy figures: women, children, and the elderly—families fleeing Ukraine's war. Theirs is a slow, deliberate flight. The line of cars stretches 15 kilometers, about 10 miles. Some already have spent one night here waiting in the cold, hoping to reach Sighet and safety.
When they finally make that crossing, they'll find Christians ready to offer aid. Baptist and Pentecostal churches in northern Romania are working together to greet those trying to escape. And this story repeats itself at checkpoints in countries along Ukraine's western and southern borders.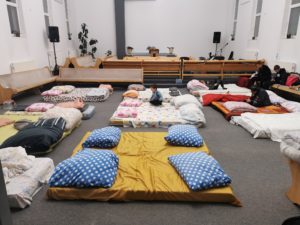 Less than two weeks after Russia invaded Ukraine, at least two million Ukrainians and others have fled their war-torn country, according to the United Nations. More than half have entered Poland, but hundreds of thousands are flowing into smaller surrounding nations as well.
That trend may accelerate. With the southern Ukrainian city of Odesa bracing for a potential Russian attack, neighboring Moldova is preparing for the possibility of an increasing number of Ukrainian refugees along their shared border.
As the war continues, churches across Eastern Europe have mobilized to serve those traveling the refugee road out of Ukraine. Transforming into waystations for weary travelers, they offer food, shelter, transportation, and the hope of salvation. Here are snapshots of refugee ministry from Moldova and Romania.
Chișinău, Moldova
As war broke out in Ukraine, Pastor Mihai Chisari of Imago Dei Church in Chișinău, Moldova, took a trip to help evacuate a missionary friend from Odesa, Ukraine. When he arrived at the border in Palanca, however, he quickly realized the scope of the crisis. Cars were queued. Thousands were evacuating. The Moldovan government was overwhelmed.
Right away, Chisari returned home and rented a van. He traveled two hours back to Palanca to offer help. "The first ones who made it through," he says, "were people from Turkmenistan, Azerbaijan, and Iran, students and workers in Odesa." Chisari was able to transport them to Chișinău, shelter them in his church building, and share God's love. "I never in my life imagined my church would be half full of Muslims," Chisari says.
I never in my life imagined my church would be half full of Muslims.
In the earliest days, his church wasn't serving many ethnic Ukrainians. Instead, Imago Dei housed international students from Nigeria, Cameroon, Ethiopia, Nepal, and India. They would stay one or two nights, and then travel to the next stop.
Now, those coming are primarily women and children from southern Ukraine. When they arrive, Imago Dei offers them meals, clothes, and personal care products. Since there are no showers in the building, church members have opened their homes. (Chisari notes that when you've spent 30 hours in a car, you're obviously ready for a shower.)
Although most refugees stay at the church for only a short time—and despite the language barrier—Imago Dei seeks to minister to their emotional and spiritual needs. Believing moms bring their children to visit the shell-shocked families. As kids play together in the sanctuary, mothers gather to pray.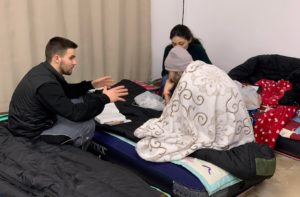 The congregation also helps travelers continue their journey. By coordinating with churches throughout the region, they're able to help these wayfaring strangers by connecting them with Christians in nearby cities or countries. Together, congregations have organized corridors for travel—almost like an underground railway—providing logistical support and assistance with paperwork.
But not everyone is on the move. Some have chosen to stay. Over the last two Sundays, Imago Dei's services have been full. They now offer translation during worship. They've also developed an evangelistic pamphlet in multiple languages. It's written as a letter to a friend, sensitively addressing the evil of war. "Those who are coming here are hurting. They're convinced Russia is obviously the bad guy," Chisari says. "But one thing we're trying to show—in a subtle way—is that we all have this problem with evil. The problem is our sin."
Sighetu Marmației, Romania
On the Sunday morning after the war erupted, Gabriel Michnea stood before his small Romanian congregation after two hours of sleep. He'd stayed up most of the night praying for God's help to motivate his church members to respond to the flood of Ukrainians crossing the border. The pastor called his congregation to commit: "It's time for us to do something for people—for people outside the church."
That afternoon, Bethany Baptist Church of Sighet sprang into action. A group of men visited members' homes to collect cots, mattresses, blankets, and towels. They transformed their church basement, and ultimately its sanctuary, into a shelter.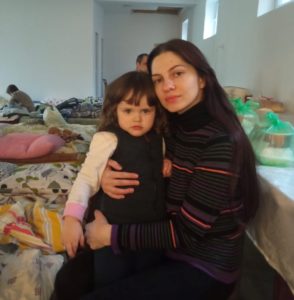 Of the 120 refugees they housed that week, the first to arrive was a Ukrainian pastor's wife named Vosya Potiak. Vosya is six months pregnant. When fighting erupted in her city of Krychovo, she fled, leaving behind her husband who will stay and serve in Ukraine. Meanwhile, Vosya is tirelessly working at Bethany Baptist, helping to translate for and minister to her fellow refugees.
Like the response of many believers in other Eastern European countries, the churches of Sighet have not been content simply to receive and feed those who come. They're also providing gas money for refugees, helping them find apartments in nearby cities, even arranging travel to more distant locations such as Budapest or Prague.
Most recently, Michnea began taking trips into Ukraine with a convoy of Christian brothers. The churches of northern Romania are coordinating efforts to deliver truckloads of donated goods such as oil, flour, and water across the border. They've identified a network of Ukrainian pastors who can receive the items (at an undisclosed location), then return to cities throughout the Transcarpathian region to distribute them—an effort both humanitarian and evangelistic.
What excites Michnea is how his congregation has responded to this crisis. "The people of our church are truly living stones," he says. They're eager to help. They're meeting for prayer. They're giving testimony to Christ and his gospel. He's been telling them for the last two weeks: "Now is the time to put into action all we've been preaching. Now is the perfect time to live our faith and do the good we're called to."
Now is the perfect time to live our faith and do the good we're called to.
Light of the World
Whether it's a soup kitchen or a warm place to sleep, a makeshift clinic or house of prayer—even just a temporary reprieve from life on the road—the church is a crucial waystation for weary refugees. It's not because these buildings offer the finest accommodations or the safest space, but because within them are the living stones where God dwells.
The beauty of Christ's salvation and new creation is displayed in those he's rescued, and in those he uses to rescue others with his love. As the church fulfills its mission to be a light in the darkness, God is fulfilling his purposes to bring about salvation. Back in Romania, Mihai Chisari already sees a glimmer of hope in the darkness of these days: "I've been witnessing many who are open and curious. I can see how God is at work already. We will yet see the harvest."