In 2 Corinthians 5:20, Paul tells us that we are "ambassadors for Christ." In Matthew 5:9, Jesus says we are "peacemakers." In both cases, God tells us about our identity.
There are other identities we receive from God in Scripture, but few rival these two. The Bible's narrative reinforces the invitation and necessity of living in these two roles.
Too often throughout church history, though, one of these identities has been emphasized to the neglect of the other.
Ambassadors for Christ
As ambassadors for Christ, we both receive and proclaim the grace of God. We receive the full and unbelievable gift of forgiveness through the death of Jesus on our behalf. Christ's grace cancels our sin debt and gives us his imputed righteousness. Grace alone reconciles us to God.
Some believe the chief aim of any Christian is to proclaim the gospel to an unbelieving world and to see lost sinners saved. But while rightly focusing on the eternal state of individuals, such believers can end up neglecting injustice, racism, oppression, and abuse. Sin, in their minds, is simply about personal guilt. In this case, grace's sole entailment is to produce shalom between fallen sinners and an angry God.
In this case we must ask: is a gospel that focuses solely on reconciling fallen individuals to God really the good news of the Bible? If being Christ's ambassador is merely about propagating a message for a brighter tomorrow, we are offering a deferred hope and representing a God who appears indifferent to the woes and suffering of today.
Peacemakers in Christ
Like grace, peace is multifaceted. For many it has become synonymous with comfort, but the biblical definition is far more robust. Peace (or "shalom") is not the absence of pain and oppression. According to Nicholas Wolterstorff, peace is the living and embodied presence of "harmony and delight in all of one's relationships." These relationships include those with God, others, various cultures, creation, and ourselves. In a world rife with sin, dysfunction, tribalism, and brokenness, it's wondrous to imagine what the presence of "harmony and delight" in these various relationships could look like.
And yet some are so fixated on pursuing justice and shalom on earth that they become solely focused on redeeming broken systems. Much of their work is bereft of a direct connection to Jesus or to concerns about eternal souls. They focus on how sin corrupts systems and affects communities, but never on individual guilt. Much of their movement is anchored in the redemption and liberation of marginalized groups from oppressive structures, and not as concerned with the spiritual salvation of individuals. Shalom, in this case, is untethered from grace and Christ. It is a rogue virtue with no logical precursor or origin.
There is no catalyst for change as potent as the indwelling presence of the Holy Spirit that comes with salvation. Further, only one institution is guaranteed victory over evil and injustice, and that is the body of Christ. For this reason, all groups that pursue justice and systemic solutions apart from the power and person of Jesus can't produce lasting and significant change.
The social-gospel movement in the 19th century promoted peace. It labored to eradicate poverty and oppression while producing justice and shalom. Proponents were more proximate to suffering. Unlike those invested solely in evangelism, they became far more concerned with producing peace in the here and now. So many of their endeavors, however, became detached from the person and power of Jesus Christ and the inerrancy of his Word. Their investment in Christlike work became estranged from any personal connection to him.
There are historical movements centered on an eschatology that Christ's return is imminent and, therefore, the status of this present creation is not as crucial as saving lost sinners. At a grotesque level we witnessed this approach propagated during the era of American chattel slavery. Renowned theologians and evangelists like George Whitefield and Cotton Mather emphasized the salvation and liberation of slaves from their sins but justified the chains and barbarity of their slavery.
Today, some "social-justice warriors" perpetuate a social gospel of their own. For some, their quest for justice has become a new Jesus. Is there lasting good news and peace for this broken world if direct affiliation with the Prince of Peace doesn't exist? A peace without Christ is a shiny tinman without a heart—attractive but lacking life.
A peace without Christ is a shiny tinman without a heart—attractive but lacking life.
John the Baptist, incarcerated in Herod's prison, sent his disciples to determine whether Jesus was in fact the Messiah. He was having doubts of his own. He needed Jesus to clarify if he really was the long-awaited hope of the world. In response, Jesus could have given countless reasons to validate who he was. Instead, he made an incisive statement:
Go and tell John what you have seen and heard: the blind receive their sight, the lame walk, lepers are cleansed, and the deaf hear, the dead are raised up, the poor have good news preached to them. And blessed is the one who is not offended by me. (Luke 7:22–23)
Jesus knew we would read these words 2,000 years later. His statement focuses on how much good news he was producing in the here and now by providing people with hope and peace amid their trials and brokenness. Of course, these kingdom realities would only come through a bloody cross and empty tomb. And it's here that we see the fusion of grace and peace in harmony with both present and future entailments. May the body of Christ today be on mission to proclaim grace and spread peace.
Get a FREE eBook to strengthen your family discipleship!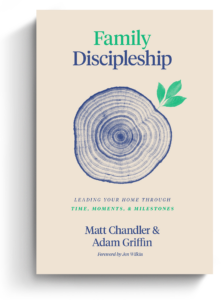 The back-to-school season is stressful for moms and dads. New rhythms of school, sports, and other extracurricular activities can quickly fill up a family's already busy calendar. Where do busy parents look for resources on discipling their family well? Aside from prioritizing church, what else can Christian parents do to instill healthy spiritual habits in their household?
Matt Chandler and Adam Griffin cover these questions and more in Family Discipleship: Leading Your Home through Time, Moments, and Milestones. And we're excited to offer this book to you for FREE as an eBook today.
Click on the link below to get instant access to your FREE Family Discipleship eBook now!