The Story: A new survey finds the reason people avoid going to church is more often for practical or personal reasons, rather than lack of belief.
The Background: A new Pew Research Center survey asked Americans why they do or do not regularly go to church, synagogue, mosque or another house of worship. The overwhelming reason why people attend such services is to feel closer to God. But their reasons for staying away are more complicated.
Less than one-third (28 percent) say they don't go because they are unbelievers. Among self-identified Christians, the predominant reason that non-churchgoers offer for not attending worship services is that they practice their faith in other ways. Almost half of evangelicals in this category (46 percent) say this is a very important reason for not going to church more often. The next most common reason evangelicals give for not attending services is that they haven't found a church or house of worship they like (33 percent).
One-in-five evangelicals says they dislike the sermons, and a little more than one-in-ten (11 percent) says they do not feel welcome at religious services. About one in four (26 percent) cites logistical reasons for not going to religious services, such as not having the time or being in poor health.
As Pew notes, more than half of those who do not attend church or another house of worship for reasons other than non-belief are women, and they tend to be older, less highly educated, and less Democratic compared with those who do not go because of a lack of faith. Meanwhile, those who refrain from attending religious services because they are non-believers are more highly educated and largely male, young, and Democratic.
What It Means: Ask most churchgoers why think people in their community don't join them in the pews and they're likely to say it's because most people aren't believers. Yet ask those same church attenders how many people in America claim to be Christian and they'll probably give close to the correct answer (i.e., 75 percent).
Perhaps I'm misjudging their responses, but it's what I would have answered. As a pastor in a young church plant I tend to think of the "unchurched" as non-believers rather than as merely non-attenders. Despite being hyper-aware of the problem of nominal Christianity in America, I rarely make the connection that my own neighbors are the problem.
And the reason for my cognitive dissonance is likely because I don't want to call them out on it. I truly believe in the paradox of church attendance: While you don't have to go to church to be a Christian, if you never go to church you probably aren't a Christian. But I have a hard time speaking that truth to my neighbor. I wish I had the courage to say, as Ricky Jones says,
I want you to understand that being a part of the universal church without submitting to a local church is not possible, biblical, or healthy.
First, it's simply not possible. To imply you can be part of the greater community without first being part of the smaller is not logical. You cannot be part of Rotary International without also being part of a local chapter. You cannot be part of the universal human family without first being part of a small immediate family.
Second, it's not biblical. Every letter in the New Testament assumes Christians are members of local churches. The letters themselves are addressed to local churches. They teach us how to get along with other members, how to encourage the weak within the church, how to conduct ourselves at church, and what to do with unrepentant sinners in the church. They command us to submit to our elders, and encourage us to go to our elders to pray. All these things are impossible if you aren't a member of a local church. (See 1 and 2 Corinthians, James, Ephesians, 1 and 2 Timothy, and 1 Peter for references.)
Asking where the Bible commands you to be a church member is like asking where the USGA rulebook for golf insists you be a human. The whole book is addressed to the church.
This latest Pew survey is a reminder that if I love my neighbor—especially my nominal Christian neighbor—I will tell them, as my colleague Jeff Robinson says, that "when we say church membership/attendance is optional, we are also tacitly rejecting the very people Christ 'bought with his own blood' (Acts 20:28)." I need to find the courage to tell them that Christianity is not a choose-your-own path religion, and that the people we are to associate with have already been chosen for us.
Get a FREE eBook to strengthen your family discipleship!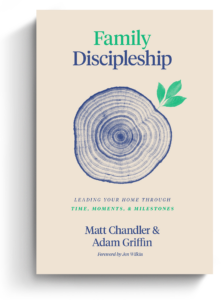 The back-to-school season is stressful for moms and dads. New rhythms of school, sports, and other extracurricular activities can quickly fill up a family's already busy calendar. Where do busy parents look for resources on discipling their family well? Aside from prioritizing church, what else can Christian parents do to instill healthy spiritual habits in their household?
Matt Chandler and Adam Griffin cover these questions and more in Family Discipleship: Leading Your Home through Time, Moments, and Milestones. And we're excited to offer this book to you for FREE as an eBook today.
Click on the link below to get instant access to your FREE Family Discipleship eBook now!