Motherhood is both the best job and the also hardest job I've ever had. It has brought me great joy and revealed to me a level of love I hadn't known before. It has also stretched me physically, mentally, and emotionally. I've lived on less sleep than should be humanly possible. I've even learned more than I care to about bugs, science, and how machines work (two boys will that do that to you). While the physical stretch marks may fade, the ones on my heart are there to stay.
Though the joys are many, there are days when motherhood wears me down to the core. Some days, I'm not even sure I'll make it through to bedtime. When night time finally does come, my head hits the pillow hard, and I wonder what I accomplished all day. My heart sighs because I know that tomorrow will most likely be a repeat of the same. Because the job is never done, I'll wake up the next morning to the house still in disarray and mountains of laundry to wash. And based on the sniffles I've heard lately, certain illness looms on the horizon.
Some seasons of motherhood feel more intense and exhausting than others. It's easy to become discouraged by the endless cycle of cleaning up the messes—physical and emotional. Joy sometimes feels like a thing of the past and just out of reach. We can feel isolated and alone. We may question our qualifications to be a mother or think we've failed our children.
The truth is, motherhood is hard, and we can't do it on our own. As John Piper wrote in A Godward Life, "I need help. Always. In everything. I am simply kidding myself if I think I can move an inch without God's help." Just as we cannot live without water, we cannot do anything apart from Christ, including motherhood. "Whoever abides in me and I in him, he it is that bears much fruit, for apart from me you can do nothing (John 15:5). Rather than swim in guilt or wish life were different, we need to go to the Source of our strength, joy, and peace. We need to drink from the living water that only Christ provides. There we'll find that the truths of the gospel are always within reach, always ready to refresh, remind, and restore.
Jesus died to free us from trying to do life on our own. He came to redeem us from slavery to sin and restore our relationship with the Father. He faced every temptation and sorrow that we face, yet lived a sinless life. The grave could not hold him, guaranteeing a future resurrection for all who trust in Christ. As these truths saturate our thirsty soul, we find the nourishment and strength we so desperately need.
And it's because of Jesus that we can go before the throne of grace in confidence to find the help we need (Hebrews 4:16). If you are like me and feel tired and worn, this prayer is for you:
---
Dear Father in heaven,
I come before you weary and beat down by this long day. Being a mother can be so hard. I often feel helpless and inadequate. Part of me wants to complain, but then I remember the extent to which you were beat down, and I'm struck quiet. I remember that you are the Man of Sorrows and that you understand just how hard life can be. I also remember that you collect all my tears and care about my troubles, trials, and fears.
The Book of Hebrews tells me I can come to you in confidence and find the grace and mercy I need. And so I come to you now to lay all these burdens at your feet. I feel so overwhelmed by the details of life. It seems like I can never get ahead. Just when I clean up one mess, another one pops up somewhere else. Some days I wonder if I'm really cut out for motherhood.
I know I failed to glorify you today. I failed to love as you love me. I failed to extend the grace you've given me. Forgive me for striving in my own strength. Forgive me for not finding my complete satisfaction in you and seeking it elsewhere. Each of these failures reminds me of just how much I need a Savior. Today reminds me that I need Jesus more than I did yesterday and that tomorrow I will need him even more.
I'm so thankful that there is so much of you to give. You're never tired or weary. Even while I sleep, you remain at work. Nothing happens outside your knowledge and will. You're never stretched beyond what you can handle. And the well of your grace never runs dry.
Because of what Jesus did for me, I ask that you create in me a clean heart. Renew a refreshed spirit within me. Give me gospel strength to get through the day. Open my eyes so that I see your hand at work in the mess of my life. Be my constant in my fluctuating emotions. Keep the gospel ever before me and make it a reality in my daily life as a mother.
I pray that tomorrow you would be with me in all the muck and mire of motherhood. Help me to find my joy in you and not in my circumstances. May I remember that even when it feels otherwise, you are always with me, will never leave me, or forsake me. Tonight I'll sleep in peace knowing that even when I lose my grip, you never let go of me. And I'll open my eyes in the morning to find mercy, fresh and new, ready for the taking.
It's because of Jesus and in Jesus' name that I pray, amen.
Get a FREE eBook to strengthen your family discipleship!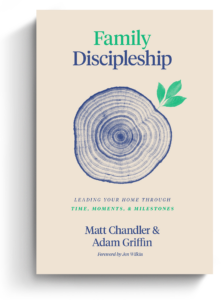 The back-to-school season is stressful for moms and dads. New rhythms of school, sports, and other extracurricular activities can quickly fill up a family's already busy calendar. Where do busy parents look for resources on discipling their family well? Aside from prioritizing church, what else can Christian parents do to instill healthy spiritual habits in their household?
Matt Chandler and Adam Griffin cover these questions and more in Family Discipleship: Leading Your Home through Time, Moments, and Milestones. And we're excited to offer this book to you for FREE as an eBook today.
Click on the link below to get instant access to your FREE Family Discipleship eBook now!