There have never been this many Christians around the world, yet few know much about God, the actual contents of the Bible, or the ways in which God's people have interpreted and applied the Bible historically. Many Americans, at least, still go to church and read the Bible—as their social lives permit. Even more in the Global South do so with fervency and zeal. Still, despite our apparent esteem for the Bible's status and authority, few believers know as much about its contents as they do about Hollywood movies, popular music, or athletics.
Indeed, as anyone who teaches in our churches can attest, few today know the Ten Commandments (I mean all ten, in proper order), the twelve apostles, the letters of Paul, or even the titles of the books included within the biblical canon. A basic grasp of Bible doctrine is also hard to find today. How many Christians do you know who can articulate what Scripture teaches about our Lord's two natures, the ministry of the Spirit, or the nature of the church? Even first-year seminarians have trouble with these things.
The church wants education and needs theological leaders. In this day when many pastors lead non-theologically, and academics work in a way that is lost on the people of God, we need pastor-theologians who can minister the Word in ways that edify the saints and offer a winsome public witness to the goodness, truth, and beauty of the Lord and his will for us.
The time is ripe for dialogue, even charitable debate, regarding the best way forward. So I offer the following theses in the hope that they will incite a large number of church leaders—in congregations and divinity schools—to think together with me about how we can serve God's people more effectively as preachers, teachers, and Christian educators.
1. Our churches and our world desperately need pastors to lead and teach theologically.
We clearly can't rely on families to raise their children up in the nurture and admonition of the Lord (though a minority of them are doing so). We can't rely on television or radio preachers to feed us (though, again, some are trying). We shouldn't assume that people are finding theological nourishment in their local Christian bookstores. Our pastors truly need to give themselves far more fully to a ministry of the Word that is profound and systematic, as well as personally, ecclesially, and socio-culturally relevant. 
2. Not all pastors are able to function as big-hitting theologians (serving the church and world at large).
Some don't have the time. Many are serving churches that won't allow this kind of stewardship. Some don't have the intellectual gifts or writing skills. Many pastors in large churches have assignments that include very little preaching and teaching. So let's be honest about this: the kind of theological leadership that the world so desperately needs is not for everyone engaged in pastoral ministry.
3. All pastors should lead and inform their people theologically.
Not everyone can be a great theological leader. Not everyone can write books or make a splash in the media. But ordained clergy are called to the sacred ministry of the gospel and the eternal Word of God—not to motivational speaking, popular psychology, folk wisdom, life coaching, or marketing the faith (though we often engage these other things in ancillary ways).
4. Some pastor-theologians should recognize that God has called, prepared, and equipped them for the serious, sustained, theological leadership of their own congregations, denominations, and the Christian church at large.
This wider ministry often requires strong encouragement from those who know us well. People who fit this description are often tempted to believe that insofar as they serve the Lord in trans-congregational ministry they are shirking their main duty to their local congregations. Sometimes this is true; but it is not always true. It is possible to serve well in a local congregation and to serve the church at large. And people called to both assignments are actually sinning against the Lord if they neglect the larger church.
5. We will always need schools for the training of ministry leaders.
There are many churches one can serve with little or no advanced training. But it would be difficult today to become a theological leader without the benefit of a solid theological education. Seminaries, especially, offer such a rich and varied menu of specialized studies in fields related to Christian ministry—ancient languages and history, church history, philosophy, psychology, hermeneutics, intercultural studies, and so on—that it is impossible to replicate what they do outside the academy. History teaches that reformation in the church is usually led by intellectuals—people who understand the past and know how to chart a different course for the people of God moving forward. One doesn't need much education to maintain the status quo. But to reform and improve the church one needs to understand its problems and have access to the tools by which we can solve them.
6. But this does not mean that we will need the very kind of schools we now have.
American Protestants have only had such schools for a couple hundred years. They are relatively new. And, in the main, the theological life of our churches has declined during the years they've been around. I suggest we move toward a seminary model in which thoughtful, seasoned pastors play a greater role on campus (not just in preaching and polity classes) and, correlatively, that seminary professors play a greater role in the educational ministries of their region's congregations.
7. Nor will we always need academic, systematic theologians to do all the heavy theological lifting for God's people.
We are not often explicit about this, but systematic theology, insofar as it is distinguished from biblical, historical, philosophical, psychological, and intercultural theology, is the work of generalists, people who synthesize the findings of those in the other scholarly disciplines and neither have nor require a methodology of their own. They put the big picture together and apply it to our lives. They don't require the resources or the structures of the academy to do this kind of work (though they do need very good libraries). In fact, the people best suited to synthesize our knowledge of God and his ways in the world today, applying this knowledge to the empirical realities we face, are pastor-theologians.
8. The knowledge of God is too important to be left to academics.
Most of the best-known academic theologians at work today have moved beyond the pale of orthodoxy (even beyond the Christian faith). Their work is driven by intramural academic concerns and priorities. They do what they think will earn them tenure, promotion, grant money, fame, and fortune in the guild. They talk to one another more than they talk to church people. But the knowledge of God is for all of us to pursue.
9. Independent churches shouldn't run their own seminaries.
Not only do they lack the resources (material and human) to do so well, but when they try to run their own schools they often wind up functioning like ministerial cookie cutters. They replicate the styles and views of their church's famous pastors. Pastor-theologians need ministerial sparring partners, people who disagree with them within the bounds of orthodoxy (especially while in training). They need real accountability, regular contact, and engagement with the rest of the Christian church—even if they are serving only a local congregation that is part of a small network of independent churches. The church needs pastors who are trained in the texts, doctrines, practices, and cultural sensitivities of the church—the whole church, past and present.
10. Theologians are accountable to God and all his people, whether they recognize it or not.
Academics need to do theology prayerfully, with the people of God in mind, not as an academic game. And pastor-theologians need to avoid the common temptation to chase fame and recognition, to replicate themselves, to force their own parochial vision and priorities on others. Insofar as they are to lead beyond their own, local churches they will need to listen to all God's people, pouring themselves out for the bride of Christ.
11. The task of the pastor-theologian has been problematized by modern, Western, intellectual history, especially by the dissolution of Christendom and the rise of the modern research university.
The dissolution of Christendom and rise of the modern research university are good things. They present us with difficult challenges, though—challenges not faced by Jonathan Edwards, for example. Pastors no longer enjoy a taken-for-granted cultural authority or legally sanctioned power. Americans now have to use voluntary means to gain a hearing from the public. And it is difficult to persuade people to choose theological education—especially when it requires earnest effort on their part. It is easier to gain a hearing by pandering to popular tastes. Further, research universities and their fruits in mainstream culture (The New York Review of Books, National Public Radio, Alfred A. Knopf, etc.) are now the places where most self-selecting intellectual types, even intellectual Christians, get their mental nourishment. So it's natural for scholars to invest the bulk of their energy in the academic arena and/or semi-popular work that stems from academic soil. Both the church and the world, however, need our leaders to resist the current temptation to abandon the goal of improving the intellectual lives of people in and through our churches. Pop-cultural forms have their place within the church. But so do high culture and intellectual culture. We must do more than simply follow the latest pop-cultural fads if we are to deepen and enrich the cultural lives, indeed the theology, of God's people.
12. We need to avoid a Pollyannish view regarding the prospects of the pastor-theologian.
Given this intellectual history, there is only so much that is possible for pastor-theologians in the present. We ought to be realistic and humble as we pursue this kind of ministry. Not many in the pews are ready for it.
13. We should work toward a day when theological professors view themselves as handmaids serving pastor-theologians (among others), and pastor-theologians play an important public role in guiding people theologically.
Professors should continue to offer specialized instruction in ancient languages and history, exegesis, church history, social science, and philosophy. They will continue to equip future generations of pastors. But they should work to raise up pastors who can synthesize, exposit, and apply the knowledge of God to the lives of all God's people with authority.
14. This shift will require a major restructuring of the current division of labor in our churches and our schools.
This agenda will require a major restructuring of congregational priorities, and the schedules and the disciplines of some of our leading pastors. It will require some restructuring of seminary life, more and better partnerships with key churches and their pastors, and increased flexibility on the part of leading laity (who will need to give all of our pastors more time for study and some pastors time to speak and write for the church at large). This will clearly take some time. The effort will meet with stiff resistance in some pockets of the church.
15. The spiritual health of the church is worth the effort.
Let's work together to promote a reformation in the theological life and work of the church—for Jesus' sake.
Get your FREE 7-day devotional!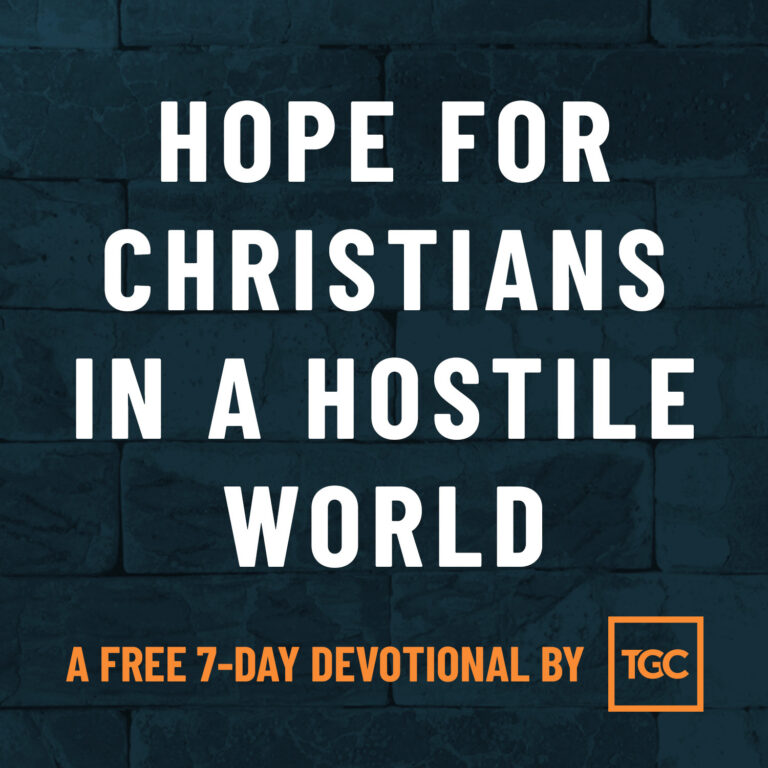 God's people have always been strangers and sojourners in this world. Do you feel that way, too?
You're not alone. Since the church's beginnings, Christians have often felt ostracized. And the Bible offers great encouragement for how to live with hope.
If you're feeling the weight of cultural exile today, our new 7-day devotional, Hope for Christians in a Hostile World, will encourage you.
If you sign up for this FREE resource, we'll send you an email each day for a week with a daily devotional featuring Bible readings and reflections written by TGC staff and friends.