If you're a student living on a college campus, you're in one of the most strategic contexts on earth to proclaim the gospel. There are few seasons when you exclusively live in proximity to people in the same stage of life. But because students live, work, and play with their closest friends, the campus is a unique breeding ground for gospel conversations and transformed lives.
And yet, insecurities and internal myths can so easily keep us on the evangelistic sidelines. Don't let these four common lies keep you from proclaiming the gospel during your time in college.
1. They Won't Like Me
There's always been a part of me tempted to being overly concerned with what others think. People-pleasing has been my biggest barrier to sharing the gospel. Will this negatively affect our relationship? Will she think I'm a fanatic? Will she reject me?
But will they like me? is the wrong place to start. It's a vague question with an uncertain response. Instead, we should ask, Is God worthy? For the answer to this question is always fixed, and remembering this truth will compel us to step out in faith.
In Galatians 1, Paul issues a stark rebuke to the church in Galatia for following those who were distorting the gospel. They gave in to their flesh—and perhaps their people-pleasing tendencies—as they followed leaders who claimed one must be circumcised to be saved. Paul reminds them that their desire to please people, at the expense of truth, is in direct opposition to serving Christ: "For am I now seeking the approval of man, or of God? Or am I trying to please man? If I were still trying to please man, I would not be a servant of Christ" (Gal. 1:10).
We can easily let a host of insecurities, people-pleasing, and "what ifs" silence us, especially as university environments become increasing post-Christian. We can't assume a favorable response to our faith, and social ostracism for standing with Christ is a real possibility. But we take comfort that we stand with centuries of brothers and sisters, and even Christ himself, who have gone before us and were bold in the face of criticism and ostracism (Heb. 11:32–12:2).
2. It's All Up to Me
The Great Commission is not a solo mission. "I planted, Apollos watered, but God gave the growth," Paul wrote (1 Cor. 3:6). Both he and Apollos influenced the same people. Neither person took sole responsibility, but both labored together as God's coworkers (1 Cor. 3:8).
During my time in campus ministry, I noticed students were often won to Christ's people before they were won to Christ. Hanging around with Christians, unbelievers saw an attractive community distinct from other campus groups. The love those Christians demonstrated for one another caused unbelievers to ask questions (John 13:35).
Students are often won to Christ's people before they are won to Christ.
Don't underestimate the power of multiple Christian influences in the life of an unbeliever. As you build relationships with non-Christians, bring them around your friends who love Jesus. As you attend campus events, hang with your teammates, play intramural sports, or go to club meetings, don't go alone. Take other believers with you as you build relationships and share Christ together.
The campus itself is a communal environment, and students naturally do things in groups—we eat together, study together, and play sports together. Why would we not also tell people about Christ together?
The early church was characterized by a spirit of unity and cooperation. The book of Acts describes a community of Christians who worked, worshiped, and evangelized as a church (Acts 2:1, 44). On campus, we ought to follow their example.
3. I'm Not Getting Results
While serving on a college-ministry staff, I met a student openly opposed to Christianity. In my sin I wrote her off as being too far gone, but one of our mutual friends continued to pray for her salvation. An entire school year went by, wherein the Lord used challenging life circumstances to cause her to start asking my friend questions about God. Before the school year ended, she became a Christian, and today she serves as a missionary overseas.
If you're younger than 35, you're likely accustomed to a culture of instant gratification. But spiritual transformation can be devastatingly slow. Impatience can grow quickly as we share the gospel with a friend over months or years and don't see any evident repentance or faith. Sharing the gospel can be tiring labor, yielding little visible fruit.
We need to remind ourselves that God may be doing a thousand things in someone's life that we're unaware of. We can't microwave ministry or the work of the Holy Spirit in someone's life. We need his help to keep the long view in mind.
We can't microwave ministry or the work of the Holy Spirit in someone's life. We need his help to keep the long view in mind.
Even if your friend doesn't come to know the Lord after months, or maybe even years, keep the long view in mind. Continue to engage and love well, and "walk in wisdom toward [them], making the best use of the time" (Col. 4:5). If eventually their spiritual interest piques, be the type of person they'd want to come to with their questions.
4. I'm Not Qualified
When friends begin to show interest in spiritual things, it's tempting to immediately bring them to a "more qualified" spiritual leader you trust and respect—say, a youth leader or college minister—hoping that "professional" will eloquently answer their questions and woo them into the kingdom. All the while we forget our role in their lives.
If you're a Christian and you have the Holy Spirit, you're qualified to share the gospel. God desires to use you to make known his name. If you want to see your classmates, teammates, and friends come to know the Lord, you likely have a role in their story.
Don't undervalue and underestimate the gospel effect you could have even though you aren't a well-known pastor or a particularly good orator. The gospel spread in Jerusalem, Judea, and to the ends of the earth because ordinary men and women were faithful to proclaim the good news of Christ's life, death, and resurrection (Acts 4:13).
Your campus needs faithful witnesses to Christ. Go and make disciples.
Get a FREE eBook to strengthen your family discipleship!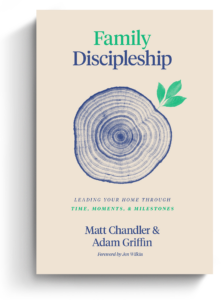 The back-to-school season is stressful for moms and dads. New rhythms of school, sports, and other extracurricular activities can quickly fill up a family's already busy calendar. Where do busy parents look for resources on discipling their family well? Aside from prioritizing church, what else can Christian parents do to instill healthy spiritual habits in their household?
Matt Chandler and Adam Griffin cover these questions and more in Family Discipleship: Leading Your Home through Time, Moments, and Milestones. And we're excited to offer this book to you for FREE as an eBook today.
Click on the link below to get instant access to your FREE Family Discipleship eBook now!