Theology and doxology belong together. Our doctrine finds expression in our corporate worship. Likewise, our gathered praise shapes our theology.
Martin Luther understood this reality. He knew the churches in Wittenberg and throughout Germany wouldn't undergo reformation merely by recovering doctrinal fidelity. The biblical truths he and other reformers championed required doxological expression. Through use in praise and worship, these vital teachings would burrow deep into the hearts of the German people.
Moreover, Luther perceived that the medieval Latin Mass itself needed radical change. Under his leadership, the worship service would adopt a whole new focus. The glorious truth of justification through faith alone in Christ alone would ring out in the common tongue of the people.
When Did Congregational Singing in Wittenberg Begin?
One element of worship that underwent substantial change in Wittenberg was congregational singing. In The Whole Church Sings: Congregational Singing in Luther's Wittenberg, Robin Leaver documents how Luther spearheaded this reformation of song. Leaver, professor emeritus at Westminster Choir College, tackles a narrow question: when did a culture of congregational singing get started in Wittenberg?
The consensus among Luther scholars has been that the congregation didn't play an active role in singing in Wittenberg during Luther's early years of leadership. Many have assumed that when Luther returned to the town in 1522, a choir still did the lion's share of the singing. This opinion derives from a widely shared presupposition that a proper congregational hymnal wasn't published in Wittenberg until 1529.
Leaver dismantles this view. He demonstrates that a robust practice of congregational song likely began in Wittenberg around 1523–24. Drawing on extensive primary source evidence, Leaver painstakingly assembles solid proof that corporate hymnody was indeed a prominent feature of Luther's congregations from an early date. The 1529 hymnal wasn't the first one the reformer published. Rather, Leaver shows that a 1526 Enchyridion (handbook) of Psalms and hymns was designed for congregational use. Moreover, he uncovers internal evidence within that handbook and examines several early hymnals from other German cities to mount an even more ambitious argument: the 1526 Enchyridion was almost certainly published in earlier editions, most likely in 1523–24. Leaver's conclusion is worth quoting in full:
At every opportunity Luther and his colleagues were concerned to get the whole congregation—not just part of it—involved in the singing, teaching them of the need to sing the scriptural Word, giving them the texts and melodies to sing, and supplying the musical means by which an antiphony of unison and harmony graced their services of worship. (162)
Scholarly Focus
The Whole Church Sings is probably not a book everyone will pick up and read cover to cover. This is, in part, due to the work's laser-thin focus on establishing an accurate timeline of the development of congregational hymnody in Wittenberg. Leaver's approach is necessarily technical and detailed. As a critical scholar of texts and melodies, he analyzes numerous editions of early Lutheran hymnals with a fine-toothed comb, comparing minute details in an attempt to establish a trail of manuscript evidence. Along the way, his readers must navigate a copious amount of untranslated German and Latin phrases and hymn titles. Leaver assumes a good deal of familiarity with Luther's theology and music theory on the part of his readership.
So, while laypeople with a keen interest in Luther or hymnody will certainly benefit from Leaver's work, it's clear his volume aims at scholars. This isn't a weakness, merely something readers should keep in mind. In that vein, I should note that I'm not an expert in either Lutheranism or early hymnody. As such, I'm not best qualified to assess the merits of Leaver's arguments, but I found his evidence persuasive and his conclusion compelling. I look forward to seeing how Leaver's work is received in the academy.
Insights for Churches Today
In spite of its scholarly focus, The Whole Church Sings mentions several aspects of Luther's approach to corporate singing that are beneficial for pastors, music leaders, and Christian laypeople to consider. For those unlikely to read the whole book, here are six lessons drawn from Luther's philosophy of church music.
1. Harness the didactic and polemical power of hymns.
Luther set his German Litany to song and printed it with his Small Catechism, which was for "the ordinary person, especially in the villages, [who] knows nothing about the Christian faith (149)." Why set theology to music? Because singing truth is a way to write it on our hearts. Leaver suggests that it's only after 1523, when hymns first began to appear in Germany, that the Reformation "really beg[an] to take hold" (7). These hymns weren't banal platitudes. Many of them were "apologetic manifestos" written for polemical purposes, to defend Reformation doctrines and persuade opponents of the truth (45).
2. Sing the Psalms.
That we should do so is clear from texts like Colossians 3:16 and Ephesians 5:19. Luther valued Psalm-singing so highly that he "created" the genre of metrical Psalmody, according to Leaver (74). The reformer's purpose? "So that the word of God may be among the people in the form of music" (74). A Psalm-singing church is a church that is saturated with God's Word.
3. Respect the past.
Luther wasn't afraid of breaking new ground, but his primary goal was to recover the church's purity and fidelity. This goal influenced his approach to song. He took well-known hymns and adjusted their texts to make them theologically acceptable. He didn't reject commonly sung tunes, even if they had been associated with unorthodox lyrics, but instead rehabilitated these melodies by composing new texts to pair with them.
A modern example would be "All Glory Be to Christ" by King's Kaleidoscope, which sets new Christ-centered lyrics to the melody for "Auld Lang Syne." Luther's philosophy was "not the wholesale replacement of the old by the new but rather the re-formation of what was old and good, a conservation of what was valuable from the past" (80). Do we share Luther's appreciation for the past in the area of congregational singing, or are we too infatuated with passing trends?
4. Preachers have a role to play.
I was delighted to learn that in the congregations of Wittenberg in the 1520s, preachers led the hymn singing (134). The preacher would begin the first phrase of the song from the pulpit, and then the congregation would join in. This practice wonderfully symbolizes how we let the Word of Christ dwell in us richly when we sing (Col. 3:16): the song literally began from the pulpit.
Whether or not we follow this particular practice today, we should take care not to miss its lesson. There's no firm boundary between the ministry of the pulpit and the ministry of song. Both preaching and singing are part of the teaching of the Word. Today's preacher may not necessarily sing into a microphone (and many of us are quite glad about that), but as a leader and a role model he must champion the singing of the church.
5. Keep it simple.
In order for the whole church to sing, Luther argued that the music must be intelligible. When it came to versifications of the Psalms, "Only the simplest and the most common words should be used. . . . at the same time, however, they should be pure and apt" (74).
Rather than introduce too many new tunes at once, he employed well-known melodies that were easy to memorize (79). In advocating simplicity, Luther wasn't calling for corporate praise to be dumbed down. Nor was he opposed to artistry. His prevailing concern was the whole congregation's piety: "I desire to see all the arts, especially music, used in the service of him who gave and created them" (166).
6. Use the best songs.
When it came to hymnody, Luther's views are well summarized by a famous saying of Winston Churchill's: "My tastes are simple: I am easily satisfied with the best." Interestingly, the 1529 Wittenberg hymnal was briefer than other songbooks published earlier in different cities. Why would Luther downsize, especially when there was such demand for new congregational songs? It was because Luther wanted to avoid "indiscriminate addition" (154).
Leaver observes that this selective approach wasn't driven by theological concerns alone. Certainly Luther desired for his flock to sing only rich, true theology. But he also valued "originality in poetic expression," and chose to exclude songs that didn't reach his standard of lyrical excellence. In other words, truth on its own wasn't enough. A good hymn conveys truth in a way that makes it compelling and invigorating for the people of God.
These six insights show that there's much we can learn today from Luther's approach to music. Leaver has done us a wonderful service, not only in providing a cogent argument on when congregational hymnody began in Wittenberg, but also in giving us these timeless considerations for our corporate song.
Get your FREE 7-day devotional!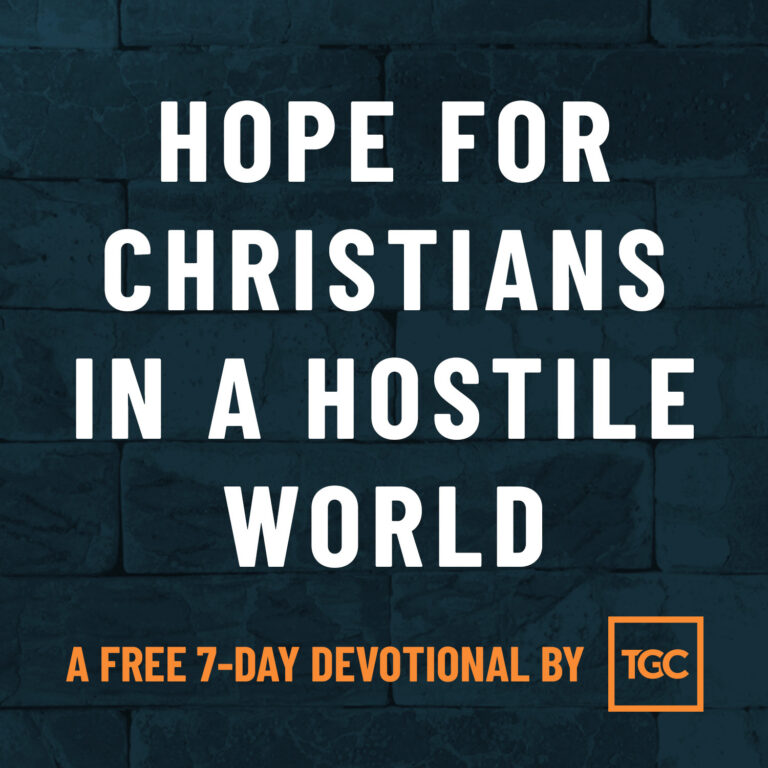 God's people have always been strangers and sojourners in this world. Do you feel that way, too?
You're not alone. Since the church's beginnings, Christians have often felt ostracized. And the Bible offers great encouragement for how to live with hope.
If you're feeling the weight of cultural exile today, our new 7-day devotional, Hope for Christians in a Hostile World, will encourage you.
If you sign up for this FREE resource, we'll send you an email each day for a week with a daily devotional featuring Bible readings and reflections written by TGC staff and friends.