Mentoring . . . Discipleship . . . Spiritual Mothering.
We have many words to describe what many of us long for: an example to follow—someone to embody the truths of the gospel so we can learn from their faithful living. We want someone who will speak truth, share godly wisdom, and be a listening ear when we feel at a loss of where to turn or what to do.
To help us catch a vision for the importance of spiritual mentoring, I've asked a variety of women a few questions about mentoring and over the next couple of months, I'll share our interviews. Today, we'll hear who mentored Emily Jensen and learn that discipleship relationships can take on many forms. While the method or location may vary, there's one common ingredient: availability.
Here's my interview with Emily Jensen.
---
Who spiritually mentored you in the faith?
When I consider mentors in my life, a multitude of women come to mind. Some met me formally and consistently, some passed along a quick word of wisdom in an informal setting, some displayed a picture of godliness as they endured suffering and grew in maturity, and many others taught me without realizing it through their writing and speaking. 
More often than not, these women have simply blessed me with their loving availability.
While mentors have served me with intentional times of prayer and Bible reading, more often than not, these women have simply blessed me with their loving availability. This availability—as they've shared the Word and their heart for the Lord in Bible study settings, around their dinner table, in the church lobby, at coffee shops, and in my backyard—has fanned my flame of faith. 
What did you learn from their lives and examples?
As I've identified mentors, I've been continually drawn to women who aren't just hearers of the Word, but who are doers (James 1:22). This doesn't mean that they are perfect, but that their lives are consistently marked by joy, humility, and fruitfulness, especially through suffering. 
This doesn't mean that they are perfect, but that their lives are consistently marked by joy, humility, and fruitfulness, especially through suffering. 
Additionally, I've found myself drawn to women who are strong in areas where I feel particularly weak. When it comes to things like generous hospitality, industrious service, and prayer, I need extra instruction and encouragement. While having a mentor with similar life circumstances or personality can provide an instant bond, their Christlike character is what's essential.
What has surprised me the most over the years are the types of things I've learned from mentors. It ranges from how to bake a great batch of cinnamon rolls (not essential to gospel growth, but helpful for loving my breakfast-gobbling family) to how to wait for God to work in someone's heart. 
Many times the lessons and questions have overlapped, weaving a lovely tapestry of the spiritual and the practical working into my heart as we've walked, or cleaned, or made a meal.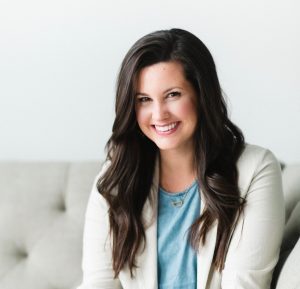 If a younger woman desires a mentoring relationship with an older woman, how would you advise her to find a mentor?
This can feel like such a daunting question, and it's been an obstacle for me at times. With everyone seeming so busy, asking, "Will you be my mentor?" can be intimidating. 
While formal mentoring is fantastic and it's okay to ask that question, it's not the only option. It's also okay to ask a godly woman to meet and talk about one specific area of gospel application. (Then see where that leads!) 
You could start with something like, "My husband and I are having a hard time deciding what schooling choice to make next year. Would you be willing to listen and help me think through some of my fears?" That's a question many women can joyfully answer, "Yes!" to. 
Some of the biggest decisions I've had to make in my adult life have been helped along by one-time informal conversations with wise women who knew me and were available to process the Scriptures. While everyone struggles against sin, we want to hear from women who won't just commiserate with us but point us to Christ and help us follow his ways. 
Why is discipleship in the local church context so important for spiritual growth?
God's words aren't meant to be impersonal principles that inspire us from afar; they judge the thoughts and attitudes of our individual hearts (Heb. 4:13). We're supposed to live according to them in our specific context and life circumstances (Ps. 119:9). 
While Bible teachers, writers, and Christian thought leaders can share principles from posts and pulpits, they can't stand in your kitchen and help you apply it when your three year old kicks you in the shin and runs away. In order to thoughtfully discern God's will and work in our own lives, we need people who love him, know us personally, and are committed to our spiritual health as part of our local church. 
For instance, when we struggle with the question of school choice, the "from afar" principles and posts can help us get started. But it's the godly woman who knows our actual children, our husband's work schedule, and the makeup of the schools in our particular community who can really help us pray about and process the details. 
A local mentor can dig in, ask the penetrating questions, bring us a meal, and give us a big hug.
When we're not sure whether to increase our income-producing work hours or when we need help grieving a child's diagnosis, a local mentor can dig in, ask the penetrating questions, bring us a meal, and give us a big hug. After all, we're not just digital women, we're embodied women.
We need to see each other living like Christ "in real life" to learn to do it ourselves. It's why I finally figured out how to make cinnamon rolls when I did it beside a woman in her kitchen instead of just watching a video of a stranger on Google. At the same time, she encouraged me to keep writing about Christ, and we stopped to pray together. That's an experience the Internet can never produce. 
What particular piece of wisdom or advice do you hope to pass on to younger women in your life?
It's hard for me to imagine what I have to pass on to younger women at this point, but I pray that God uses me as a spiritual mother or spiritual big sister to others! I'd love to be known for holding fast to the gospel without wavering and serving the Lord with a glad heart—in my church, in my home, and in the world. 
We hold fast because he holds us.
And I hope I can tell other women to rely on Jesus for everything because he's the founder and perfecter of our faith. We hold fast because he holds us.
---
Emily Jensen is the co-founder of Risen Motherhood, and she currently serves as the content director. She isthe co-author of the book Risen Motherhood: Gospel Hope for Everyday Moments. Emily, her husband, and their five young children reside in central Iowa. You can find her on Instagram @emily___jensen and Twitter @emjensenwrites.
---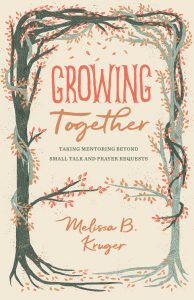 I have a new book, Growing Together: Taking Mentoring beyond Small Talk and Prayer Requests that released on June 9. It's not primarily a book about mentoring, but a book that two women can use in a discipleship relationship to help discuss a variety of topics. It's meant to be one way to get the conversation started, but by no means is it the only way to mentor. If you're looking for a place to begin, I hope it will be a helpful resource.
Other posts in this series: