I had just started a new job at my church. I was partly responsible for college ministry and my boss was out of town, so he asked me to use his truck to pick up students from campus and bring them to church.
Sunday came. I picked up and dropped off the students, then headed to the back of the church to park the truck. Suddenly, I heard a dreaded, nails-on-a-chalkboard sound: me creating two long scratches along the side of his formerly pristine truck.
My heart raced. Had I ruined my relationship with my boss on one of my first weeks on the job? Could I repay him for the damage? Not likely, given my seminary-student budget. But I knew there was no way around it. I had to tell him what happened. I got out my phone, texted to say what happened, apologized, and offered to pay for the damage. And then I waited . . .
He texted back, "No problem, David! These things happen. I hope the morning went well!" My fear was relieved by his forgiveness. A couple of weeks later, he asked me to use his truck to pick up students again.
It may seem like a trivial example, but when I reflect on that day, it reminds me of a particular psalm.
'I Kept Silent'
In Psalm 32, David describes how he felt before confessing his sin to God: "For when I kept silent, my bones wasted away through my groaning all day long. For day and night your hand was heavy upon me; my strength was dried up as by the heat of summer" (Ps. 32:3–4). Today we might say something is "eating us up inside" or that we feel "crushed by guilt."
Do you ever feel like that? I do all the time. I have that thought again, speak those words again, or do that thing again. Then comes the crushing weight of shame. When we feel this way, it's tempting to respond as David does here. We ignore, rationalize, or hide our sin. We keep silent before God. Our prayer goes to zero.
But we can't hide our sin from him. Such attempts only lead to feeling dried up, our spiritual bones wasting away.
'I Acknowledged My Sin to You'
The good news is this isn't where the psalm ends. We don't have to spend our lives in the misery of verses 3–4. Psalm 32 ends with rejoicing (v. 11). So how do we get from the agony of verse 3 to the joy of verse 11, from feeling God's heavy hand to experiencing his blessing?
The key is verse 5: "I acknowledged my sin to you." It's that simple! David moves from silence before God (v. 3) to speaking to God (v. 5)—from covering his sin to acknowledging his sin and letting God cover it (v. 1). The secret to experiencing God's blessing is to own your sin before him.
And this change—from silence to speaking, from hiding to owning—is what brings about one of my favorite lines in the entire book of Psalms: "And you forgave the iniquity of my sin" (v. 5). I love that there's zero space between David's confession and God's forgiveness. Confession is met with instant forgiveness—no hesitation, no delay.
Confession is met with instant forgiveness—no hesitation, no delay.
That's radical forgiveness. When I texted my boss, I had to wait 45 agonizing minutes for his gracious reply. But with God, there's no wait, no ". . ." in his text response, no pause for him to think. There's no "I'll forgive you as long as it's not too bad" or "I'll forgive some things, but not that." Just pure, unqualified pardon.
Costly Forgiveness
Now, maybe you're thinking, That's great, but you don't know what I've done. If you knew me—if you knew the darkness inside—you wouldn't be so sure. Here's why I'm sure: God's forgiveness doesn't finally depend on you. The pardon he offers has nothing to do with what you have or haven't done but everything to do with what he has done.
The pardon he offers has nothing to do with what you have or haven't done but everything to do with what he has done.
I don't know what you've done, but I know what God has done in Christ. His life, death, and resurrection are the golden key that unlocks the wonder of Psalm 32. Jesus experienced the heavy hand of God so you might experience his mercy. He groaned and cried out in agony so you might shout for joy. He was shamed so you might rejoice. His strength was dried up so you might have life. He willingly gave his life so that now, because of his death in your place, you can be forgiven no matter what. You can drop the weight of sin and shame because Jesus will carry it for you.
'Shout for Joy!'
David concludes with a ringing call: "Be glad in the LORD, and rejoice, O righteous, and shout for joy, all you upright in heart!" (v. 11).
He goes from groaning to shouting for joy, from feeling God's heavy hand to rejoicing, from his bones wasting away to being glad in the Lord—all because he simply turned to God with his sin. Acknowledge your sin to him today, friend, and then rejoice with David: "Blessed is the one whose transgression is forgiven!"
Get a FREE eBook to strengthen your family discipleship!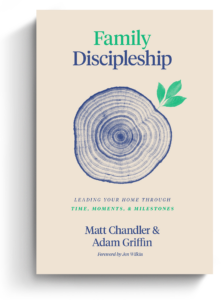 The back-to-school season is stressful for moms and dads. New rhythms of school, sports, and other extracurricular activities can quickly fill up a family's already busy calendar. Where do busy parents look for resources on discipling their family well? Aside from prioritizing church, what else can Christian parents do to instill healthy spiritual habits in their household?
Matt Chandler and Adam Griffin cover these questions and more in Family Discipleship: Leading Your Home through Time, Moments, and Milestones. And we're excited to offer this book to you for FREE as an eBook today.
Click on the link below to get instant access to your FREE Family Discipleship eBook now!