There is an active debate about the role evangelism should play in Sunday worship services. On any given Sunday should we assume our audience are believers or nonbelievers?
First Corinthians 14:23–25 indicates that both groups were present in early church services. Most in the congregation were believers gathered for worship. Nevertheless, Paul proposes that the Christians conduct themselves such that nonbelievers aren't unnecessarily put off (concluding Christians are "out of their minds," v. 23) and can hear the good news and be convicted by it (saying "God is really among you," v. 25).
This doesn't mean all elements in worship have to be perfectly understandable to unbelievers. That would create a concert or a talk show, not a worship service. Songs and hymns praising the Trinity will be challenging to nonbelievers, and the Lord's Supper will be mysterious as well.
Preaching that assumes the radical nature of sin and the free grace of Jesus will be most difficult of all, since the gospel is always offensive to "the natural man" (1 Cor. 2:14). The nonbeliever will find much of Christian worship foreign no matter how it's presented. Paul is not, then, asking us to remove the necessarily scandalous aspects of the gospel. Rather, he is calling us to contextualize the worship service so all unnecessary confusion and offensiveness is removed.
Just as Jesus reminds the Pharisees not to elevate tradition to the level of sanctity (Mark 7:8–9), we too should be careful not idolize our favorite worship practices at the cost of excluding those who desperately need to hear the good news. Instead, in the words of Psalm 105 we, "Give thanks to the LORD; call upon his name; make known his deeds among the peoples!"
How should we do this? The verse continues, "Sing to him, sing praises to him; tell of all his wondrous works!" In other words, in observing our worship nonbelievers will see who God really is. Edmund Clowney called this "doxological evangelism."
General Practices, Not Rigid Rituals
The Bible does not give us a rigid model for our worship services, but it does give us general practices of praise, lament, confession, conviction, and convocation. We are, therefore, to create worship spaces where these practices can be performed to edify both believers and also nonbelievers.
To do this, we first must build our worship services assuming non-believers will be present. Christian congregants, who will be doing the inviting, can immediately tell if their friend or coworker will be at ease in the service.
Here are five values you should have, and some practices that may follow.
Value 1: Our language must be understandable.
This might be the biggest hurdle for churches in a post-Christian context. For too long, Christian subcultures have been able to exist with "tribal language" and dialect without needing to explain their verbiage.
I remember bringing a non-Christian friend to church in college immediately after becoming a Christian myself. As we sat there, the speaker up front said: "The blood of the Lamb has been shed for you for the propitiation of your sins. It is now time to make a decision for Christ." We looked at each other with bewildered faces. There was no explanation or follow-up.
Practice: Translate. Often when I'm writing my sermons I try to imagine individuals who have never been to church. I try to think of arguments and questions they might have with the passage or concepts being discussed. Avoid unnecessary jargon. If you do use an unfamiliar word, explain it.
Value 2: The worship service must be understandable
.
If worship is bestowing worth on something, then humans don't have the option not to worship, for we always bestow worth on something. The concept of a worship service, however, is foreign to many people, so it's our job to interpret it to a post-Christian culture. This is helpful for both Christians and non-Christians.
Practice: Redeemer Lincoln Square prints short margin notes that explain each item of the service. For instance, when it's time for confession, there's a side note that reads: "Confession is when we are honest about ourselves and each other with God. As we admit our misplaced affections, we are called to reorder our lives. Only by being honest about our flaws will the good news of grace be significant."
Value 3: You must be appropriately transparent.
As social media becomes more prevalent, the cultivated self presented online creates distrust. People crave authenticity. Though we know our lives are not all filled with happiness, that's what we often see presented in church. It's more important than ever before, then, to show fully authentic, broken-but-hopeful humans in our services.
Practice: Our services should always contain worship elements not just of hope, but also lament and confession. Without becoming too self-referential, I try to regularly reveal my own struggles in order to embody this value.
Value 4: Assume nonbeliever participation.
One can do this by articulating their objections to the faith better than they can. The benefit is twofold: Christians have heard the same objections and wonder what the Christian answer is; and the non-Christian feels heard when you intelligently state their concerns.
Practice: Four things here. (1) Print prayers for those not taking communion so they have something to do during this time. (2) Welcome and address nonbelievers at the beginning of the service. (3) During the sermon, insert, "If you're not a follower of Jesus, you might be thinking. . . ." This lets them and their Christian friends know you're considering their issues. (4) Consider doing a Q&A time. At our church we call it Q&R—Question and Response time—because we promise to respond! We print a phone number in the bulletin, and we allow anyone to text us questions to be addressed after the service for about 15 to 20 minutes.
Value 5: Present Word and deed clearly.
Both the non-Christian and the Christian need to hear the Word of grace embodied and preached clearly. Grace is not just having your record righted in the past; it's also the assurance of future life with him. Many Christian doctrines are important and need discussing, but all of them are predicated on experiencing grace.
Only if it's beautiful to you will you endeavor to live as a follower of Christ not out of obligation, but out of love. That motivates us through gratitude, instead of guilt-driven duty. Then the reasons for and power of our deeds become compelling.
Nonbelievers need to see Christian faith lived out, or it won't seem true. Therefore, there should be times within the worship service to highlight various mercy and deed ministries, with both celebration reports and also opportunities to serve. This lets everyone see how grace drives us out into the world.
Practice: Four things here, too. (1) Consider quarterly prayers of lament that highlight a current ill in the world, asking for God's wisdom about how we can alleviate needs. (2) Highlight various ministries within the service where congregants can serve and live out their beliefs. (3) Do a prayer walk in your neighborhood to identify potential unmet needs. (4) Ensure every sermon shows the main problem for both the Christian and the non-Christian is unbelief in the real grace offered in Jesus.
This is not an exhaustive list, but perhaps it can help you reimagine ways you can leverage your worship service and congregation into being a space for all peoples.
Get a FREE eBook to strengthen your family discipleship!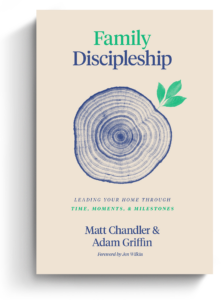 The back-to-school season is stressful for moms and dads. New rhythms of school, sports, and other extracurricular activities can quickly fill up a family's already busy calendar. Where do busy parents look for resources on discipling their family well? Aside from prioritizing church, what else can Christian parents do to instill healthy spiritual habits in their household?
Matt Chandler and Adam Griffin cover these questions and more in Family Discipleship: Leading Your Home through Time, Moments, and Milestones. And we're excited to offer this book to you for FREE as an eBook today.
Click on the link below to get instant access to your FREE Family Discipleship eBook now!
Join The Keller Center mailing list
The Keller Center for Cultural Apologetics helps Christians share the truth, goodness, and beauty of the gospel as the only hope that fulfills our deepest longings. We want to train Christians—everyone from pastors to parents to professors—to boldly share the good news of Jesus Christ in a way that clearly communicates to this secular age.
Click the button below to sign up for updates and announcements from The Keller Center.
Learn more in depth about the Center and our fellows program on
our FAQ page
.