The question in David's heart in Psalm 13 is the question in the hearts of many in times of testing: How long, Lord? Have you forgotten us? Have you left us? When will this end? Will it ever stop?
Two Views of Feelings
I live in India, which has two primary ways of dealing with emotions. The mindset of Old India doesn't give much weight to them. Traditional education, family, and cultural powers prepare children for vocational success, not emotional health. No price is too big to pay for prosperity. But it is clear that the cost of our financial health has been billed to our emotional health.
"The International Labor Organisation (ILO) has already said that if we don't take timely action to stem the mental health crisis, India's youth may suffer severe and long-term effects that will affect their productivity, and in turn the national economy," The Wire reported.
New India, on the other hand, resists the stifling rigidity of Old India. Like an arrow released from a bow held too tightly for too long, New India believes it is moving from the hell of suppressed feelings to the heaven of indulging them. The new way of dealing with our emotions is to prize them, honor them, submit to them, and follow them. Our feelings are more than feelings, New India says. They are the center of our soul, the core of our identity. They are the lights we must follow to find salvation by gratification of desire.
New India's heart beats for autonomy and self-expression: I want to get what I want, do as I please, say what I feel, write my own rules, live my own truth, and follow my own heart. I write the rules that I live by. I will find my way to make my own way, and if you're not on my side, you need to get out of my way.
What could go wrong with millions of New Indians, each going their own way? This is a lonely road, marked by fear, anxiety, nagging self-doubt, self-destructive habits, and addictive coping mechanisms, not to mention the despairing weight of ennui. There was an epidemic before the pandemic.
Among India's youth (15-34 years old), 12 percent feel depressed often, and 8 percent feel lonely quite frequently, The Indian Express reported. "The impact of loneliness has been compared to having 15 cigarettes a day and, left unchecked, can cause severe mental wellness challenges," The Hindustan Times said.
One of the most worrisome things about the modern sense of identity is the authority given to the inward reality of our feelings. But the most neglected truth about our feelings is they can lie to us. If we give ultimate authority to something that can lie to us, how will we know when we are deceived?
The most neglected truth about our feelings is they can lie to us.
The Biblical View of Feelings
The psalms are prayer-songs and prayer-poems. They are the prayer book of the Bible, showing us how to pray in every season of the soul. The psalms show us that the Christian experience is big enough to house all kinds of emotions and experiences.
There are psalms for when we are overjoyed, for when we are drowning in despair, for when our hearts are full of a thousand thank yous, for when we have questions, complaints, protests, for when we feel as if God has turned from our closest friend into our fiercest rival.
Nearly a third of the psalms are prayers of lament. These prayers are so raw, unfiltered, honest, and open we sometimes wonder why they are even in the Bible. The answer is surprisingly simple. They are in the Bible because there is suffering in the world. It touches everyone and can bring anyone to the end of themselves. When we come to this place, the psalms can lead us to a fresh beginning. The psalms offer two things we need today—emotional maturity and spiritual maturity.
Emotional Maturity
Emotional maturity is not emotional tranquility. It is not maintaining the illusion of peace with a calm exterior merely concealing a torrid inward storm. That is emotional self-destruction. Neither is emotional maturity equal to emotional autonomy. It is not simply obeying your urges, giving in to your feelings, surrendering to the desires or the fears in the moment. That is emotional self-deception.
Emotional maturity means leading our feelings to God, not letting our feelings lead us away from him. The bedrock of emotional maturity is to know God is a good listener.
Emotional maturity means leading our feelings to God, not letting our feelings lead us away from him.
One of the most comforting things to learn from the psalms is that our feelings are not a problem to be fixed, a sound to be silenced. Neither are they lights to follow, voices to trust, or thrones we must lay our crowns before. They are quite simply a power to be harnessed. The psalmists and prophets don't consider it strength to suppress their feelings or power to exert their feelings. They simply consider it maturity to express their feelings.
Spiritual Maturity
Spiritual maturity does not spiral downward into despair, it spirals upward into joy.
Spiritual maturity does not spiral downward into despair, it spirals upward into joy.
When our emotions get the best of us, God may get the worst of us. We can easily descend into a downward spiral, beginning with the one person who hurt us to detesting all human beings and wishing we could live on an island without another human in sight. We can descend from a disappointment in life to despairing of living. It's better not to live than to live like this!
But David knew how to treat a wounded heart. He knew there are no shortcuts to joy. He knew the way to the warm light of joy is through the dark tunnel of lament. He spiraled too. But he spiraled upward.
In Psalm 7, he begins with his real fears about the injustice against him (vv. 1–2), and ascends into the highest courts of heaven, into the throne room of God, longing for ultimate justice (vv. 6–9). David brings his feelings to God, and God lifts him to himself. David begins the prayer with fear and ends with thanksgiving and praise. This is the promise of lament. This is the power of prayer.
There's a psalm for every season of the soul. The psalms aren't simply the prayer book of the Bible. They are the prayer book of Jesus. He quoted from them more than any other book. We must learn to pray them in our hours of need because he prayed them in his hour of need. He quoted from the psalms when he lamented, "My God, my God, why have you forsaken me?" (Matt. 27:46). He was forsaken so we will never be forsaken. He was forgotten so we can be his remembered people. He died in the darkness so God will always make his face shine on us.
We need to pray like the people in the Bible—with deep emotional and spiritual maturity. May the psalms of lament show us how to pray more truly, simply, honestly, and beautifully than we have ever done before.
Editors' note:
Akshay Rajkumar is a founding Council member of TGC India, which plans to launch in early 2022.
Get a FREE eBook to strengthen your family discipleship!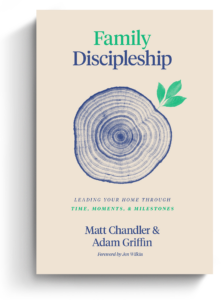 The back-to-school season is stressful for moms and dads. New rhythms of school, sports, and other extracurricular activities can quickly fill up a family's already busy calendar. Where do busy parents look for resources on discipling their family well? Aside from prioritizing church, what else can Christian parents do to instill healthy spiritual habits in their household?
Matt Chandler and Adam Griffin cover these questions and more in Family Discipleship: Leading Your Home through Time, Moments, and Milestones. And we're excited to offer this book to you for FREE as an eBook today.
Click on the link below to get instant access to your FREE Family Discipleship eBook now!