Several weeks ago, I spent some time in London. I marveled at Westminster Abbey, drifted down the River Thames, and toured Buckingham Palace. I also relished the opportunity to visit the historic Metropolitan Tabernacle, where Charles Haddon Spurgeon faithfully proclaimed the gospel for 38 years.
Many of us are familiar with Charles's biography, preaching abilities, and prodigious writing. But few of us know much about his wife, Susie. In Susie: The Life and Legacy of Susannah Spurgeon, Ray Rhodes Jr. tells Susie's compelling story by weaving together historical records, older biographies, personal writings, and family member interviews.
Susie has a full narrative to tell. Rhodes—founding pastor of Grace Community Church in Dawsonville, Georgia, and president of Nourished in the Word Ministries—vibrantly chronicles her life, bringing us into Susie's heartbreaking yet faith-building world. She loved her God and her family with excellence despite the difficulties of life. And Susie will encourage you as you encounter her persevering faith.
Suffering Well and Supporting Others
Sometimes we think encouraging books must have cheerful storylines and fairytale endings. This isn't one of those.
Susie's first 35 years were full of adventure. One of her favorite pastimes was walking outdoors for several miles to enjoy God's creation. She traveled to Paris numerous times to learn the language and culture, and she was educated in music and art. But Susie's active lifestyle abruptly ended when she suffered a life-changing medical condition—likely endometriosis or a tumor—which left her mostly homebound for the rest of her life. In spite of her suffering, she continued to serve both the Lord and others from the confines of her home. She set up a ministry to mail theological books to needy pastors, and she wrote many books and articles. 
Susie wasn't the only one who suffered. Charles often struggled with depression, anxiety, intense criticism, and horrific devastations as he depended on Susie's wisdom, prayers, and love. She also read aloud to him from authors like George Herbert. As Rhodes shares, "Often Susie's reading to Charles brought great conviction to their hearts, and they wept together." Even when he was away, she wrote him letters of encouragement. Susie trusted the Lord, pressed into her sorrow, and served her family and the wider world. 
While many Christians recognize the name of Charles H. Spurgeon, the beloved preacher and writer, few are familiar with the life and legacy of his wife, Susie. Yet Susannah Spurgeon was an accomplished and devout woman of God who had a tremendous ministry in her own right, as well as in support of her husband.
Now, for the first time, Susie brings this vibrant woman's story to modern readers. Ray Rhodes Jr. examines Susannah's life, showing that she was not only the wife of London's most famous preacher, but also a woman who gave all she had in grateful service to the Lord.
Encouragement for Parents and Spouses
Every believer will find deep encouragement in Susie to live in the Scriptures. Parents will be spurred on as they read about Susie leading her twin sons in reading the Bible, singing, and prayer. One of my favorite stories in the book was told by her son Thomas. Susie would sit at the piano with one boy on either side and teach them hymns. When the trio would sing "There Is a Fountain Filled with Blood," she'd pause before the chorus and say:
Dear boys of mine, I have no reason to suppose that you are yet trusting Christ: you will, I hope, in answer to our constant prayers, but till you definitely do you must not say or sing "I do believe, that Jesus died for me." It's just as wrong to sing a lie as to tell one.
And so she'd sing that line alone. After Thomas became a believer, he couldn't wait to sing that line with his mother as loudly as possible.

Husbands and wives will find a model in the Spurgeons' deep love for one another and the ways they pointed each other to Christ. Because Susie was unable to attend Sunday church services, Charles set aside Saturday mornings to minister to her directly. He also invited her to help in his sermon preparation by having her read aloud from commentaries, about which she said:
Never was occupation more delightful, instructive, and spiritually helpful; my heart has often burned within me, as the meaning of some passage of God's Word has been opened up, and the hidden stores of wisdom and knowledge have been revealed; or when the marrow and fatness of a precious promise or doctrine has been spread like a dainty banquet before my admiring eyes.

Encouragement for Pastors' Wives
As I pondered Susie's life, I thought about expectations for pastors' wives. It's no secret that pastors' wives face pressure to be visible in the life of the church. I can't imagine how Susie must've felt when people asked why she was absent from church services. Her heart desired to be with her church family, but her illness kept her home Sunday after Sunday, month after month, year after year. Many people probably felt that an invalid makes a poor pastor's wife. Yet the Lord prepared Susie to be the partner Charles needed. He used Susie's sufferings to fill  her with compassion for her struggling husband. 
This was especially important when the Spurgeons faced several calamitous ministry situations. Once, seven people were killed and 28 injured at a preaching event led by Charles. Susie comforted him through the grief for the rest of his life. They also faced a prominent theological split with beloved friends and family as well as continued criticism in the papers.
If you're a pastor's wife, this book will likely compel you to lavishly encourage your husband. Susie shows us that we have a unique opportunity to point our pastor-husbands to God's faithfulness after they preach a less-than-stellar sermon or when they're harshly critiqued. They need to know we're at their side in both the joys and also the hardships of ministry.
Rhodes's book is well-researched and well-written. It's a page-turner of encouragement. Buy three copies: one for yourself, one for someone going through a difficult time, and one for a ministry wife. You'll likely read this one more than once.
Get a FREE eBook to strengthen your family discipleship!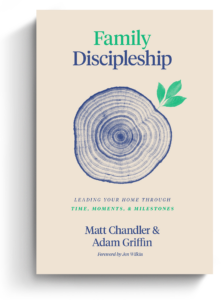 The back-to-school season is stressful for moms and dads. New rhythms of school, sports, and other extracurricular activities can quickly fill up a family's already busy calendar. Where do busy parents look for resources on discipling their family well? Aside from prioritizing church, what else can Christian parents do to instill healthy spiritual habits in their household?
Matt Chandler and Adam Griffin cover these questions and more in Family Discipleship: Leading Your Home through Time, Moments, and Milestones. And we're excited to offer this book to you for FREE as an eBook today.
Click on the link below to get instant access to your FREE Family Discipleship eBook now!