Whenever I'm meeting with believers for the first time, whether they're joining our church as members or they're ministry leaders in another context, I like to ask, "What does prayer look like for you?" More often than not, the response I get is guilt: they drop their heads and admit their prayer life isn't what it should be. Why? 
We all live with a gap between who we are and who we want to be. There's a gap between where we are today and where we hope to be in a later stage of maturity. This gap can lead us to feel guilt and shame, or it can serve as an invitation—an invitation to a deeper life, to pray, and to get started even now. 
When pastor and writer John Starke introduces prayer in his new book, "impossible" is one of the first words he uses. Not because he believes prayer to be impossible—quite the opposite—but because that's a dominant feeling toward prayer for many believers. He explains: 
I once sat with a young mother who was a vice president at one of the major television networks in New York. She was working in a competitive field and had just given birth to her second child. The idea of spending time in prayer—something that she desired—seemed overwhelming and impossible. But she also knew that entering into a busy world, with the pressures of family and vocation, without some spiritual life seemed impossible. (5) 
This paradox is at the heart of Starke's The Possibility of Prayer: Finding Stillness with God in a Restless World. For many of us, prayer feels impossible. Yet we simultaneously acknowledge: life without prayer is impossible. So where do we begin? 
The world clamors for efficiency and productivity. But the life of prayer is neither efficient nor productive. Instead, as we learn in the psalms, prayer calls us to wait, to watch, to listen, to taste, and to see. These things are not productive by any modern measure—but they are transformative.
As a pastor in Manhattan, John Starke knows the bustle and busyness of our society. But he also knows that prayer is not just for spiritual giants. Prayer, he writes, is for each of us—not because we are full of spiritual wisdom and maturity, but because we are empty. Here is an invitation to discover, via the church's ancient rhythms and with Starke's clear, practical guidance, the possibility of prayer. Here is a book about prayer that is really a book about the whole Christian life.
Prayer's Impossibility
For several years, Starke has served as the teaching pastor of Apostles Church in New York City. This position and this city give Starke a unique perspective on cultivating a prayerful life in busy times. There's an adage about New York City: if you can make it here, you can make it anywhere. I felt something similar reading this book: if you can make prayer "work" here, you can make it work anywhere. I think you'll see what I mean. 
The Possibility of Prayer addresses an implicit obstacle many of us face, that "a deep and satisfying prayer life is not for me" (4). Perhaps you've felt this. Isn't a deep prayer life much harder now than in previous generations? Only monks and contemplatives and people without day jobs, we might assume, could call their prayer lives "satisfying." What is this deep and satisfying prayer life, and who is it for? Starke answers: 
A life of prayer, full of joy, power, and awe is for you. It's not for "other people." Prayer is not for the spiritually elite. It's for you. . . . I know it may not seem this way, but the whole thing is rigged for triumph. (5, 9)
Possibility is divided into two parts of six chapters each. In Part 1, Starke describes several realities we need to grasp if we're to believe that prayer is possible and that getting started isn't so hard. In Part 2, Starke introduces six practices to embrace—not techniques to master—for intimacy with God. Starke considers three pathways as primary (communion, meditation, and solitude) and three as secondary, in that they're not practiced daily—fasting and feasting, Sabbath resting, and corporate worship.
Prayer begins not with us—not in working up energy or congratulating our effort—but with God himself. He has called us to himself. He has made prayer possible. He invites us, not the other way around.
Taken together, Starke gives us a practical theology of prayer and then introduces us to a practice of prayer that starts simply, progresses slowly, and leads us to a deeper, more connected fellowship with God.
Prayer Is Rigged for Triumph
How can it be, as Starke asserts, our pursuit of a deep prayer is "rigged for triumph"? I count a few ways in which Starke believes a deep prayer life is both accessible and, to a certain degree, inevitable for the follower of Christ.
1. Prayer Begins with God
Like the call to worship at the start of a service, prayer begins not with us—not in working up energy or congratulating our effort—but with God himself. He has called us to himself. He has made prayer possible. He invites us, not the other way around.
While it might be tempting to begin with Jesus's words in prayer, Starke suggests we need to start even farther back:
The first question in reading stories is not, What did Jesus do and how did he do it? but What does Jesus offer and how do we put ourselves in a position to receive it? Jesus is trying to get us to see not who we need to be befriending but what we need to be in order for Jesus to befriend us! And, of course, Jesus befriends the sick and needy. (19)
Of the 20 or so books on prayer sitting on my bookshelf, I might say that Starke's is the most gospel-centered.
God invites us to know and enjoy him in prayer. It's the place we meet with God and discover his healing and peace. Therefore, the major work of prayer has already been accomplished; at the cross, Jesus has made the way for us to sit before the Father without fear or shame. 
Reading The Possibility of Prayer, I was struck afresh with the power of Jesus's gospel. Of the 20 or so books on prayer sitting on my bookshelf, I might say that Starke's is the most gospel-centered, though I don't think he ever uses the phrase. The gospel simply permeates every page. It all begins with God. 
2. Prayer Is Not Detached from Reality
Skeptics might reject prayer as religious nonsense, but Starke shows us that prayer isn't a step away from reality; it's a step into deeper reality. In the chapter on prayer and pain, Starke gives several examples of those who've learned to pray through affliction. Along the way, Starke frequents the Psalms to lead us in how to pray through the pain. 
Prayer isn't a step away from reality, it's a step into deeper reality.
3. Prayer Changes Us
In Part 2 on the practices of prayer, Starke draws us back to that initial observation that prayer feels impossible, and yet it's life without prayer that's truly impossible. He considers the offers of our prayerless culture, from image to status and from control to comfort. But we know none of these can satisfy us; they certainly can't lead us to maturity. Starke shows that both peace and transformation are impossible apart from prayer. As he explains, "Prayer changes us by shrinking the gap between who we are and who we long to become in Christ. We are neither saved nor sanctified by good habits, but certain habits put us in the way of transformation and change" (92). 
Communion—simply being with God—is the true goal of prayer.
Transformation isn't the goal of prayer. Communion—simply being with God—is the true goal. But nothing changes us like an increasing fellowship with God in prayer. Starke describes a "circle of virtue" that develops through prayer: "(1) We consider ourselves deeply in the presence of Christ, and in doing so (2) we find ourselves securely in Christ, which leads us to (3) discovering resources and power to love those whom Christ loves. But to sustain that behavior of loving those Christ loves, (4) we are driven back to solitude to the infinite well of divine resources" (133). 
4. Prayer Isn't Too Complicated
Meditation is the practice of deeply reading God's Word and turning it back upward in prayer. Starke offers no grand scheme or get-it-quick technique. Instead, he offers a version of the familiar A-C-T-S model of prayer (adoration, confession, thanksgiving, supplication), just in his own words and with sufficient explanation (116–17).
Starke puts these simple, time-honored practices of prayer into fresh language, and creates a pathway to transformation that makes me want to get started now. 
5. Prayer Is Pleasant
I'm not sure how else to say it: Reading Possibility reminded me that prayer is pleasant. It's enjoyable. It's peaceful. It's even fun. 
We're creatures of habit, and, like Pavlov's dogs, we come back to what gives us nourishment and pleasure. Though this human pattern is often exploited by sin, let's remember: God's design is to give us a hunger for himself and to satisfy that hunger through prayer and worship. 
Reading Possibility reminds me that prayer is pleasant. It's enjoyable. It's peaceful. It's fun even.
Starke devotes an entire chapter to fasting and feasting. Both, he asserts, are spiritual pathways to enjoying God more fully. Fasting teaches us to be hungry; feasting teaches us to be full. Fasting protects us from spiritual lethargy; abstaining from food teaches us to hunger for God over the food and drink we normally crave. Feasting protects us from prioritizing discipline over joy; enjoying food and drink is a way to participate in the goodness and nearness of Christ's kingdom. 
Although not classically associated as forms of prayer, fasting and feasting both "teach us about heaven and how to be satisfied when we get there" (145). As Starke writes: 
The rhythm of feasting and fasting forms hearts at rest with God rather than hearts that restlessly crave the things of this world. It makes the life of prayer easier. Fasting teaches my heart to hunger for the deep things of God. Prayer is the daily feast on those things. (149)
Making the Impossible Possible
Starke helps us to see a deep prayer life as something far more possible than we might realize. Possibility continually invites us to start simply and humbly, yet it doesn't leave us satisfied with short, repetitious prayers. Instead, from simplicity, Starke points us to depth, and each chapter leads us further into a new quality of relationship with God. In the end, sitting silently with the Lord in prayer seems not impossible but quite approachable, appealing, and pleasant. 
The heavy emphasis of Possibility is on private, devotional prayer. Although the emphasis isn't exclusive (a chapter on corporate worship concludes the book), the focus on the contemplative dimension of prayer is both its strength and weakness. 
I personally wanted to see more of a connection between contemplative prayer and what has been called "combative" or "contending" prayer—praying for God's kingdom to come and his will be done. Starke masterfully shows that prayer can change us, but there's little to show that prayer can change much beyond our own hearts. Prayer can and should also include pleading with God for his saving work in the lives of our neighbors and coworkers, for the revival of our churches, and for the renewal of the world. 
Praying "thy kingdom come" isn't opposed to reflective, soul-satisfying prayer; the former is often the gateway to the latter. Our prayers for the world to be made right can be the way our hearts are made right. 
Nonetheless, I completed Starke's The Possibility of Prayer immediately wanting to enter into prayer—to put myself in the presence of our loving Father and allow his healing work to flow through me in conversation. In my busy, often disconnected life, that's what I need most of all. 
Get a FREE eBook to strengthen your family discipleship!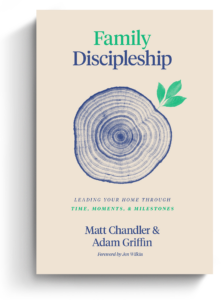 The back-to-school season is stressful for moms and dads. New rhythms of school, sports, and other extracurricular activities can quickly fill up a family's already busy calendar. Where do busy parents look for resources on discipling their family well? Aside from prioritizing church, what else can Christian parents do to instill healthy spiritual habits in their household?
Matt Chandler and Adam Griffin cover these questions and more in Family Discipleship: Leading Your Home through Time, Moments, and Milestones. And we're excited to offer this book to you for FREE as an eBook today.
Click on the link below to get instant access to your FREE Family Discipleship eBook now!