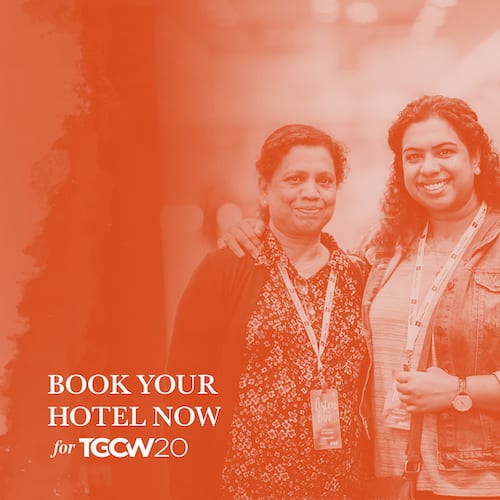 TGCW20 News: Hotels, Flight Discounts, and Inviting Friends
To help in your preparation for The Gospel Coalition 2020 Women's Conference, we wanted to give a few updates on hotels, flight discounts, and inviting your friends before the price increases. 
HOTELS
The hotel blocks with discounted conference rates are now available for booking! We have partnered with Visit Indy and a number of hotels in the area to provide special conference pricing. Please click on the link below to see the room options, prices, distance, and amenities. Hotel rooms tend to fill quickly, so we encourage you to book your room soon. 
FLIGHT DISCOUNTS
We've obtained flight discounts from Delta and United Airlines (Southwest and American Airlines discounts forthcoming). Please see the Travel Section of the conference website for more information. 
INVITING FRIENDS
Invite a friend or family member to register by November 1 to secure the best price before registration rates increase! Also, everyone who registers by December 30 (with a U.S. mailing address) will receive a free copy of Steadfast: A Devotional Bible Study on the Book of James. 
We look forward to seeing you next June in Indy!