We invite you to contribute towards helping equip Swahili-speaking church leaders in east Africa.

Our goal: $14,000 to provide copies for 15,000 church leaders.
75% of the world's Christians live in the Global South. Missiologists predict another 118 million people in the majority world will become Christians in the next decade. These believers will need equipped pastors and elders. 85% of the world's evangelical churches are led by pastors with insufficient training. There are millions of pastors in the world who don't have access to adequate theological education or resources.
Swahili is the official language in Kenya, Tanzania, Uganda, the Comoros and DR Congo. It is also spoken in Burundi, Mozambique, Oman, Rwanda, and Somalia. It is a language in resurgence. Total users in all countries: 998 million.

We partner with publishers all over the world to strategically select or translate titles based on the expressed needs of indigenous pastors, in the languages that will impact the largest populations. We then work with missions organizations, churches and nonprofits globally to get these free resources into the hands of the pastors who need them. As pastors and church leaders are fed gospel-centered, theologically sound "solid food," they will be better equipped to lead and grow the Christians they shepherd.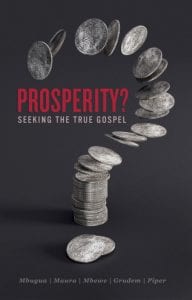 About This Resource
The gospel is the church's most precious gift to cherish, protect, and pass on. If even an angel preaches a gospel contrary to God's word, the Apostle Paul says he is cursed. We must never stop checking what we believe and preach asking the question: Is it the gospel that God has revealed to us in the Bible? There is a false gospel sweeping Africa and the world. It is a dangerous lie wrapped in a covering of religion.
In Prosperity? Finding the True Gospel, African pastors Michael Otieno Maura, Ken Mbugua, Conrad Mbewe are joined by Wayne Grudem and John Piper in pointing pas- tors and Christians beyond the deceptions of prosperity theology to the true gospel of Jesus Christ.
Learn more at tgc.org/prosperity