Sexual sins have stereotypically been attributed to men, but modern statistics show this is indeed a misconception. Approximately one out of every three visitors to porn sites is a woman. However, only one out of the first eight books to appear in an Amazon.com search for "pornography addiction" is written for women. There's an obvious shortage of resources in this area, and Sexual Sanity for Women intends to close this gap of need by equipping women to fight sexual sin and love the Lord Jesus.
The book, produced by Harvest USA and edited by Women's Ministry Coordinator Ellen Dykas, is a small group resource divided into a 20-week study. Each session contains four basic parts: reflection and review of the prior week's core concepts, an explanation of new concepts, a personal application section, and a small homework assignment. The overarching organization of the sessions are built on the analogy of a tree with five elements: seed, which represents the core of our heart in following Jesus or self; roots, which stand for our God-given desires; soil, which represents external circumstances outside of our control; shoots, or beliefs, that manifest themselves in our external behavior; and fruit, which symbolizes the responses we make as a result of our worldviews.
Problem and Solution
Sexual Sanity for Women clearly lays out the main problem faced by women struggling with sexual sin: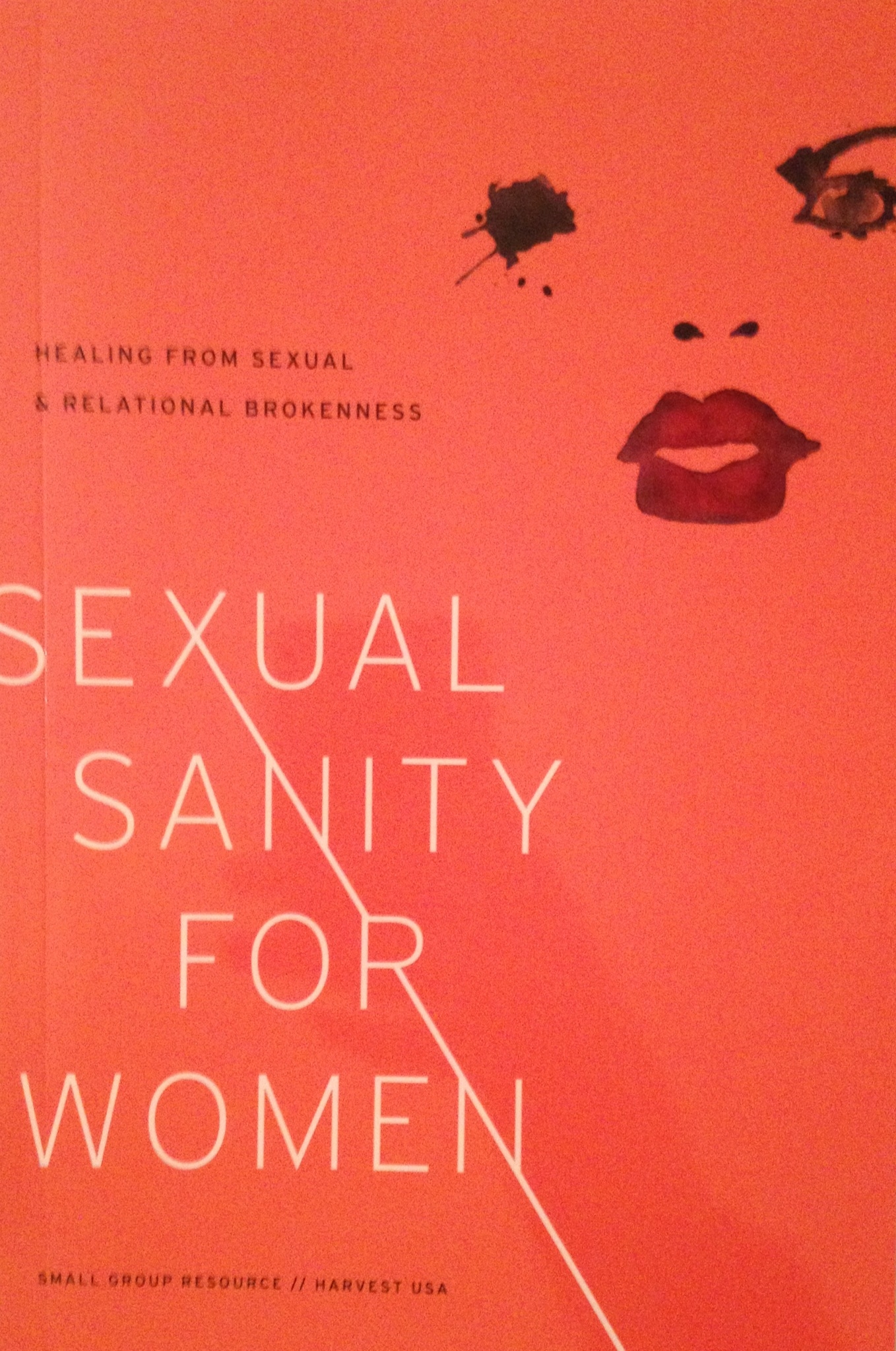 Sexual sin is the fruit of a self-ruled and idolatrous heart. Sexual activity outside of marriage (with women or men)—with self (masturbation), with someone else's spouse, sexual fantasy, and the viewing and reading of pornography—are ways women seek sexual pleasure and emotional comfort outside God's wise boundaries. These behaviors are the fruit of a heart living against God's created design for sexual expression. (33)
Sexual sin is self-centered in nature and contrary to love for others. But there is very good news: Jesus Christ and the power he brings to fight sin. "Change is absolutely possible" through him, Dykas observes (42). Temptations will come, hardships will be endured, but through Christ's power women can fight sin and thereby be made increasingly like him (42-43). Indeed, whether married or unmarried, any woman's sexuality is ultimately meant to be "a signpost to Christ and a means by which we love God and love others" (26).
Books written specifically for women often have the consistency of a marshmallow. They're fluffy. The content may taste good going down, but hardly any spiritual value exists within. I appreciated, then, the straightforward, Christ-centered counsel—and gentle demeanor—of Sexual Sanity for Women. Encouragement and exhortation rooted in Christ's finished work and our standing in him is accented with clarity from start to finish.
Two Concerns
As I worked my way through Sexual Sanity for Women, I found it difficult to read at times—for two reasons. First, the structure distracts from the main content. Granted, the front cover states it's a "small group resource," but given the dearth of resources on this topic and for this audience, I think it would've been better suited as an individual study. Second, while the model of the tree was doubtless employed to bring clarity to the content, I was unable to understand how each session's content fit with this analogy. The "roots," "shoots," and "fruit" concepts were particularly hard to distinguish at times due to apparent overlap in meaning.
Additionally, one could wish the homework were more in-depth and involved. The "On Your Own" sections in particular should, in my estimation, involve more specific work. Most of the assignments involve a small reading assignment from the book, journaling, and prayer. These are excellent starters, to be sure, but the homework stops there. Helpful additions might include Scripture memory, specific action assignments, accountability partner interaction, and how certain scriptural truths would look if put to work in a person's life.
A mentor of mine often quotes the maxim: "Push past platitudes to practical particulars." His point is that although many well-meaning counselors "dispense the Word," in a world with deep heartache and great suffering we cannot hand out verses in a cure-all fashion. Counselors need to listen diligently to what's going on in a person's heart and then, with Spirit-led savvy, show how Scripture applies to their situation in a particular and powerful way. Sexual Sanity for Women is headed in the right direction with the homework assigned, but it stops short of being a source of deeply practical and particular help.
Resources that consistently point struggling women to Jesus, pulling no punches yet speaking with great compassion, are greatly needed in our sex-saturated culture. Sexual Sanity for Women will be a breath of fresh air to women seeking help with same-sex attraction, pornography addiction, and other common sexual idols. The glorious news is these sins can be fought, put off, and conquered—a hope, Dykas demonstrates, that is only available in the gospel of the Lord Jesus Christ.