Radiohead made waves in recent weeks as they surprised everyone with the near-simultaneous announcement and release of their eighth record, The King of Limbs. They have a profound influence in certain pockets of pop culture, and what follows is few reflections on who they are, what are they saying, and why they matter.
Who Is Radiohead?
Radiohead burst on to the scene in 1993 with the words, "I'm a creep, I'm a weirdo . . . I don't belong here." That single, "Creep," received mixed reviews. Some believed it was sheer brilliance, and others panned it as "grunge-lite." Few could have predicted the influence that would follow. In the ensuing years, Radiohead has walked a perilous tightrope, somehow managing a hostile posture to both media and fans, while nonetheless remaining the darlings of critics and maintaining a fiercely loyal fanbase.
For example: As "Creep" carved out a place on mainstream radio, the band grew bitter. The demand to play the song became a burden at shows—a three-minute task that validated their existence and their payday. The dread and animosity towards the song boiled to a head during the production of their next record, The Bends, and gave birth to an ode to the burden of writing a hit—"My Iron Lung."
This, this is our new song
Just like the last one
A total waste of time
My iron lung
The Bends exploded onto both radio and MTV. They were no longer a one-hit-wonder. They were a bona-fide rock band, with an album full of anthems, angst, and anger. Then came OK Computer, an album that cemented their place in rock history. It is perhaps the last great guitar album made in 15 years, and it broke the formula for rock music. Like all of Radiohead's projects, it's an album of contradictions. While the album is unapologetically a technological masterpiece, it's also a warning cry about mass culture, technology, and the loss of humanity. The album opens with the inner conflict of "Airbag," a song that expresses ambivalence about technology (in an airbag) saving a life, and progresses to its most paranoid in "Fitter Happier," a computerized voice narrating our evolution, ending as a "pig, in a cage, on antibiotics."
With each subsequent album, Radiohead has seemed to move farther and farther from the rock-and-roll formula. You're hard-pressed to find "real" instruments on many of their songs. Instead, you find samples—computerized, compressed, far-from-human sounds, which nonetheless continue to communicate this same ambivalence about technology, a growing mass-culture, and the place for a human in the midst.
What Is Radiohead Saying?
I have a friend who's a pastoral counselor. In almost any situation, when he puts on his "counseling" hat, he opens the conversation by asking, "What are you noticing?" and follows that line of questioning with, "How are you processing that?" I think these are great questions to ask when we look at art in the wider world: What are the artist noticing, and how are they processing it?
In much modern art, the medium is the message, or at least part of the message. You see this in the work of visual artists whose compositions are made of common household objects, or taxidermy. You see in film when the movie is shot on a handheld camera. And you see it in Radiohead, where the sonic landscape of digital sound—layers of samples, drum loops, and drones—serve as a context for real instruments and human voices. Thom Yorke's vocals swim through this ocean, often battling for space. It's not uncommon for the vocal to be lost in the chaos, or caught up in echoing layers and deconstructed into something robotic. Radiohead's work is deeply affected by the way that technology has transformed our culture, both in a personal and a broad sense.
This sonic tension evolved over their first three records and has continued to evolve (with less sudden leaps) in their subsequent records. The newest release, The King of Limbs, gives the impression that the technology is winning. The robots are taking over.
In their lyrics, they express a deep angst and anxiety. There's a brooding rage—something that wants to push back and rebel, but the enemy in Radiohead's music is often too vast. Hannah Arendt predicted this situation when she talked about the inevitable rise of mass culture. Marva Dawn and Jacques Ellul describe it as a cultural milieu. It's the faceless forward motion of "progress." Each step—mobile phones, internet access, email, smartphones, digital cable, credit and debit cards—comes in the name of convenience, but brings with it something that depersonalizes the world, intrudes on our time, and smells a little bit like death.
You stole it all
Give it back
Good morning Mr. Magpie
How are we today?
Now you've stolen all the magic
And took my memory
(from "Mr. Magpie" on The King of Limbs)
There's also something beautiful. There's a longing for a personal connection. The fake plastic exterior of the world around is worthy of lament because it hides all that's human, and it shields us from actually connecting with one another. (See the Radiohead documentary Meeting People Is Easy for more reflections on that notion.) In the midst of a dehumanized society, all of our efforts at connection—social media and mobile technology—actually cause us to be more insular.
There's a kind of alarm bell being sound by Radiohead. They want us to see how deeply trapped we are in the milieu. They offer no solutions, though they hint at the idea of community and connection.
Why Does Radiohead Matter?
What's remarkable to me about the band is its sustained presence. Consider the voices that have come and gone in the meantime—most of the grungers have broken up or retired, the new-rockers like Creed have come and gone, teeny-boppers like Britney and Christina went from overexposed children to overexposed adults, and the list goes on and on. Radiohead, somehow, remains relevant, appearing on the covers of magazines and at awards shows, perpetually adored and yet out of place. Certainly, there have been others (like Michael Jackson and Madonna) whose success has spanned generations and trends, or whose singular voice and style remained fresh (like U2). But Radiohead does this while remaining gloomy, dark, and at times antagonistic.
I think it's these contrasts—the human and the robotic, the individual and the milieu, the real and the fake—that make Radiohead's message so powerful and resonant. It's a fairly hopeless perspective, but their fans aren't listening to them for solutions. They listen for solidarity. Someone else feels lost. Someone else feels like everything is too big, too fake, too plastic.
As Christians and especially as church leaders, we would be wise to notice this cultural numbness, and the rage that hides underneath it. With the release of The King of Limbs, Radiohead released a music video to the song "Lotus Flower." In it, Thom Yorke goes from semi-stoic dead-pan singing, staring into the camera lens to spastic, maddened dancing. It's another of their brilliant contrasts—the still exterior and the explosive emotion below the surface.
If we allow ourselves to notice what Radiohead notices, we'll see that behind the grinning faces on Facebook, the cheery updates on Twitter, the Sunday smiles, and the happy coworkers are human souls who feel cramped by the world around them, hemmed in by technology and noise, and desperate for someone to set them free.
Get a FREE eBook to strengthen your family discipleship!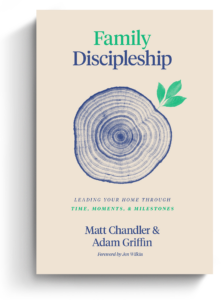 The back-to-school season is stressful for moms and dads. New rhythms of school, sports, and other extracurricular activities can quickly fill up a family's already busy calendar. Where do busy parents look for resources on discipling their family well? Aside from prioritizing church, what else can Christian parents do to instill healthy spiritual habits in their household?
Matt Chandler and Adam Griffin cover these questions and more in Family Discipleship: Leading Your Home through Time, Moments, and Milestones. And we're excited to offer this book to you for FREE as an eBook today.
Click on the link below to get instant access to your FREE Family Discipleship eBook now!