Many have rightly warned that evangelicals are losing "a Christian mind" by neglecting the Bible and indiscriminately consuming secular materials informed by non-Christian ideas. But what if it's not just the content we consume but also the medium in which we read it that poses a danger to our minds?
In Reader, Come Home: The Reading Brain in a Digital World, Maryanne Wolf makes a compelling case that our use of digital devices is changing the way we read, which in turn is profoundly altering the way we think—a chilling prospect for Christians, who believe that through his written Word, God renews our minds, enabling us to think in sanctified ways.
Digital Challenges
Although Wolf—a Tufts University professor who has studied the neurological processes involved in the act of reading—has no such spiritual concerns, she believes the stakes in our transition from a print to a digital culture are incredibly high. Again and again she confronts her readers with sobering questions:
"Will new readers [fail to] develop the more time-demanding cognitive processes nurtured by print-based mediums as they absorb and acquire new cognitive capacities emphasized by digital media?"
"Will our youth develop such a passive response to knowledge that eventually the store of what they know and their ability to connect it through analogy and inference will be depleted?"
"Will the combination of reading on digital formats and daily immersion in a variety of digital experiences . . . impede the formation of the slower cognitive processes such as critical thinking, personal reflection, imagination, and empathy that are part of deep reading?"
"Will the quality of our attention change as we read on mediums that advantage immediacy, dart-quick task switching, and continuous monitoring of distraction . . . ?"
Wolf obviously sees a strong possibility that the answers to these questions might be yes.
The reason? In her early research, she studied what happens within the brain when we read. Eventually she became concerned about "how the circuitry of the reading brain would be altered by the unique characteristics of the digital medium, particularly in the young."
Her conclusion is that since the advent of the digital age, "we have already begun to change how we read—with all of its many implications for how we think."
Reading Brain
On the opening page of the book, Wolf declares provocatively that "human beings were never born to read," by which she means that reading isn't something our brains are hardwired to do, such as seeing or communicating. Rather, reading is "an unnatural cultural invention" that we must learn. This we're able to do since our brain cells can make myriad connections, leading to the formation in each emerging reader of a "reading circuit" that links centers of the brain concerned with such crucial tasks as vision, language, cognition, motor functions, and affective functions.
However, she warns that digital devices pose a threat to the development of this mental circuitry—not because digital reading is fundamentally different from print reading, but because the digital medium deluges us with information in byte-sized chunks, promoting information overload and distraction. As evidence, Wolf notes that students today are demonstrating "diminishing familiarity with conceptually demanding prose."
Wolf sees numerous dangers here: shrinking attention spans that preclude "deep reading" (her term for focused, thoughtful reading), which in turn leads to failure to gain the empathy for others that reading engenders and the kind of personal store of knowledge that enables inference, deduction, and analogical thinking.
Christians might perceive an overarching danger: a reduction in our ability to grasp God's truth through deep reading of his Word. Clearly God created us with the capacity to learn the complex process of reading so that we might benefit from his written revelation, the Bible. But the Word of God is a challenging book, a prime example of "conceptually demanding prose" that requires attentive, reflective reading. Are we willing to let our digital pottage make us poorer students of this treasure?
From the author of Proust and the Squid, a lively, ambitious, and deeply informative epistolary book that considers the future of the reading brain and our capacity for critical thinking, empathy, and reflection as we become increasingly dependent on digital technologies.
Provocative and intriguing, Reader, Come Home is a roadmap that provides a cautionary but hopeful perspective on the effect of technology on our brains and our most essential intellectual capacities—and what this could mean for our future.
Reader Recommendations
What is to be done? Wolf's recommendation isn't simply that young readers be denied exposure to digital devices—indeed, she is surprisingly open to their use—but that such exposure be meted out in careful doses.
She urges parents of children up to age 5 to read to them often, giving them little access to digital devices. "Human interaction and physical interaction with books and print are the best entry into the world of oral and written language and internalized knowledge, the building blocks of the later reading circuit," she writes.
As for children 5 to 10 years of age, Wolf wants them develop a "biliterate brain" by learning in both print and digital mediums. Physical books are her preferred tool for reading instruction, while digital devices might be used to teach coding, programming, and creative skills such as graphic arts and musical composition. In other words, she envisions a two-track learning approach, with the understanding that students can safely combine print and digital media only when their mental reading circuits are firmly established around fourth grade. Thereafter, the goal is to prevent those circuits from atrophying.
Digital Wisdom
Whether many schools would agree to adopt such an approach, there is wisdom here for Christian parents, who must always be their children's prime educators. If you're a parent, read the Bible to your children from an early age, along with age-appropriate Bible storybooks and well-written (and well-illustrated) children's books. As they grow, introduce them to classic literary works. Let them hear both biblical truth and also beautiful language.
Through the exhausting early years of child-rearing, fight the terrible temptation to let a smartphone or tablet serve as a babysitter, much as parents a generation ago had to resist the siren song of TV. Keep books in your home for this purpose, whether owned or borrowed from the local library.
Don't let down your guard as your children acquire the ability to read for themselves. Help them find books that appeal to their expanding interests. When the time is right, these might include eBooks, but as much as possible help them use digital devices as tools for specific purposes, not as toys for relieving boredom.
Hopefully by these means, we can raise up children who will be able to read and appreciate challenging texts, especially the Scriptures, which unfold the gospel of salvation through Christ.
Meanwhile, we adults will do well to guard our own minds from the degenerative effects of the digital world. If Wolf is right—and her research seems sound and well-attested—such digital discipline is crucial for Christians who want to grow in their knowledge of God and his truth.
Get a FREE eBook to strengthen your family discipleship!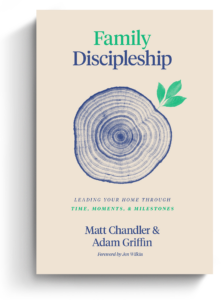 The back-to-school season is stressful for moms and dads. New rhythms of school, sports, and other extracurricular activities can quickly fill up a family's already busy calendar. Where do busy parents look for resources on discipling their family well? Aside from prioritizing church, what else can Christian parents do to instill healthy spiritual habits in their household?
Matt Chandler and Adam Griffin cover these questions and more in Family Discipleship: Leading Your Home through Time, Moments, and Milestones. And we're excited to offer this book to you for FREE as an eBook today.
Click on the link below to get instant access to your FREE Family Discipleship eBook now!