Today's Western culture has unique temptations created by the abundance of consumer goods available to nearly everyone. We're bombarded by temptation to pursue material wealth and career success as an end in itself, or at least as a means to get the stuff that makes people in the ads seem so happy. The consistent message of the world is that happiness is found in more, better, and newer experiences and goods that are just around the corner if we work a little harder.
Many Christians need to extricate themselves from this kind of thinking.
In 1643, Puritan pastor Jeremiah Burroughs wrote a work titled The Rare Jewel of Christian Contentment that has as much resonance in our discontented day as it did in his. Now pastor and author Andrew M. Davis helps us rediscover the remarkable truths found in this largely forgotten work. With powerful new illustrations and a keen sense of all that makes modern Christians restless, Davis challenges us to confront the sources of discontent in our lives and embrace Paul's teaching on contentment in all circumstances.
But they also need an alternative vision to the one offered by the world. What we run to when we flee temptation is just as important as what we're fleeing from. As Paul writes in 2 Timothy 2:22: "Flee youthful passions and pursue righteousness, faith, love, and peace." In other words, get away from temptation, but chase after biblical virtue. The faithful Christian life is a call to move away from materialism and greed toward a life of joyous contentment in Christ.
In two new books we see contrasting approaches to finding contentment.
Power of Christian Contentment
In Andrew Davis's book The Power of Christian Contentment: Finding Deeper, Richer Christ-Centered Joy [read an excerpt], he offers a positive vision of pursuing joy in Christ. The Power of Christian Contentment offers a biblical theology of contentment. It uses Puritan sources, discussed in contemporary terms, to argue for pursuing Christ-centered joy in this life. Davis builds on the classic book The Rare Jewel of Christian Contentment, by Puritan pastor Jeremiah Burroughs, to help today's Christians find the satisfaction Burroughs preached four centuries ago.
For Davis, pastor of First Baptist Church Durham and TGC Council member, contentment isn't found mainly in rejecting lesser goods, but in becoming disciplined to pursue the greater good found in the gospel. What's left behind is forgotten in pursuit of a far more valuable prize.
The Power of Christian Contentment explores the issue in four sections. First, Davis outlines the nature of contentment, relying on the teaching of Burroughs and the apostle Paul. It becomes clear why true contentment is so desirable. Second, Davis outlines practical steps to pursue contentment. Here we get a more precise definition, a discussion of God's providence, a highly practical section on moving toward the habit of contentment, and an explanation of how Christ's life and work point us toward contentment. Third, Davis deepens his explanation of the value of contentment. He expounds on finding satisfaction in Christ in various circumstances, as well as dealing with the problem of a complaining heart. Fourth, Davis outlines the importance of preserving contentment. There remains no question that complacency and Christian contentment are distinct and that practical steps are necessary to protect our joy in Christ.
Much like Davis's earlier volume, An Infinite Journey [interview], this book provides both a theoretical framework and also practical techniques for pursuing Christlikeness. Davis explains why the pursuit of material comforts and worldly success will fail, but the bulk of his efforts point us toward a well-defined form for the Christian life.
Less Is More
In his recent book, Less of More: Pursuing Spiritual Abundance in a World of Never Enough, Chris Nye urges readers to avoid material temptations and recognize their emptiness. Nye—a pastor, writer, and teacher living in the San Francisco Bay Area—critiques the perpetual striving of his neighbors in Silicon Valley, who are swamped in misery while they pursue goals that will not satisfy. Nye's book is applicable beyond his local geography, but it will prove most striking to urban careerists who've begun to realize that their latest pay raise won't deliver happiness.
Less of More is divided into three sections. In the first, Nye shows us why we should be dissatisfied with material affluence. The culturally accepted goals of health, wealth, and happiness, which are essential to capitalism, are causing widespread misery. In the second, he works through attributes of our culture that are unholy and unhealthy—like isolation, a lack of rest, concern for fame, and a lack of generosity. Nye's analysis is overwhelmingly negative, and he sees few possibilities for gospel joy in our harried culture. The third section offers help for living in such a bleak reality. Nye's message is largely ascetic, requiring self-denial as the main means to achieve his proposed virtues. There is call to gospel renunciation of worldly goals, but little clear guidance on alternative goals to adopt—other than to lay hold of abstract virtues like generosity, pace, connection, and obscurity.
The faithful Christian life is a call to move away from materialism and greed and toward a life of joyous contentment in Christ.
Nye rightly criticizes much of the materialism in our culture. However, Less of More offers little concrete guidance on how to achieve the abstract goods, how they better embody the gospel, and in what ways pursuing these alternatives advances the mission of God. In short, the book offers critique with little in the way of solutions.
Pursue Contentment in Christ
Both volumes are well written and interesting reading. Nye's book may shock a contented careerist out of his materialist focus or help diagnose the malaise of the miserable commuter. Davis's book is spiritually profitable because it directs the reader toward Christian contentment.
Paul urged Timothy toward satisfaction in his material condition: "Godliness with contentment is great gain" (1 Tim. 6:6). In that particular context, Paul was urging Timothy not to pervert his doctrine to bring in more money. If bringing glory to Christ is our main goal, then there is no sacrifice too great for us to make and no comfort so tempting it can draw us away. We must pursue contentment in Christ, not in the metrics of this world.
---
Chris Nye. Less of More: Pursuing Spiritual Abundance in a World of Never Enough. Grand Rapids: Baker, 2019. 192 pp. $14.99.
Andrew M. Davis. The Power of Christian Contentment: Finding Deeper, Richer Christ-Centered Joy. Grand Rapids: Baker, 2019. 224 pp. $15.99.
Get a FREE eBook to strengthen your family discipleship!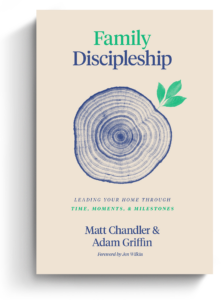 The back-to-school season is stressful for moms and dads. New rhythms of school, sports, and other extracurricular activities can quickly fill up a family's already busy calendar. Where do busy parents look for resources on discipling their family well? Aside from prioritizing church, what else can Christian parents do to instill healthy spiritual habits in their household?
Matt Chandler and Adam Griffin cover these questions and more in Family Discipleship: Leading Your Home through Time, Moments, and Milestones. And we're excited to offer this book to you for FREE as an eBook today.
Click on the link below to get instant access to your FREE Family Discipleship eBook now!