When I finished the last sentences of Jared Wilson's book, The Pastor's Justification: Applying the Work of Christ in Your Life and Ministry, I took off my reading glasses and rested the paperback on my lap. These four words then looked at me with invitation: "Recover your first love." Behind the words was the lover himself, Jesus. I was smitten again and grateful. Attention to the loveliness of Jesus describes the strength of this book.
Of course, the topic Wilson chose has few rivals that can tug more intimately at a pastor's heart. To ask "What justifies us as pastors?" is to expose us to the measures that others and we ourselves use to prove that we have a legitimate vocation; that we live a worthy life; that we matter as human beings; that we forge lives of significance and difference-making in our generation.
Let's face it: amid the hard work, the criticism, the thankless hours, the feeling of being overlooked or underappreciated or undervalued, we long for someone or something to explain us, to legitimize us, to approve of us, to defend us, to prove our worth in our daily calling to pastoral work. Add to this a desire to measure up, to crave the notoriety some of our colleagues garner. After all, we mostly overshadowed pastors are prone to wander in search of evidence that proves to God, our congregations, and the world that we are, in fact, successful.
Dirty Little Secret
The result, Wilson declares, is that many of us "try to pastor without actually pastoring" (77). Instead, in the name of pastoring, we give our time to other vocations or, even worse, we use cultural rather than biblical norms for success in order to feel like we're "enough." But "the dirty little secret underneath," Wilson points out, is that "there's never enough" (36).
So "we lack knowledge in practical pastoring" (28) and "frequently find ourselves trying to shepherd the flock we want [rather than] the church we've actually got" (30). We also start "domineering rather than shepherding" (45), and in our pursuit of "success" we're tempted to forfeit our own example, but we can also throw "under the bus the very people the gospel was designed for" (78).
Wilson, pastor of Middletown Springs Community Church in Vermont, wants to remind us that when we chase fads or give in to ministerial busyness, we're forgetting altogether that as pastors we're "appointed to a church primarily to lead in Christ-following" (48). When we give ourselves to a vision other than this Christ-centered one, our confidence gets misplaced and we begin to measure ourselves by movements, other ministers, techniques, or successes and failures rather than by the finished work of Jesus. Meanwhile, dismay and burnout begin their damaging work in us. They rob our freedom and courage as our flocks get discipled into something other than the Word. Being trained in a Jesus-exalting life is Wilson's concern.
To set Jesus in front of us again in our pastoral vocation, Wilson first takes us back to Scripture by helpfully meditating at length on 1 Peter 5:1-11. Then he fleshes out what the five solas of the Reformation reveal to us about our pastoral task in Christ. He understands well the demands of pastoral work, revealed by his of use personal stories, the Bible, history, and quotes from Eugene Peterson, C. S. Lewis, and Dietrich Bonheoffer. He invites us at every turn to the person and promises of Jesus as the true and saving measure for our lives and ministries.
Deep and Lasting
Pastors, this book is a quick read. But it points you to something deep and lasting. Wilson aims to see you refreshed, refocused, and replenished by helping you meditate again on your first love.
Wounded pastors, a sentence here or there might sting as Wilson occasionally takes the tone of a tough and loving coach; for example: "The primary problem in pastoral ministry, brother pastor, is not them. It's you. You are your biggest problem" (29). Don't be bothered if a statement like this doesn't take into account your specific situation. Embrace the heart of this truth. Keep reading. See yourself and your wounds in light of Jesus. The context, message, and grace of the author and this book as a whole will bless you.
Seeker church pastors, Wilson urges preaching that is biblical, saturated with grace, and Christ-centered. His experience along with his desire for such preaching leads him to leave little nuance in his brief critique of your movement. Maybe you preach in the manner he commends and you feel underrepresented. Maybe you preach differently but seek to exalt Christ from Scripture at every turn. Either way, don't let the two paragraphs bother you. Shake hands with the heart and the vision for gospel preaching expressed and let Wilson continue pointing you to Jesus. You will be glad you did.
To pastors everywhere—wounded pastors, seeker pastors, overlooked pastors, or any of us who've lost our way and given ourselves to measures that have little to do with the gospel or the pastorate—all is not lost! Jesus bids us to come to him, and Wilson makes sure we hear this gracious truth.
Together, we pastors can take the next step in Jesus. We can begin to ask the Lord how to encourage one another in his grace by developing a pastoral culture that embraces words like these:
Faithful, gospel-loving men of God, the Lord is not slow in keeping his promises. The world will see in due time that your ministry—big or small, strong or frail—is an epic success because of the finished work of Christ. May we be desperate to be swallowed up forever in the expansiveness of his wonderful glory! (178)
Get a FREE eBook to strengthen your family discipleship!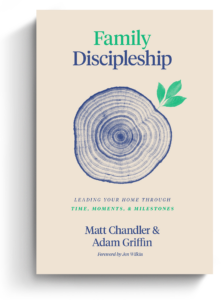 The back-to-school season is stressful for moms and dads. New rhythms of school, sports, and other extracurricular activities can quickly fill up a family's already busy calendar. Where do busy parents look for resources on discipling their family well? Aside from prioritizing church, what else can Christian parents do to instill healthy spiritual habits in their household?
Matt Chandler and Adam Griffin cover these questions and more in Family Discipleship: Leading Your Home through Time, Moments, and Milestones. And we're excited to offer this book to you for FREE as an eBook today.
Click on the link below to get instant access to your FREE Family Discipleship eBook now!